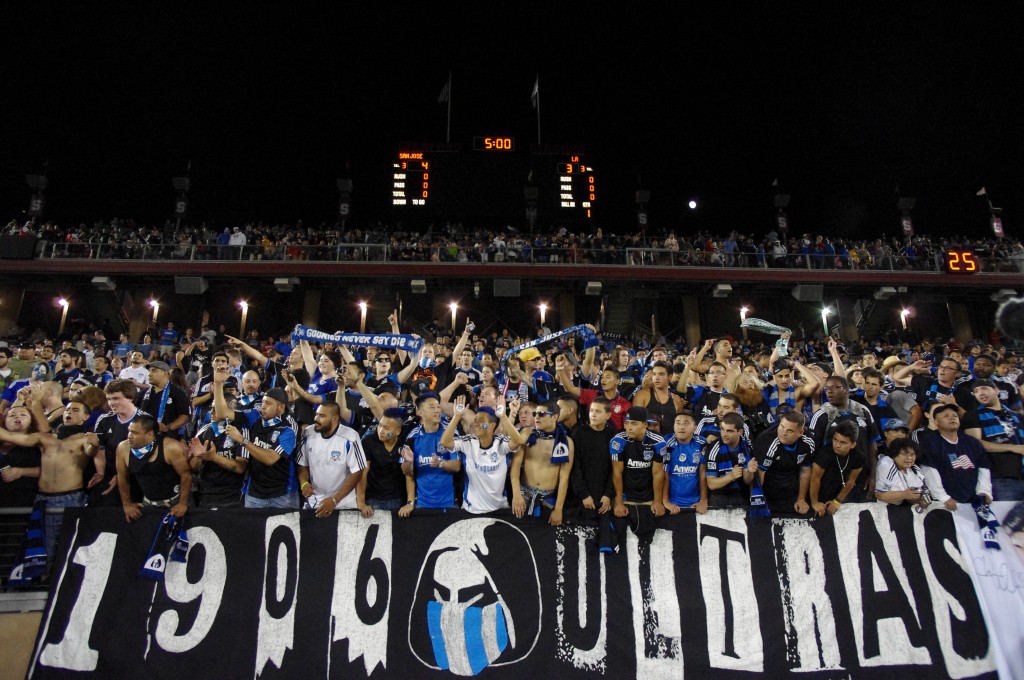 Despite the Los Angeles Galaxy's star power of David Beckham, Landon Donovan and Robbie Keane, the San Jose Earthquakes pulled out a 4-3 win in front of a sellout crowd of 50,000 at Stanford Stadium in Palo Alto. The Quakes came from behind, down 3-1 before the end of the first half, and they currently hold the best record in Major League Soccer.
"I think we come back in every game. Every game we seem to be behind," said Earthquakes head coach Frank Yallop after the match. "Scripts change, and a lot of times you can't write it up how it's going to start. To come back against a team of this quality is very good."
The Galaxy have struggled this year, currently holding the sixth spot in the MLS Western Conference.
The sellout attendance beat the Earthquakes' previous record of 41,028 for a non-doubleheader match. That record was also set at Stanford Stadium in July of 2011.
"Boy, the atmosphere; there were 50,000 people here just yelling screaming and going crazy from minute one," said Earthquakes striker and the league's leading scorer Chris Wondolowski. "It was a big driving force to keep you going. It gives you an extra little boost."
Frank Stanzl, a spokesperson for the Earthquakes, attributed the sellout attendance to several factors – the star power of the L.A. Galaxy team, the fireworks show after the game, and the fierce rivalry that has been brewing between the two clubs. The Earthquakes also offered tickets to this match as a Groupon deal.
The Earthquakes usually play at Buck Shaw Stadium at Santa Clara University. It's the smallest stadium in Major League Soccer, and the team has MLS's lowest average attendance at just under 12,000.
The city of San Jose and MLS officials have approved plans to build a 18,000-seat facility near Mineta San Jose International Airport, and construction of the $60-million, privately funded stadium will begin before the end of the year.
The two teams will meet again October 21 at Buck Shaw Stadium to finish off the season's rivalry. Saturday's game ended with Galaxy teammates holding Beckham back as he exchanged angry words with Quakes players.
Below is a gallery of photos from the sellout match.
[cincopa AoAAd5KxDXAa]
Kathryn Roethel contributed to this report.