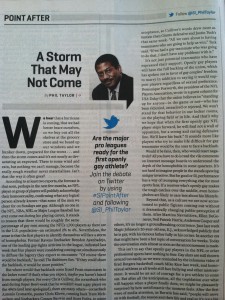 Young Emily Taylor just wanted to tell stories.
This was the mid-'90s, so the Taylors were still a one-computer household. Eight-year-old Emily sat at the old desktop in the living room and typed away, giving life to whatever wild fairy tale crossed her mind.
But she didn't do it alone. At the conclusion of each paragraph, Emily swapped seats with her dad. Phil Taylor took to the chair, cranked out the next paragraph in the story, and when he was done, the cycle continued.
"There must be something in the genes," says Phil Taylor today, with a loving chuckle. "She went places I couldn't with her writing. She's a better writer than I am."
That's high praise.
By now, Phil Taylor has traded in the old desktop, and he rarely ever co-writes – though he admittedly regrets no longer doing so with Emily, the oldest of his three kids.
Nowadays you can read him on the back page of Sports Illustrated, which that column's editor Stephen Canella calls "the most valuable piece of real estate in sports journalism." Taylor emerged from the carousel of SI writers that "auditioned" for that column in 2008 in the days following Rick Reilly's departure from the magazine for ESPN.
For all its prestige, the column requires its writer to be flexible but also consistent. Sometimes humorous, sometimes tear-jerking, always memorable.
Figure out a topic by Wednesday, gather everything you need by Friday, and have roughly 800 words written by the end of Saturday.
"It's hard to do," Canella says. "But Phil has shown that he can write the page. He's smart and has a great sense of humor; he's even-handed and is able to tackle anything."
The blue pullover jacket is the only hint as to what he does for a living; the wording on the chest indicates that it's a memento from one of the many Super Bowls that Phil Taylor has covered.
Beyond that, he's just a quiet man in a noisy Menlo Park café, a sturdy African-American in his fifties a few inches shy of six-feet. The twinkle in his eye and the broad smile are enhanced by a pair of glasses and a Lando Calrissian mustache.
Taylor, the interviewee this time, laughs about the oddity of the role-reversal.
Phil Taylor's father was an Episcopal priest who moved around a lot to take positions at different churches. Phil was born in Queens but lived in Dallas, Evanston, Ill., and Annapolis, Md. before moving back to New York and settling in Long Island.
"I was the new kid a lot," says Taylor, now 52. "Being a sports fan was my quick way of making a connection. My interest in sports really helped me."
Taylor devoured everything written by Dick Young, Leonard Koppett, and Red Smith, the leading writers of the New York sports pages in the '70s.
The aspiring writer in Long Island learned to write, not to imitate.
On the first day of eighth grade, the kid sitting behind Taylor tapped him on the shoulder.
"Do you like sports?" the kid asked.
"Yeah," Taylor replied. "But I'm trying to pay attention."
The kid behind him, though, wouldn't stop talking, and he still hasn't.
The kid was Chris "Mad Dog" Russo, now one of the country's most recognizable sports radio personalities on Sirius.
Taylor and Russo struck up a friendship built around playing baseball and taking the train to Shea Stadium to watch the Mets.
"We both knew even then that we wanted to go on to work in sports," Taylor says. "It is kind of amazing."
He graduated from Amherst College in Massachusetts and then earned a Master's in Communication from Stanford. After spending his first four years after college with the Miami Herald, Taylor returned to the Bay Area to write for the San Jose Mercury News.
Sportswriter Frank Deford took a liking to Taylor's stories and hired him as the college basketball writer for The National, a short-lived, sports-only newspaper.
Taylor was there only a short time before making the jump in 1990 to Sports Illustrated, where he's covered championships in practically every professional sport, as well as multiple Olympics.
"I would like to get invited to the SI Swimsuit party at some point," Taylor says with a laugh. "But really, anything that I've wanted to cover, I've hit 'em all."
"Point After," as the back-page column in Sports Illustrated is known, in many ways represents the last bastion of print sports journalism. Its prestige and impact is fed by its placement. But a back page means little in the Internet age.
The evolution of the industry into a digital enterprise has hit particularly hard at Sports Illustrated, which has long prided itself on the visual and textual storytelling of its printed magazine.
"There's been this internal wrestling match" as to what to do at the magazine, Taylor says. "It's definitely affected us. We have to change. We can't sit back and be the New Yorker of sports journalism."
Sports Illustrated encourages all of its writers to be active on Twitter, and Taylor holds between four and five thousand followers. Compare that to ESPN talking heads Skip Bayless and Stephen A. Smith, with more than one million followers apiece.
But if Sports Illustrated is going to survive in its current form, it's likely going to be on the strength of its writers.
Jeff Pearlman, who worked at SI in the late 1990s, called Taylor "one of the five or six best sports journalists in America today."
"Phil Taylor doesn't make sense in modern journalism," Pearlman wrote in an e-mail. "He doesn't self-promote, doesn't boast, doesn't scream at other journalists. He just writes absolutely great stuff in a distinctive voice."
"It's not about being the loudest voice in the room for him," says Emily Taylor, now a teacher in New York who reads her dad's work not so much for the sports but for the "human interest perspective."
"It's about bringing the most."
The cafe in Menlo Park remains crowded well into the afternoon. The woman at the adjacent table, reading – would you believe it – a newspaper, has come and gone. Phil Taylor doesn't need to raise his voice to be heard above the din. The stories come quickly.
There was that crazy summer of 1989 covering the baseball Giants, when Taylor took over as Mercury News beat writer for Tim Cowlishaw midseason after the latter relocated to Dallas, and the Loma Prieta earthquake disrupted the World Series. Taylor refers to his time covering baseball as an "absolute grind" that burned him out, but his Giants coverage helped catch the eye of Deford at The National.
There was the time Taylor thought 6-foot-10, 230-pound forward Derrick Coleman was going to hit him in a Sacramento locker room because Coleman was so upset over a story Taylor wrote about NBA prima donnas. "I've never been so convinced that an athlete was about to swing at me," says Taylor, who escaped the locker room unscathed.
There were the favorite interviews: Dennis Rodman, Charles Barkley, and Joe Torre, but also Steve Kerr, Derek Fisher, and Rick Fox – "the guys who were just below the stars."
Taylor's editor at SI had approached him in the early '90s about covering the NBA. He was the only African-American on staff at the time, and the editors wanted someone who, in addition to being a trustworthy reporter and skilled storyteller, could relate well to the league's growing African-American presence.
Taylor didn't take offense to the suggestion. Nor did he accept the role right away, although eventually he did, with no other aspirations "other than to hang on and stay there."
In his years covering the NBA, Taylor cultivated a friendship with Michael Jordan, a boon to any writer covering the league during the '90s. But Jordan felt wronged by an earlier SI cover that he believed had poked fun at his decision to play baseball, and he refused to ever speak with the magazine again. (Last month, Taylor wrote a feature for SI on Jordan when His Airness turned 50. Jordan refused to comment for the story, but gave ESPN writer Wright Thompson essentially unlimited access for a similar profile).
That relationship remains one of the few regrets of Taylor's time at SI.
"If I could have somehow broken the ice with Jordan," Taylor says, "I wonder how different my career would have been." Jordan was arguably the definitive sports presence of his era. Although he was generally affable with Taylor, he refused to agree to a professional relationship that could have given SI consistent access to the many Jordan-related storylines.
MJ remained steely, but Taylor broke through to someone else closer to home – about a dozen years ago, one of Emily Taylor's friends asked her who her favorite writer was at the magazine. Emily's reply? Rick Reilly. Today, she has a different answer.
At Emily's graduation from Brown University a few years ago, parents were encouraged to share stories about their kids.
"My dad spoke about how proud and happy he was that I had developed such a love for reading and writing," Emily remembers. "It was a very special moment." Chances are it was funny, emotional, and memorable.
And maybe even 800 words.