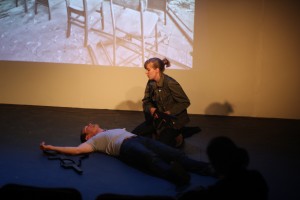 A version of this article originally appeared on KQED.org on May 31, 2013.
When you enter the Tides Theatre near San Francisco's Union Square on a performance night, one of the last things you expect to find is investigative journalism.
But that's precisely what audience members will encounter for three weekends this month. Soon after the lights come up, an actress runs onstage, gun in hand. She's the lead character in A Guide to the Aftermath, playwright Jon Bernson's one-act drama based on a documentary film from the Center for Investigative Reporting (CIR).
It's the story of a homeless female veteran of the Iraq War who is suffering from military sexual trauma and post-traumatic stress disorder. The play is a result of StoryWorks, a new partnership between CIR, the hard-hitting journalism organization, and Tides, the performing arts company.
Their goal is to inspire, challenge and heal communities by creating work that's "bold and truthful," said Jennifer Welch, the director of A Guide to the Aftermath and a companion one-act play, Headlock, which sprung from a series of investigative news articles.
In addition to its collaboration with Tides Theatre, Berkeley-based CIR partnered with Berkeley Repertory Theater and Open Show, a San Francisco curator of arts events, to showcase a few animated short films.
Even more remarkable: José Vadi, a spoken-word poet, just got a desk in CIR's newsroom. (Story continues below.)
[youtube]sCb-ilHU0FM[/youtube]
On the other side of the country, public radio favorite This American Life held a live performance at New York University's Skirball Center in May of last year. Show host Ira Glass led a cast of dancers, musicians, comedians and writers through an exploration of true stories on the theme "The Invisible Made Visible." Between the Skirball audience and those who watched the live broadcast on movie screens in the U.S. and Canada, more than 60,000 people saw the one-time show.
Dozens of similar events, in an emerging genre of performed journalism, have been staged around the country—from a dance piece inspired by a Pulitzer Prize winner's book about the Vietnam War, to a Second City sketch comedy as part of the Chicago Tribune's live events department, to the performance of a magazine, ads and all.
In response to declining print circulation and shrinking ad revenue, a number of major newspapers and magazines jumped into the live-events business several years ago, typically in the form of well-publicized conversations with thinkers, scholars and writers. But what's different now is that some news organizations are also initiating theatrical productions, rather than just being the providers of content or research sources for performing artists.
Journalists involved in these collaborations see the potential to greatly increase reader engagement, bring in younger audiences, facilitate public dialogue on important issues of the day, and bring in new revenue. And it lends a refreshing air of fun to news consumption, they say.
"It's not a huge leap, actually" to move journalism onto the stage, said Douglas McGray, the editor-in-chief of Pop-Up Magazine. Based in San Francisco, Pop-Up Magazine brings writers together to perform a non-fiction narrative magazine for one night a few times a year. The nearly 3,000 tickets for the May show this year sold out within 10 minutes, and all promotion was done through word of mouth, McGray said.
"There's a hunger for getting together in real space and unplugging and having a live experience," he said.
There are limitations, of course, and This American Life's Ira Glass said some journalists who have tried it think it's "a pain in the ass." Theater takes a lot of energy, time and money to create. News organizations have to be committed to the extra work needed to take on the "creative challenge," as Glass puts it.
Some skeptics say that live events coming from the newsroom are all just fun and games. But it's more than simple entertainment. Some of the most in-depth hard news stories are beginning to creep onstage.
In her Tides Theatre collaboration with the Center for Investigative Reporting, director Jenna Welch hopes to address issues in the news through performance right now. Consequently, the one-act plays being performed are not full-blown theatrical productions. They're more like workshops, with a behind-the-scenes feel.
Documentary theater, an established genre, usually addresses news events from a few years prior, since it often takes two or three years to develop a play from start to finish, Welch said. StoryWorks did it in a little over two months.
"A year from now, the material wouldn't be as meaningful," Welch said.
Tides called for submissions from playwrights in April, and by May 1 actors were in rehearsal. The workshop production will run through mid-June.
In a variation of documentary theater, the dialogue is not taken directly from interviews. Instead, the playwrights have taken artistic license to write dialogue drawn from the CIR projects.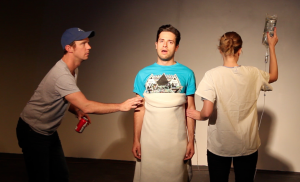 One of those is Ryan Gabrielson's "Broken Shield" series on patient abuse in centers for the developmentally disabled in California. Adapted into Headlock by playwright William Bivins, the series was a recent finalist for a Pulitzer Prize.
CIR correspondent Mimi Chakarova's powerful documentary film inspired A Guide to the Aftermath.
This experiment may be the start of a deeper partnership between Tides and CIR. The goal is to produce two more workshop productions by spring of next year, and then they'll re-assess next steps, Welch said.
As part of a more long-term project, CIR has brought into its newsroom José Vadi, the spoken-word poet. He's heading up the Off/Page Project, a partnership between the center and Youth Speaks, a teen spoken-word group in Oakland.
Vadi defined the work as "sourced storytelling." Investigative reporting is paired with personal stories of people in the East Bay community—and across the country—who have experienced the issues firsthand, like gun violence or the loss of a home.
"It's asking them, 'If we gave you a lens to tell your story, what would you tell?'" Vadi said. "It's a mutual awakening on either side."
When Off/Page provided CIR's data about Stockton to teens who live there, "Their reaction was, 'Wow, we knew it was bad, but we didn't know [with] all these new downtown facilities, only 20 percent of the revenue was being given back to the actual city,'" Vadi relayed. "But they saw it, and they experienced it on a day-to-day level."
Off/Page is trying to tell those stories. Vadi hopes they will help contribute to a national dialogue.
"All these things, topically, we can't address without a multi-prism format," Vadi said. "One of those angles of the prism is storytelling, and performed storytelling."