Shares of OpenTable, Inc., (NASDAQ: OPEN) the San Francisco-based online reservation company, have continued to slip since the company released fourth quarter and year-end earnings on Feb. 5.
The company topped analysts' expectations for fourth quarter revenues and earnings but 2014 forecasts fell below Wall Street's expectations.
OpenTable reported net income of $10.31 million, or 43 cents per share for the fourth quarter, higher than $7.46 million, or 32 cents per share, in the prior-year quarter.
Excluding items, the company reported net income of $14.2 million, or 59 cents per share, compared to $10.7 million, or 46 cents, for the year-ago period, beating the consensus estimate of 42 cents.
However, the strong performance was outweighed by the lower guidance released at the same time. OpenTable said it expected first quarter earnings for 2014 to fall between 24 cents and 28 cents, or — on a non-GAAP basis — 39 cents to 43 cents. For the year, the company said it expected earnings of between $1.71 and $1.92.
OpenTable shares moved up 3 percent on Feb. 5, in anticipation of good news, but dropped 9 percent in after-hours trading. Shares closed yesterday at $73.20.
The company provides restaurant reservation solutions primarily in the United States, Canada, Germany, Japan, Mexico and the United Kingdom, connecting reservation-taking restaurants and people who dine at those restaurants.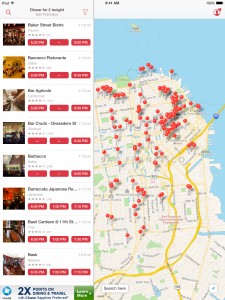 The company also provides electronic reservation books (ERB) that computerize restaurant host-stand operations. It operates the OpenTable.com website and mobile applications, which enable diners to find, choose and book tables at restaurants on the OpenTable network.
In the earnings report, the company said revenue for its subscription and reservation in Q4 came in at $16.3 million and $36.5 million. OpenTable's total revenue for the fourth quarter was $52.3 million, a 22-percent increase over the prior-year's quarter.
The company's restaurant base and quantity of dinners served are key growth indicators. At the end of 2013, OpenTable said it had 23,824 restaurant customers across North America, and 7,729 internationally.
According to the released statistics, the restaurant installation base has been growing steadily in North America. OpenTable is the market leader in the North American online restaurant reservation industry — with almost half of all full-service reservation-taking restaurants in the U.S., Canada and Mexico subscribing to its service.
Given its North American market penetration, the company must expand internationally in order to drive growth. But international adoption has been slower than in the U.S., given that restaurant reservations are a local business.
Another challenge: OpenTable also faces a threat to its stronghold position in North America from competitor Yelp, which acquired SeatMe in July 2013, for about $12.7 million in cash and stock.
SeatMe sells software to restaurants and bars that helps them manage table assignments and accept online reservations.
As its own website makes clear, SeatMe operates at a lower price than OpenTable while targeting the exact same market.
With a market cap three times as big as OpenTable, Yelp has the capability to initiate a competitive war and has the right reason to do so in order to complete their value chain.
OpenTable also started its own review programs years ago in 2008. It reportedly reached 15 million reviews in September 2012. The acquisition of Footspotting in 2013 also enhanced the quality and quantity of its reviews.
During the earnings call, OpenTable announced that it is acquiring start-up Ness Computing, for approximately $17.2 million in cash.
Ness develops personalized restaurant recommendations, which help customers discover nearby restaurants they might like — just like Yelp.