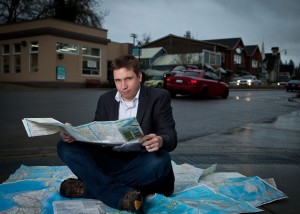 It started with a young Englishman and his bike pedaling furiously about Cambridge and London in 2004. A GPS tracker tucked away in his backpack recorded his journey, and — boom! The OpenStreetMap (OSM) project was born — a free map that can be edited by anyone, anywhere in the world, and more than 1.5 million registered users already do.
The gentleman in question was Steve Coast, then a physics student at University College London. Noticing there were tools that made digitally visualizing the real world possible but nothing that allowed for specific data points like street addresses, he saw a need – and the opportunity – to create a richer mapping platform.
"I started playing around with it and seeing what I could do," Coast said in a phone interview from Colorado, where he lives with his wife. "At the time, I tried a lot of different things. Whatever gained more traction, I put more energy into … I was quite sure the idea would succeed, but I wasn't sure the implementation of it in terms of OpenStreetMap would."
Now, OSM's crowdsourced data powers the likes of Foursquare, Craigslist and more. But it also has niche applications, such as tracing pedestrians' experiences in cities.
Coast, 33, previously worked at Microsoft as a principal architect of Bing Mobile, but he jumped ship last September to join Telenav in Sunnyvale, Calif., as head of OSM.
Under his leadership, Telenav recently acquired Skobbler, a privately held Berlin company that uses OSM to produce mobile location technology. Under terms of the deal completed on Jan. 29, Telenav bought Skobbler for $23.8 million, or $19.2 million in cash and $4.6 million in restricted shares of common stock.
Analysts say it's too early to tell what may result from the collaboration, but initial signs are promising. Telenav announced the deal during their Jan. 30 earnings call. Shares opened at $6.20 that day and closed at $6.50 at the 4 p.m. ET close of trading. As of the March 6, 4 p.m. ET close, shares were at $6.29.
"We believe the Skobbler team will provide strong industry-leading software expertise in location-based services, navigation and mapping, and we expect to leverage that expertise across all our … products and services, including our automotive and mobile advertising business. Our Skobbler acquisition … is a part of our overall strategy," Telenav CEO, Co-Founder and President HP Jin said during the call.
In the meantime, some of Skobbler's folks are visiting the States for a week to figure out how they will grow and work with their California counterparts, and Coast is confident.
"It really pulls most of the world's OSM expertise in one place … That frees up resources to experiment, find new markets, whatever it is," Coast said. "We're putting fuel in the fire … It's really giving them more momentum."
The number of OSM users has more than doubled every year since its launch and the Skobbler deal gives Telenav an international leg-up in new territory.
Telenav, a location-based services company that primarily caters to markets in the United States and China, will now have greater opportunities in Europe. It also brings on board a team of about 80 people who are passionate about mapping and OSM, and hopefully up to Telenav's navigation product challenges.
"A lot of the stuff we're doing is difficult and hard stuff. Making OpenStreetMap laudable for turn-by-turn navigation is not trivial," Coast said.
Coast is ambitious. In February, he wrote on Telenav's Scout blog that he plans to increase registered users to 7 billion, just more than 1.5 million over the next couple of years. That is, the total world population.
What's up next for Steve Coast?

Coast has hinted that he may write a book about the history and design of OpenStreetMap. Curious? Want to participate by weighing in on what should or shouldn't be included? Join The Book of OSM mailing list. Until then, professional users of OpenStreetMap might also want to check out the OSM PLUS event in April to talk about challenges and features they experience while using it for business.
OpenStreetMap finds its way from humble beginnings
OpenStreetMap's origins were modest. Coast was the first user, followed by a handful of mapping enthusiasts. Just a few, maybe two to three, might hang out at any one time to plug away at a particular map, he recalled.
"It all really revolved around people going to the pub in England and to some extent, Germany."
Then, mapping parties began. One weekend about two years after Coast's first ride, about 40 volunteers met up and mapped the entirety of the Isle of Wight, a 300-square-mile island off England's southern coast. Coast said it was the proof of concept he needed to move forward.
"If the tooling was available, then other people could build maps of where they live and you could build a map of the world in a jigsaw-like kind of puzzle just by making this stuff available. That's where it began right at the beginning."
Soon, people began to map things that were relevant to them — whatever it happened to be — like trees in Berlin or street water drainage in Italy and other uses Coast hadn't imagined before. There were just 50 million OSM data points in 2007. By 2013, there were 3.2 billion. When he saw a map zooming out on the details of Cuba, Coast said he was amazed.
"I don't think you can surprise me anymore with use cases … I guess you just learn to expect the unexpected."
Why did Coast's product succeed in territory where so many similar ones had failed?
Coast speculates that his competitors had failed due to a lack of broad vision. For example, there might be platforms for mapping hiking routes in England or roads in Germany. Nothing had yet surfaced that left it entirely up to the end user to decide what to map.
"There weren't really any projects that just said, 'Hey. Why don't we throw open the database for the entire world and why don't we just throw in all types of data sets?" said Coast. OSM achieved that, enabling consumer creativity.
Since the Isle of Wight party, Coast discovered that there's a tremendous social aspect about OSM that people invest in. They want to argue and debate the future of where it's headed. There are meetups across the world, and hundreds now gather for an annual State of the Map conference. State of the Map 2014 will be held in Washington, D.C., in November. Going forward, Coast sees the expectation to pay for data diminishing, and that OSM will continue to revolutionize mapping by making it open to all.
"The potential is just that everyone has a free map. I think that's probably more efficient than everyone having several expensive maps. And it's more applicable to places that don't traditionally have mapping in the first place," Coast said.