[youtube]DDBEyFs54gU[/youtube]
Editor's Note: Alex Blandino is a member of the Stanford baseball team.
It is incredibly hard to make a living playing professional baseball. Once you reach the major leagues — which only about 10 percent of college players who are drafted do — staying at that level of competition and being consistent is the challenge.
Ryan Garko understands this better than almost anyone.
Garko played for four seasons at Stanford and had one of the more impressive careers in the program's history. He was drafted in the third round of the major league draft and signed with the Cleveland Indians. After three years of working his way up through the minors, he broke into the big leagues and went on to have a 10-year professional career, before retiring from the game in 2013. Although his playing career had ended, he wasn't ready to walk away from the game that had given him so much throughout his life.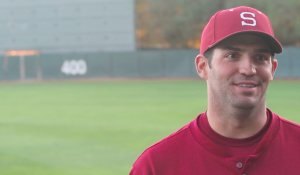 As a current player on the team, I get to work with Garko on a daily basis and take in some of that wisdom and knowledge that he has gained throughout his journey. He works primarily with the hitters, fine-tuning swings. On the mental side, Garko brings advice and guidance to us young college players who are just beginning to take that next step in our careers like he once did. As a former Stanford player and big leaguer, Garko has been through all levels of the game, something that many college coaches cannot say they have done.
The video above highlights the passion and fire Garko believes are needed to succeed in whatever you choose to do in life. It is a lesson that Garko reinforces everyday to his players.