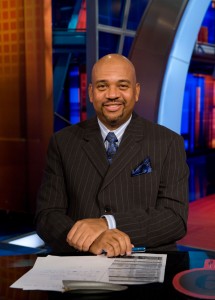 When the Wilbon family convened for dinner at home on the South Side of Chicago, you could be certain that it was always served with a side of debate with Raymond Wilbon, the man of the house, often playing the role of contrarian. Words were flung, arguments raged. For an outsider, witnessing the Wilbons in action seemed both titanic and epic, but for the oldest son Michael, it was neither.
It was typical.
And it was often about the Cubs.
"You had to engage. You had to stick out your position, you had to defend it, you had to articulate it," said Michael Wilbon, columnist for ESPN.com and co-host of ESPN's "Pardon the Interruption." "It had to be reasoned, you had to support it, you had to read the newspaper every day. Every day. There was no, 'I didn't know that.' You will know what's going on."
Fast-forward about 45 years and you'll find Wilbon in a similar light: arguing the sports of the day at 5:30 p.m. with fellow veteran sportswriter Tony Kornheiser on ESPN's "Pardon the Interruption," a 30-minute debate-style broadcast with the dynamic energy of a game show, buzzers included.
Welcome to PTI, boys and girls.
At 55, Wilbon shows the typical signs of middle age: a slight paunch, a bald head and a graying beard. He wears zip-up sweaters and pocket squares. He speaks with the cunning wisdom only accessible to those veterans with 35-plus years of experience, nonchalantly contextualizing the hype of today's "greatest player ever" Darelle Revis with the truly great Jim Brown. And he does so with passion and energy only furthered by his emphatic hand gestures.
Wilbon's life as co-host of ESPN's "Pardon the Interruption" feels like destiny. It only takes him a brief elevator ride to go from the ABC News set where his cousin and role model Carole Simpson, 17 years his senior, worked as a journalist for 40 years, to where he has spent the last 13 years as the co-host of PTI. "Unlike a lot of kids of color, I didn't have any sort of notion that black people didn't do this," Wilbon said, "because somebody I was at Thanksgiving dinner with or Sunday dinner with did it."
He uses words like role models, values and lucky to describe his familial relationships growing up. Wilbon's father, Raymond, worked as a laborer and didn't graduate high school, a fate familiar to many African Americans born during the Great Depression and merely two generations out of slavery. Michael describes his now 88-year-old mother, Cleo — a career junior high school teacher and counselor — as "an educator with twice as many degrees as I've got." And he and his younger brother Don had the relationship typical of most siblings two and a half years apart: "Close, do everything together, fight, argue, love each other, teammates, opponents, best man at each other's weddings and godfathers to each other's sons."
The Wilbons were far from an Olympic clan, but they appreciated sports. Wilbon remembers early obsessions with his athletic heroes Gale Sayers, Muhammad Ali, Dick Butkus, Mike Ditka and Walter Payton, all sports icons of the day in Chicago and all of whom he later got to know as a sports writer for The Washington Post and commentator for ESPN. Neither Mike nor his brother Don remembers a time without sports, watching "practically from birth," recalls Don.
"I'm the same as he is; I just don't get paid a bunch of money to do what we both do," said Don, in reference to their mutual obsession for, and frequent arguments about, sports.
Unlike children who tentatively hope to be a fireman, the president or an astronaut, Michael Wilbon knew his destiny at an early age: He would become a journalist. He learned how to read by reading the sports section of the newspaper and reveled in dissecting sentences into diagrams that identified different parts of speech. "I wanted to marry my two interests: the language and sports," he said.
It took a journalism class with Mr. James Wall at St. Ignatius College Preparatory School in Chicago to know for certain and then he was off. "I took all the appropriate steps," said Wilbon about attending Northwestern University's Medill School of Journalism, a training ground for generations of journalists. Medill alumni include 38 Pulitzer Prize-winners, 71 National Academy of Television Arts and Sciences Emmy award-winners and 11 American Society of Magazine Editor's National Magazine award-winners.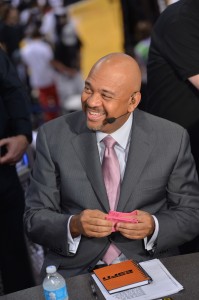 At Northwestern, Wilbon wrote for The Daily Northwestern before securing internships at The Indiana Journal Courier and The Washington Post, the latter where he returned after his 1981 graduation as a full-time reporter and remained as a columnist until 2010.
George Solomon, former sports editor and columnist at The Washington Post, immediately recognized Wilbon's promise. "He was a summer intern from Northwestern and I was very impressed. He was a good hard worker, a great guy, really knew sports and had writing ability, which later grew into spectacular writing ability," Solomon said.  "It'd be hard to say that in the early 1980s you could have predicted the stardom he would have obtained but certainly from the moment he started working at The Post … he had great potential."
Wilbon commended Solomon, former boss and longtime mentor, in his 2010 commencement address to Northwestern because he "never allowed me to settle into a professional comfort zone," moving him from beat to beat as soon as he got comfortable in a role. Solomon insists this was standard journalistic practice, neither unique to Wilbon nor The Washington Post, nevertheless Wilbon cites the experience as seminal in his development as a generalist, capable of talking about anything.
In a growing age of specialization, from youth sports to sportscasting, a field in which Wilbon explains, "it's one cast of characters talking about the NBA, another cast of characters talking about the NFL" — Mike Wilbon defies the odds. Growing up, Wilbon played baseball, tennis, basketball, football and hockey. Now, he reports on all of the above, wholeheartedly embracing the seasonality of sports. His favorite sport to cover? College basketball in March, pro basketball in April, May and June, tennis or golf in the summer and college or professional football in the fall. "That's what sort of sets Tony (Kornheiser, his "PTI" co-host) and I apart is we're still talking about everything. I'm seasonal. I love the change of sports."
Wilbon excelled in taking positions as a sports columnist, a trace from those childhood dinner table arguments. Unlike traditional reporting in which objectivity receives a gold star, columnists are paid to bring their opinion to work everyday. So Wilbon could indulge in his Chicago sports fandom cultivated from an early age.  But unlike the recent onslaught of fans as writers popularized by the web site Bleacher Report, Wilbon brings a critical eye to column writing, which he claims "can also take a hard look at something from something of a neutral stance."
Debuted on ESPN in October 2001, "Pardon the Interruption" established an entirely new format for sports media and for Wilbon himself, who now sees himself more as a "discussion leader" and occasionally "a slight bit of a clown" than a journalist, as he dons Tiger Woods and Mike Woodson masks and trims the analysis from 1,500-word columns into high-decibel 45-second sound bytes. "Expressing opinions was not new or hard. I was comfortable with that kind of construct from when I was really young," he said. "I had to learn how to package them in shorter bytes."
Back at his home in Bethesda, Md., you'll find Wilbon up late into the night watching basketball and writing his column. His five-year-old son Matthew, affectionately referred to as "Lilbon" by "PTI" co-host Kornheiser, is fast asleep. But it seems as though Lilbon may follow in Wilbon's footsteps, as he demonstrates his best math concentration looking at box scores. But for now, Wilbon will continue to serve up sports alongside supper, and wait for the bug to catch, just like his father once did for him.