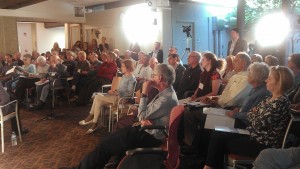 At the first meeting of the community conversation series "Our Palo Alto" on April 23, experts presented data on the city's current and future demographics in order to show that Palo Alto is more racially and economically diverse than many realize.
In a conversation moderated by former mayor Sid Espinosa, the data presented dispelled misconceptions about who lives in the city and discussed the city's future as a tech hub. More than 50 Palo Altans attended the meeting and voiced their concerns about the city's growth, especially with regards to housing affordability.
Economist Stephen Levy presented residents with a packet of data taken from the 2010 census and other surveys. He asserted that there is no evidence to support the widely held belief that Palo Alto is mostly a white, affluent community filled with young entrepreneurs and families with kids in school.
"My overall impression is that 'who we are' differs from common perception and that many voices in 'who we are' do not regularly show up at city meetings nor participate in online activities," said Levy, who is the director and senior economist at the Center for Continuing Study of the California Economy.
Espinosa agreed, saying that conversations like last Wednesday's will educate citizens and help them think about what massive population and job growth will mean for their community.
Levy explained that Palo Alto's Asian population has grown from 15.6 percent in 2000 to 27 percent in 2010, and the foreign born population has followed a similar growth pattern. Only 3 in 10 households have kids in school, and Palo Alto has one of the highest percentages of seniors in the region.
According to Ann Dunkin, Palo Alto Unified School District's chief technology officer, the school district has more minority students than white students. By an internal count, 60 languages are spoken by Palo Alto's students, a third of whom speak English as a second language. More than 7.5 percent of students are eligible for the free and reduced lunch program.
David Harris, a sociologist at the Institute for the Future (a local nonprofit that focuses on long-term quantitative forecasting), emphasized how the city's diversity and focus on intellectualism makes it a great place to raise a family, not just to grow a business. "There aren't a lot of towns that look and feel like Palo Alto out there in other parts of the world," he said.
However, Harris is worried about the influence of the tech industry and the population growth on the city's intellectually vibrant character. Palo Alto is the only city in the region that has more jobs than residents; most people who work in Palo Alto can't afford to live there.
"It could be a productive tension over the years — no one is going to complain that there are too many jobs here," he said. "Or maybe some of you will."
Espinosa, speaking to a standing-room-only audience in the downtown library, expressed his surprise that more than 10 people attended the meeting and was enthusiastic about the audience's participation.
One audience member questioned if Palo Alto only welcomes educated foreigners and not other socioeconomic groups. Others pointed to a general sense of fear among residents and worries about getting the community through the next economic trough.
"There is an appetite in this community for this kind of dialogue," Espinosa said, urging attendees to bring their neighbors to future conversations in the series. "Education leads to participation leads to active involvement leads to advocacy and that is really the strength of this community."
Tonight (Wednesday), the conversation continues. The discussion, held at Elks Lodge from 6 to 8 p.m., will focus on housing affordability. The City of Palo Alto will also hold four bike-along rides to introduce citizens to proposed Bicycle Boulevard projects. The second in the series will occur on Saturday at 10 a.m., starting at the Addison School.