[youtube]uD7e3hN8RA0[/youtube]
Editor's Note: Miranda Shepherd was a member of Chocolate Heads when this story was produced.
The band plays between shows. They show no signs of fatigue after the opening performance. Some dancers break to get water. Others nap under the fluorescent lights of the makeshift changing room, but the musicians continue playing with the momentum of the first performance. The music pauses for a moment when the drummer takes a spot at the piano as the pianist takes the drummer's stool. The instrument switch doesn't faze the musicians as they continue to improvise. The two teenage musicians co-direct, jumping quickly between composed material and jazz riffs. The percussionist isn't old enough to get a driver's license, but the teenage members of the Chocolate Heads band can play almost any instrument you throw at them.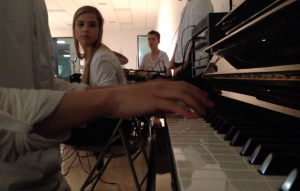 The precocious percussionist Kevin Murray, now 14, joined Chocolate Heads when he was 12. "When I first arrived [Stanford Dance lecturer Aleta Hayes] thought I was looking for my mother," Murray recalls. He and the director soon worked out that Murray had been recommended to audition for the Chocolate Heads Band. The unconventional group combines original music with choreography and spoken word to create one unified show. Aleta Hayes of Stanford University's dance department created the group five years ago and has been working with Stanford students and community members ever since. When Hayes auditioned the young Murray, she found a musician talented beyond his years.
After playing with the band for a year, Murray recruited another multitalented young musician. Seventeen-year-old Nathan Ho joined the band as the pianist after attending a rehearsal in September 2013. Ho heard glowing reviews of the group from Murray, but it took the first practice to get him hooked.
"I was immediately swept up into this experience," Ho recounts.
Stanford student Max Ryan and 16-year-old Lauren Weldon round out the band with electronics and strings. In relaxed moments, Murray admits the he sometimes uses his age as an excuse to goof around, but when it comes to show time, he's all business. Murray sits at his place behind the drum kit as Ho settles in back at the piano. Everyone rightly arranged, the musicians glance at each other for the cue to start. The second show begins.
Watch the video above to see the Chocolate Heads in action.