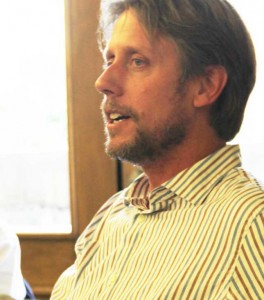 John Branch leaned against the kitchen cabinet and scratched his beard.
"This week has been weird," he said. "I haven't stopped talking about myself all week. I never talk about myself this much."
Branch, a Pulitzer Prize-winning sportswriter for The New York Times, was back home in northern Marin County, up a sunny hill amid neat suburbs. He had spent much of the week traveling, visiting classes at Stanford and Indiana University, talking about his work and career to journalism students.
Now, he was back on deadline. He had spent part of the morning squeezed at a desk upstairs, next to the guinea pig cage and a bookshelf dangling with press passes — Sochi, baseball, rodeo. He'll often take calls here, near photos of vacations and his kids in a canoe, while Patches the guinea pig watches from inside a purple plastic igloo.
After a call, Branch gestured to a printer's plate taped to the wall, from his story on hockey player Derek Boogaard. Per Times tradition, he was supposed to receive the plate for his first A1 story as a tribute, but no one remembered to give it to him. He chose this one instead.
It's one of the few mementos he displays. A stack of framed pictures and awards in a corner hasn't made it up on the wall yet. Everything else is still in boxes from a move two years ago.
"John is just different from the rest of us," said Geoff Grant, who was Branch's sports editor at the Colorado Springs Gazette, his first newspaper.
Branch has worked as a sportswriter for 16 years, the last nine with the New York Times. He calls what he does "working the fringes." His stories for the Times have tackled, among other things, the geographic dividing line between Red Sox and Yankees fans, the lives of champion horseshoe pitchers, and an Iraq war veteran with a prosthetic arm who competes in lumberjack championships. Over the course of his career, he's written about bocce ball stars, rodeo clowns and the red clay courts at the French Open.
"Every story I do is about people," Branch said. "It's my survival instinct — one person, one story."
When he visits universities, he often talks about "Snow Fall: The Avalanche at Tunnel Creek," the 17,000-word multimedia hybrid article on a backcountry avalanche that won him a Pulitzer for feature writing in 2013. With its immersive experience and its magazine length, it has become a defining accomplishment for Branch, a watershed moment in the industry and a verb ("to Snow Fall" a project) in newsrooms.
For the most part, Branch says, the accolades he received for "Snow Fall" haven't changed how he approaches his work. He still writes about low-profile competitions, or backwoods competitors, or how sport shapes a place. He says the highest compliment he's ever received was not for "Snow Fall", but rather when a colleague said, "No one writes small towns like John Branch."
Occasionally, when interview subjects find out that he is a Pulitzer-winning reporter with the Times, though, they will shy away. "People sometimes worry that I am coming from the big city to look down on them," he said. "So I tell them I grew up in a small town, too."
That town was Golden, Colo., home of Coors Brewing, where his father worked as an engineer. His mother was a substitute teacher and taught him throughout junior high and high school. It was an early lesson in humility. "All my classmates knew my mom," he said.
A "sports geek" from his earliest years, he would spend most mornings with three bowls of cereal, memorizing box scores in the newspaper.
"I can tell you batting orders from 1982 better than I can from last year," he said.
Graduating with a business degree from the University of Colorado in 1989, Branch moved up the management ranks at a local Costco, on course to run the entire warehouse. It was during his time as manager that he wrote the store's newsletter, his first professional writing gig.
Though he remains a fan of the company — and its frozen burgers — Branch had watched a friend go through Colorado's journalism school and, at 28, considered the trajectory of his own career. He enrolled in 1995.
"I was naive. I didn't know the daunting nature of the industry," he said. "But I like daunting."
After two years at the Colorado Springs Gazette as a business reporter, editors moved him to sports, where his penchant for looking for unexpected stories began as a way to stay afloat on his early beats, which included Air Force football and the Denver Broncos.
Grant remembers Branch as a humble reporter fascinated by everything. "While the rest of us got jaded," Grant said, "he would just be amazed by things."
Branch has tried not to lose that sense of quiet amazement in his writing. At the Gazette, he would ask questions that no reporter had ever asked before, like how the Broncos equipment room worked. "I had to find stories no one else was writing, so I got away from the quarterback and the coach," he said. "I'm still looking for stories no one else has written."
In 2002, Branch decided to leave Colorado for a columnist position at the Fresno Bee, in California. It was as much a test for him as it was a career opportunity.
"I had never done anything that extraordinary to challenge myself," he said. "I went to college 30 minutes from where I grew up, and I went to work 90 minutes from that."
The New York Times came calling three years later, with an offer to cover the New York Giants. Within 10 years of leaving Costco, Branch had made it to the nation's paper of record.
After a three-year stint on the beat, Times sportswriter Lynn Zinser, Grant's wife and a colleague of Branch's at the Gazette, said Branch had proven to the newsroom that he was capable of more. "He was much more well-suited to the bigger stuff," Zinser said.
And soon the bigger stuff came: feature stories that allowed him to travel and report. Among them was the life of Derek Boogaard, a story that brings him full circle, back to his desk in Marin.
In 2011, after several years as a full-time sports feature writer at the Times, Branch began reporting on Boogaard, one of professional hockey's most talented enforcers, dead at 28 after a lifetime of traumatic brain injuries.
"It took me on a two-week odyssey through Saskatchewan, and through the science of the brain," he said.
The Boogaard story would be the first of several long-form pieces that Branch would take on, but it was the longest, most complex piece he had tackled in his career up to that point. The story was complicated, emotional and streaked with darkness — a player dead in his prime after absorbing blows to the head for a living, and his family left to grieve.
Branch, along with Times multimedia journalists Shayla Harris and Marcus Yam, spent hours on car trips, driving to remote parts of Canada for interviews.
Harris, who filmed as Branch did his reporting, has seen a lot of print journalists struggle with the long silences needed for a video interview. Filming someone's complete narrative, from start to finish, can take three hours or more. She's seen print reporters rush in, get the facts and rush out. "Video is all about eliciting a story from someone, so interviews can run very long," Harris said.
She knew Branch was a naturally curious person who asked a lot of questions, but she also knew he had "no ego about the process" and sought to become a better on-camera reporter. The test came in their conversation with Boogaard's brother Ryan, who had found his brother's body.
"That was a very emotional interview," Harris said. "In interviews like that, it's very hard to let the silence happen. Reporters are often rushing in to fill those gaps."
As Ryan described the moment he found his brother, he went silent. On the final edited video that Harris produced, Ryan quivers, unable to go further. There is complete silence, not a word from Branch.
"That was the culmination for all of us in that working experience," Harris said. "We let Boogaard's brother have that moment, and that let him know he could trust us." Later, Ryan would give them a set of DVDs showcasing all of his brother's fights on the ice.
The experience of reporting the Derek Boogaard story had its light moments, too. Branch was the kind of colleague who would rouse fellow reporters with cheerful 4 a.m. wake-up calls on reporting trips during his days at the Gazette, and he knew when to be light-hearted on the long drives through Canada. "We got to know John's musical tastes really well," Harris said. "A lot of classic rock."
Interviews complete, Branch went to work. He spent three months writing the Boogaard story, while Harris and Yam produced video and photographs. "We often say, let's get the gang back together for one last job," Harris said. "But that was our big hurrah."
And though the team has since pivoted to other stories, Boogaard's story lives on, in that printer's plate on Branch's wall and a neat pile of paper near his desk, rife with red editor's marks. "Boy on Ice," Branch's book about the player's life, will come out in the fall from Norton. He spent evenings, vacations and weekends working on it.
Both it and "Snow Fall," which also took Branch months of reporting and writing, have distinguished him as a major long-form talent. Since then, he's become one of the Times' most prominent sportswriters, covering the Sochi Olympics and this year's NCAA tournament.
In early February of this year, Branch was one of the first reporters who spoke with Michael Sam, the promising NFL prospect who announced that he is gay. Years earlier, Branch had begun a series of stories on sexuality in sport. Jim Buzinski, who edits Outsports, a website that covers sports from a gay perspective, joked that Branch had been anointed "the gay sports guy" at the Times. Branch visited him for a story in 2010, and Buzinski was impressed by how much he enjoyed just sitting down and talking with Branch.
"It wasn't a formal sit-me-down-and-get-me-nervous interview," Buzinski said. "We talked as though we were just watching a football game. He really wanted to know the people he was talking to."
Buzinski wasn't surprised when he saw Branch's byline on the Sam article. "He got that Michael Sam story because of the work he had done on gay issues. The publicist's choice was John Branch."
Branch is sometimes amazed that he has ended up anywhere near such big stories. "I grew up with The Denver Post and the Golden Transcript," he said. "There was never a moment that I thought I'd work at the New York Times. My goal, starting out, was just to see if I could be a journalist."
But Branch refuses to give himself credit. "If not for luck, I would be like a lot of my friends at the Rocky Mountain News," a Colorado newspaper that shuttered in 2009. "I often feel survivor's guilt."
Tall and rangy, Branch runs in the hills near his house. On a run, he doesn't think about anything — no stories, no interviews, none of the small towns or quirky athletes he's made a career covering. Not even the white curtain of snow that descended on Tunnel Creek. Many times, he doesn't even enjoy the run itself, until the end.
Writing can be like that, too, he says. "I don't really love writing. I don't love the feeling of starting a new file. But I love the feeling of overcoming and accomplishing."
For Branch, it's the act of reporting — being outside, on the street, finding stories in unexpected places — that he relishes. For his piece on Red Sox and Yankees fans, he spent three days driving from New York to Boston, talking to traffic cops, gas station attendants and store owners.
And, colleagues say, that's what makes him different. Robert Zizzo, Branch's editor at The Fresno Bee, said, "When we sent John to the Athens Olympics, we got back these fantastic stories of another culture. It wasn't just about what was on the track."
For Branch, it's about keeping that sense of wonder alive. "What I love," he said, "is being in towns I've never been to before, in awe."