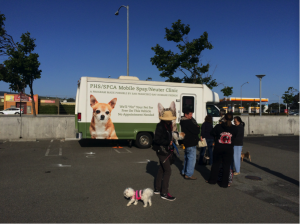 The San Francisco fog had just begun to burn off as dog owners and their pets lined up early on a Thursday morning in June outside Petco in San Bruno's Tanforan Mall parking lot.
These residents were waiting in line for a service that has played a key role in decreasing cat and dog euthanasia rates at Peninsula Humane Society & Society for the Prevention of Cruelty to Animals (PHS & SPCA) since 2005.
PHS was one of the first humane societies in the nation to operate a low-cost, on-site spay and neuter clinic. PHS has now taken its services into San Mateo and San Francisco communities with a mobile service.
Thomas McLin, a 68-year-old resident of San Francisco, was one of 13 residents waiting in line for the PHS free mobile spay/neuter clinic services.
McLin stood sandwiched in line between two other residents, one with a German Shepherd and another with a Yorki, and waited patiently as each animal in front of him was admitted and prepared for surgery.
McLin's canine companion, Poki, is a seven-month-old female Chihuahua mix. Her mother, Stella, is a mini pinscher Chihuahua mix and her father, Gizmo, is a purebred longhaired Chihuahua. McLin said she looks more like her father.
Poki is not the first generation in her canine family to get dropped off at the mobile clinic: "I brought her mother, Stella, here as well but I didn't get her fixed in time. She had four puppies including Poki," McLin said.
McLin did not want to risk the chance of Poki becoming pregnant and having a litter of her own. "I didn't want to wait to get her fixed because she's seven months old on the first, and after seven months they come into heat real quick," McLin said.
About six spots behind McLin in line stood Roxane David, a 33-year-old registered nurse from San Bruno. She was holding her seven-month-old, female Chihuahua mix, Pumpkin.
David explained that she was utilizing this service not only because it was free, but also because she thought it was the best option for Pumpkin. "I think it's so great that they offer this because it's so important for the pet's health," David said.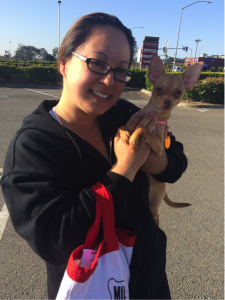 By joining the mobile movement, PHS is able to reach communities and residents who otherwise would not be able to travel to or afford the spay/neuter services provided at the PHS on-site facility.
"We want to reach people who want to do the right thing for their animal and the community, and with this service we are able to reach more people every year," said Scott Delucchi, senior vice president of PHS & SPCA, and head of community relations.
Aside from 6,000 surgeries performed per year at the intake facility at 12 Airport Blvd. in San Mateo, this mobile unit allows PHS to perform an additional 600 – 1,000 spay and neuters per year, according to Delucchi.
In the 1970s, the Peninsula Humane Society's annual intake of unwanted and stray dogs and cats reached 45,000, which Delucchi considers an "unreal and overwhelming number."
The addition of the nation's first on-site clinic at PHS in 1970 caused euthanasia rates to plummet from 37,680 animals euthanized initially to 16,734 animals euthanized in 1975, according to the PHS website.
This was a 55.6 percent decrease in euthanized animals over a span of five years, but those at PHS wanted to further drive down those numbers.
With a love for animals, Vanessa Getty, a San Francisco philanthropist, joined the PHS Board of Directors in 2005 and asked what she could do to help. "When you get someone like Getty asking to help, you don't just ask for a bag of tennis balls — you think bigger!" Delucchi said.
With the help of their "dream donor," Delucchi said that PHS implemented a mobile spay and neuter service to help residents in the San Mateo and San Francisco communities. Although this service is free to residents, it did not come cheap for the PHS donor.
Delucchi said Getty donated about $120,000 for the vehicle itself, in addition to $30,000 for the equipment and the additional costs needed to operate the program year round. He said Getty remains committed to this program today.
With the introduction of the mobile unit, the total number of euthanized animals plummeted again in 2005 to 2,706. These numbers have continued declining each year since, Delucchi said.
This mobile unit is not just a solution for lowering euthanasia rates. Tiffany Thompson, PHS veterinarian said it's "the key to solving the problem with pet overpopulation, as well as reducing the number of unwanted pregnancies and undesirable behavioral traits."
This service is also trying to compensate for those who are allowing their animals to have unwanted and unplanned pregnancies, those who aren't looking for their lost animals, those who cannot afford to keep their animals and those letting their animals breed with the hope of making a profit off the litter.
The total number of surgeries performed on the mobile clinic from January 2006 to May 2014 was 7,140.
If each female animal were to have a litter of four — such as Poki's mother Stella — this would equate to 14,692 animals that haven't been born, as a result of the PHS mobile program. This number would be even larger if PHS utilized mainstream media to get the word out, but it uses creative ways to target specific communities. Delucchi said that includes: flyer distribution with the help of translators if needed, utilizing local cable television stations and posting community banners.
The communities visited by this surgery suite on wheels include East Palo Alto, East Redwood City, Daly City in South San Francisco, and San Bruno. To target San Bruno, PHS utilizes the cable television station only serving the San Bruno community.
Delucchi is aware that some residents may take advantage of this free service but he said it would defeat the purpose if residents had to verify their income by presenting tax forms. PHS doesn't want to make the process difficult for residents and run the risk of them not taking advantage of the service at all.
"It's a tricky message," said Delucchi, "We want as many people to know about this service as possible, but we don't want someone who is well off from another city to take a spot from somebody who is really in need."
This is a totally open and free service that runs on a first-come, first-served basis. To be eligible, dogs and cats must be between four months and eight years of age and less than 80 pounds. Ideally, residents will present previous animal vaccination records, but PHS will also provide vaccinations for free. Owners are instructed to return the same day to pick-up their pets and will leave with recovery instructions.
"It's a bummer when we have gone out and only had three surgeries, but we want to have a full vehicle every single time," said Delucchi, "I think it's hard for people to believe that this is a totally free service."
McLin has utilized this service provided by PHS in the past. "It's helping people on low and fixed incomes like myself. It's just another way to keep pace," McLin said.
"It is awesome that they do this," David said, "I am just thankful."
PHS makes this easy — there are no strings attached, except, of course, for the ones the vet on board the mobile unit uses to sew up their canine and feline patients.
To see if this mobile unit is coming to a community near you, call 650-340-7022, ext. 387.