Whether they are phony telephone calls from the IRS, home visits from no-good contractors, or fraudulent bank notices, reports of financial scams in San Mateo County disproportionately affecting senior citizens have led to a surge in senior residents seeking help from local authorities.
Even though they make up only 14 percent of the San Mateo County population, authorities say senior citizens account for a much higher percentage of scam reports made to law enforcement. While seniors may tend to report scams more than other age groups, officials said it seems they are often targeted as a demographic. San Mateo County Deputy Sheriff Ronald DeRespini estimated nearly 40 percent of the scam reports he received between 2008 and 2014 came from senior citizens.
San Mateo County authorities are now bolstering an education campaign, in response to requests from constituents, designed to help seniors from becoming victims of fraud.
"Because we are an aging county and an aging state, seniors are a target-rich environment, if you will, for scam artists," Assemblymember Kevin Mullin (D-San Mateo) said in an interview.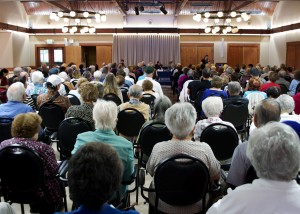 Mullin hosted two seminars – called "Senior Scam Stoppers" – this fall.
"My own father was scammed at his home," he added. "This is, I think, a fairly common theme throughout my district – that people are getting calls, people are getting visits."
The "Senior Scam Stoppers" seminars work in partnership with the Contractors State License Board, the California State Controller's Office, the California Public Utilities Commission, as well as local law enforcement. Panels of experts provide tips to avoid victimization and answers local seniors' questions on scamming.
"If it sounds too good to be true, it probably is," DeRespini told a "Senior Scam Stoppers" audience at the San Carlos Adult Community Center on Oct. 3.
The seminars aim to demystify common scams and caution seniors to be skeptical of unexpected solicitations of any kind – or, better yet, to refrain from participating in solicitations at all.
"This is one of the only crimes where the victim can prevent it before it happens," DeRespini said. "Here, the victim is being talked into being a victim of a crime."
Redwood City resident Leonard Sklar, 80, attended the Oct. 3 seminar eager to share his story. He lost $150,000 in a business investment Ponzi scheme, in which at least seven other people were also tricked out of large sums.
Sklar heard about the opportunity from a friend and did adequate background checking on the investment, he explained. Yet after only three months of returned interest, the business abruptly shut down – and his money was gone.
"Scammers have wonderful excuses," Sklar said. "Look out for these people. They are very slick, very believable, very credible."
Sklar came to the seminar in part to hear about what other scams may be lurking and also to let others hear his story "as a warning."
"Senior Scam Stoppers" seminars have been offered across the county for years. Yet in San Mateo County, it appears the demand for such information has never been greater. Over 200 seniors attended the most recent seminar – the largest San Mateo County turnout in recent memory.
Officials say the uptick may stem in part from publicity around a telephone scam sweeping California, in which con artists pose as IRS agents demanding back tax payment under threat of arrest. First official notices of this IRS scam began around October 2013.
"When people hear things on the news, there's a fear factor," said Jane Kreidler, outreach coordinator for the Contractors State License Board. Seniors "want to keep apprised of what the new scams are."
IRS scams make up a significant portion of reported scams in San Mateo County in the last year, according to the County Sheriff's Office.
San Carlos resident Richard Rescho, 66, remembers his brush with an IRS scam after receiving voicemail accusing him of a tax violation and demanding contact by phone. Fortunately, he sensed something strange.
"I could tell it was phony," Rescho said. "My feeling was annoyance, not anxiety or fear, just annoyance."
He avoided falling victim by responding to the scam in remarkably good form: he reported the incident right away to the FBI in San Francisco and to the Federal Trade Commission.
Yet many seniors are not as suspicious, thorough or proactive at the sight of a scam. Kreidler says that's what scammers are counting on.
"Seniors grew up in a generation where people weren't trying to lighten their pocketbooks," she said.
Mullin's office is considering to host additional "mini-seminar" events later this year.
These would be modified versions of the recent seminars, to be offered in various locations throughout the Peninsula and perhaps even to other at-risk populations such as immigrants or citizens with English-language challenges.
Beyond the seminar approach, Mullin's office routinely creates email blasts and online news releases with new scam information.
For now, Rescho explained that even he learned plenty of new tips at the seminar.
"I think it's a very important service," he said. "As seniors, we are viewed as an easy target, and it's important that we know what the potential dangers are and how to deal with it."