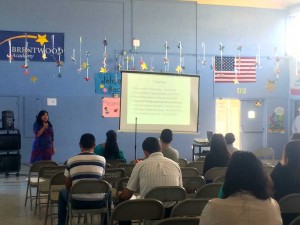 The Ravenswood City School District is proposing spending more than $133 million on repairing and expanding East Palo Alto's schools, the most major upgrades since 1945.
The school district wants to create a new middle school, relocate the Los Robles Dual Immersion Magnet school, build four new neighborhood elementary schools and expand preschool access. Two-thirds of East Palo Alto's current 368 kindergarteners didn't attend preschool.
The district outlined its proposal earlier in October at a community meeting, the third in a series to solicit parent feedback.
"We want our kids to feel good, feel proud, about going to school. We want them to be excited," Angelica Tellechea, a district official who liaises with the community, told parents at the Facilities Master Plan meeting held at Brentwood Academy on Oct. 4. "They're not going to want to be out on the streets."
Officials said the scope of the planning is unprecedented for the district.
"There has never been a facilities master plan, until now," Gloria Hernandez-Goff, the district's new superintendent, said in an interview.
The district is uncertain how it will pay for the planned construction, which could take more than a decade to complete. "We're going to have to beat every bush to find the money we need," Hernandez-Goff said.
The state budget Gov. Jerry Brown signed in June includes $264 million for preschool education. Ravenswood district officials say they are still waiting to see what portion of that budget, if any, they will receive.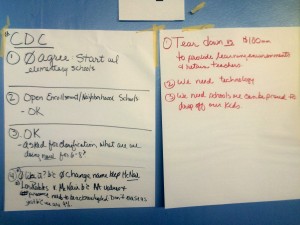 The school board is considering fundraising and possible bond measures to raise money, and Hernandez-Goff said she was hopeful that the state would match whatever money the board raised.
That could be a challenge. Brown is wary of increasing state debt, and would prefer that school districts pay for facilities upgrades on their own, said California Budget Project Executive Director Chris Hoene.
"It's [decided on] a case-by-case basis and they'll have to make a strong case," Hoene said. Brown is "a critic and doesn't think it's the right model for the state to just be on the hook for the bill and not have a say in the investment [of the funds]."