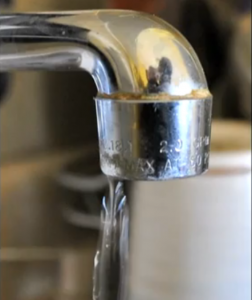 Throughout California, a surprising number of communities must drink and bathe with water contaminated by dangerous chemicals like nitrates, arsenic and trichloropropane.
Water in more than 10 percent of California wells has more than the federal regulatory limit for nitrates, according to  a 2002 informal report by the Lawrence Livermore National Laboratory.
Last year, California Watch reported that over two million Californians had been exposed to nitrate-contaminated water in the last 15 years.  Nitrates can cause long-term health problems, even cancer, and have been linked to a fatal illness in infants called blue baby syndrome.
Water contamination poses a health problem across the state, but especially in poor or low-income communities that often can't afford costly remedies like installing a treatment facility or drilling a new well.
This video looks at how two California communities are living with the problem. Monterey Park Tract, just south of Modesto and two hours south of Sacramento, is just learning how to deal with its nitrate-and-arsenic-contaminated wells. San Jerardo Housing Cooperative, near Salinas, has succeeded in getting a new well, but the town can barely afford its new, clean water supply. San Jerardo residents are joining other contaminated California communities in asking the state for stricter regulations on water pollution and better access to clean water.
[youtube]Twf1WSVvWaY[/youtube]