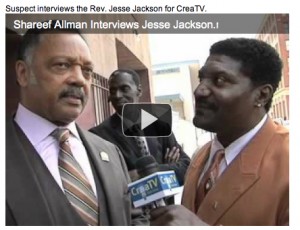 UPDATE, Oct. 11, 3:45 p.m.: The Santa Clara County coroner's office has concluded that Shareef Allman died of a self-inflicted gunshot to the temple, not from bullets fired by county sheriff's deputies, the San Jose Mercury News reports. 
PUBLISHED OCT. 5: Cupertino shooting suspect Shareef Allman was shot and killed Thursday morning in Sunnyvale during a confrontation with Santa Clara County sheriff's deputies.
The shooting happened about 7:20 a.m. outside a home near Peacock Avenue and Lorne Way. The neighborhood is about half a mile from the Hewlett Packard headquarters where Allman allegedly carjacked and shot a woman Wednesday morning, the San Jose Mercury News reports, citing multiple law enforcement agencies.
The San Francisco Chronicle reports that Santa Clara County Sheriff Laurie Smith said three deputies spotted Allman, holding a handgun and crouching behind a car in the driveway of the home. "The deputies identified him as the suspect," the Chronicle quoted Smith as saying. "He did display, in a threatening manner, a firearm. We don't have any more information on that, and all three deputies did fire on the suspect."
Hundreds of federal and local officers had been searching for Allman, 47, of San Jose, for more than 24 hours.
Before the carjacking, sheriff's officials say, Allman shot nine people at Lehigh Southwest Cement Permanente Plant, where he worked as a truck driver and was a union leader.  Two died at the scene and a third died at a local hospital.
Wednesday afternoon, authorities — including a SWAT team, hundreds of officers from neighboring police departments, the FBI and the U.S. Marshal's Service — cordoned off the Sunnyvale neighborhood where Allman's car was found abandoned in a restaurant parking lot.  Officers searched home-to-home while helicopters hovered, but they were unable to locate the suspect until Thursday morning.
Authorities recovered a handgun, a shotgun and two assault rifles from various locations Wednesday but believed Allman was still armed, Sheriff Smith told the Chronicle, citing surveillance video.
An HP employee, Enrico Balanuuit, who witnessed the attempted hijacking, told KQED's Stephanie Martin that he was returning to the parking lot to get his laptop Wednesday morning when he saw a large man trying to talk to a female co-worker.  "I noticed he chased her. I think he was trying to get something. He grabbed her and then he punched her. Then after he punched her, I tried to hide, was trying to get in the car and go help (the victim), but then when I was hiding, I heard two shots."  Balanuuit said. He said the woman's nose was broken and she was shot in the "lower right side of her body."
Listen to the full interview on KQED >>
The motive for the shooting is not yet known.  But a neighbor told the Chronicle that Allman had recently been moved to the quarry's night shift, and "was not happy about it."  The neighbor, Paulette Conner, said he has a 20-year-old son and an 18-year-old daughter, who she said was under police guard Wednesday afternoon at Allman's apartment on Renaissance Drive in San Jose.
"She was frantic," Conner said. "It's horrible for her. He's the only parent she knows. She's a good kid, and I feel bad for her."
A union representative, Mike Weltz, told The Bay Citizen that Allman had just returned from a four-week vacation and had been with the company for about 15 years.  KGO Radio quoted co-workers describing Allman as a "lively, likeable guy" who became unusually sullen and silent on Tuesday. A group of Allman's friends made public pleas for him to surrender to authorities.
The woman shot in the attempted carjacking and two male victims from the quarry were taken to Santa Clara Valley Medical Center, said hospital spokesperson Joy Alexiou.  One man was treated and released, and the other man and woman are in fair condition, meaning their vital signs are stable. "The patients are conscious. And indicators are favorable, " Alexiou said.
Another victim was taken to the emergency room at Stanford University Medical Center in Palo Alto, spokesperson Gary Migdol confirmed. Migdol said the hospital would not release further details. A spokeswoman for Regional Medical Center in San Jose said two of the shooting victims were brought to the hospital. One was treated and released, and the spokeswoman would not release information on the other.
Carmen Rodriguez told the San Jose Mercury News that her brother-in-law, Mark Munoz, died in the shooting.  "He was very loving, very caring, and he couldn't wait to retire," she said of Munoz, who was in his 50s and had worked at Lehigh for 20 years.
Allman produced a television show, "Real 2 Real," which San Jose's CreaTV broadcast. According to The Bay Citizen, Allman had recently interviewed the Rev. Jesse Jackson, among other politicians and celebrities, for the show, and had self-published "Amazing Grace," a novel about female victims of domestic violence. YouTube videos from "Real 2 Real" were removed from the site this morning.
Peninsula Press staff writers Kathryn Roethel, Jessica Parks, Eric Johnson, Emily DeRuy, Liu (Laura) He and Joyce Ho contributed to this report.