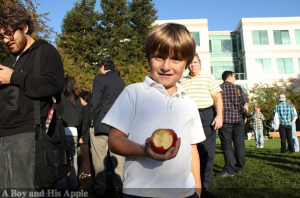 Titans of Silicon Valley have been invited by Apple Inc. to a private memorial service for Steve Jobs at Stanford on Sunday evening, the Wall Street Journal reports, citing a copy of the invitation.
Lisa Lapin, a Stanford spokesperson, said "there is not a public or press event, and we have no information related to private events that are held on campus."
The Journal's report of an invitation-only memorial comes as California Gov. Jerry Brown has declared Sunday "Steve Jobs Day" and as unofficial tributes on Friday featured people wearing black turtlenecks. Hand-written Post-it notes, strategically bitten apples and other creative tributes to the Apple co-founder still line the windows outside company stores across the Bay Area.
The decades-long connection between the reclusive, mercurial Jobs and his legions of fans worldwide was always more iconic than personal, say scholars who have looked at his impact on modern culture. This may explain why the notes affixed to the front windows of the downtown Palo Alto store drew inspiration from Apple's "Stickies" widget on its Macintosh computers. Elsewhere, some mourners used their iPods, iPhones and iPads with virtual candles illuminating the screen to set up makeshift shrines.
Jobs transformed computer technology from what was once considered "geeky" to a sub-culture of "cool," with Apple's sleek devices appealing to the everyday person. "He brought [technology] to the masses, and, in so doing, became part of the family. That is why many of us experienced losing him as though we were losing a relative or close friend," said Dr. Elias Aboujaoude, author of "Virtually You: The Dangerous Powers of the e-Personality." He works at the Stanford University School of Medicine and is co-founder of a website called etherapi.com.
Farukh Basrai, a Mountain View resident, felt compelled to gather outside the downtown Palo Alto Apple Store on Oct. 6, the day after Jobs died. "I don't know him as a person, never met him, never talked to him," Basrai said, "But (he was) really an iconic person, and it's almost like saying goodbye."
For centuries, societies have mourned fallen political leaders, war heroes and, more recently, celebrities. Aboujaoude said he believes mourning a tech mogul "speaks to how integrated technology has become into our lives."
"We trusted that Steve Jobs would lead us into an even more seamless symbiosis, but he died too soon, leaving us a bit bereft and lost, wondering how the human-machine unit will evolve without him guiding and shaping it," Aboujaoude explained.
Dr. Fred Turner, associate professor of communication at Stanford and director of the Program of Science, Technology and Society, said we've been living in "an increasingly information technology dependent and information technology driven economic order."
"As economic formations come and go, the people who manage them become our heroes," Turner said.
Jobs might be "misremembered" by many, Turner said, comparing the Apple co-founder more to industrialists such as Andrew Carnegie, John D. Rockefeller and Henry Ford. "He's been very good at making people think that using an Apple device is an act of rebellion," Turner said.
From the early years, Apple branded itself as against the grain, an image planted by the company's "1984" Super Bowl TV commercial. Turner said in the 1960s, "there was a deep hope that people would be able to achieve a kind of community built around a shared mindset, a shared consciousness."
"Jobs has done an excellent job porting that ideal—the ideal of a shared community of consciousness—into a corporate era and melding it with a corporate agenda," he said.
Bay-area native Murias O'Ceallagh saw first-hand how Jobs's influence changed the Silicon Valley over the years.
"I remember when Apple wasn't here," he said. "[I] watched this grow from orchards to what it is now."
O'Ceallagh grew up in Sunnyvale and went to the same high school Jobs attended. Standing among the crowd of fans who gathered at Apple's Cupertino campus on Oct. 6, he said Jobs has been a "local hero" to him.
"[Jobs showed] us how it can be done just by the perseverance, and getting it done, believing in yourself first off," he said.
San Jose resident and computer engineer Edward Villegas said Jobs had a profound impact on everything done in the high-tech industry.
"Interestingly enough in our careers…we've always spoken about thinking outside of the box, and that was started by him. Some of the other traditional guys were just about numbers, but not him," Villegas said at the gathering outside Apple's headquarters.
A sense of widespread public grieving has occurred both at these physical memorials and online.
"Everyone's paying tribute to him…now like on Twitter with the whole 'iSad' and like 'iHeaven' and all that," Palo Alto resident Hannah Kay said, as she visited the memorial outside the downtown Palo Alto Apple Store on Oct. 6.
Aboujaoude said that since we do everything online, "it is only natural that we should gravitate to the web to commiserate and grieve." But he also warns that online grieving poses a challenge.
"Mourning is difficult, time-consuming, and not always suited to the fast-paced, attention-deprived online experience, and if social networks and #iSad tweets make it feel simple or easy, then maybe they are diminishing the process somehow," he said.
[youtube]rFMW-XacYaw[/youtube]