Frank Jesse is the only architect on a task force charged with envisioning San Jose's future. In a region dominated by technology, not manufacturing, Jesse has challenged Silicon Valley companies and their employees to re-invent the places where they work.
[youtube]v1HKQsAg6ug[/youtube]
Early in life, Frank Jesse witnessed the way architecture can transform society.
At 7, Jesse was living with his family in São Paulo, Brazil, during the development of Brasilia—the titanic effort by the government to move its capitol to a more central location in the country. In 1960, Rio de Janeiro lost the title of capital city and Brasilia, a landscaped site of more than 2,200 square miles, raised the flag.
Oscar Niemeyer, the Brazilian architect, designed the federal buildings as large, monolithic forms of concrete and glass. This environment sparked Jesse's interest in the craft. "I became fond of a sculptural shape, of a form with more freedom than other materials like wood or steel," he said.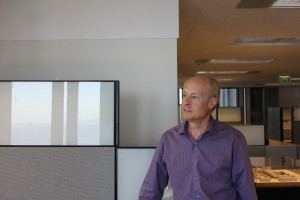 Out of Brazil and now with decades of professional experience as an architect, Jesse has found a new home for his passion: the Silicon Valley's largest city. He is the lone architect serving on "Envision San Jose 2040," a 37-person task force appointed by city officials to recommend updates to the San Jose General Plan and envision the future. With minor revisions, the group's draft report was endorsed by the Planning Commission early this month.
"When pressed for iconic buildings or buildings that represent what we aspire to in the valley, most people can't name very many," said Jesse, who wants to change that.
He sees San Jose's rebirth beginning with neighborhoods that convey a strong sense of place. "We need to make the provisions for the kind of city statement that we want to have: the preservation of key views, major nodes at ends of boulevards that have something significant," he said, noting that structures built for the short term are only detrimental to future generations.
To achieve these changes, he wants people to shift the way they understand the evolving workspace.
The last city to experience rapid growth due to industrial success was Detroit, though San Jose hardly shares the same need for automobile manufacturing. According to Jesse, the era of the assembly line is over, particularly in a region known worldwide for the technology industry, and so are the large, physical footprints required by factories.
Yet, Jesse said, "The valley … has a very large stock of buildings that were built with the traditional notion that there may be sales, engineering, manufacturing and even the loading dock at the back of the building for the product to go back out the door to the customer, all in one contained location. Those buildings are now very, very obsolete."
Instead, there has to be a repurposing of those buildings, either through retrofitting or creating multi-use spaces, he said.
A great threat is the possibility that San Jose could become another metropolis in which residents exile themselves to outer suburbs, Jesse said, effectively "abandoning the very core, which has so much history and could say so much about us as a culture and where we're going."
Jesse knows his territory. A senior consultant at Brookwood Group, a firm that offers design management and consulting to private investment companies, he previously worked for BEA Systems, a Silicon Valley software startup. His vision for San Jose would "embrace that which is great and build on it to create an ever better urban environment for all of us."
Jesse was born in Montevideo, Uruguay, while his father, a physician, was in the country for an overseas assignment. They moved to New York City when he was an infant, and after three years in Brazil, the family settled in Washington, D.C.
Upon returning from Brazil, he was given an opportunity by a local developer to produce some sketches to help remodel a home. Jesse was 13. He would also meet the official architect for the project.
"It was then that I developed a real appreciation for the craft," he recalled. "The developer was very supportive, it was he who told me, 'Hey, kid, you should be doing this.'" And so he did.
As a teenager, Jesse found himself paying more attention to the world around him, both in the natural environment and in foreign policy concerning U.S. involvement in the Vietnam War.
"I was in high school during the first Earth Day," he said, "(and) there was an awareness of the environment at the time." The construction of a stretch of Interstate 66, extending from Arlington to Fairfax, Va., and cutting through parkland, caught his attention as well. He was involved in the opposition to the highway extension, and created a rough plan of how to bypass the parklands for part of a school project.
"Our decisions on how we use our land resources are at the very heart of our future," he said.
Jesse majored in architecture at the University of Virginia and later earned a master's degree from the University of Michigan, specializing in planning and architecture but with a bulk of his degree shaped around business and law classes. "I needed to develop an understanding (of) the key drivers of the built environment," he said, explaining that the built environment relies heavily on those who have enough money to build.
Upon graduation, Jesse worked for the Veterans Administration on a new building for spinal cord rehabilitation, in Boston. "It was the first time I saw a direct, immediate influence from my work," he said. "I saw so many vets from the war and they were the same age as me."
Jesse saw how architecture could change lives—more importantly, how it could improve them—and began an architectural career that would wind through several industries before landing him in the Bay Area. Over the years, his thoughts became refined and his goals stayed true:
"Most (architects) absolutely want to leave behind something positive. We are not in the profession to make a fortune, but rather to leave a legacy. That is the fortune we're looking for."