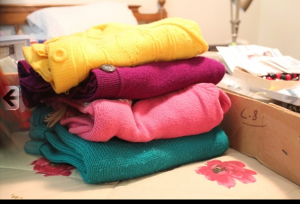 It is early on a Sunday afternoon in May, and Cindy Hofen stands near the front desk of an upscale assisted living facility in Palo Alto. Bluetooth in her left ear, eyes focused on the glass doors, she waits for a new client named Susan Scheel. A woman wearing a flowing red shirt and white capri pants strides toward the entrance. "I bet that's her," Hofen says. "She looks really stressed."
She leads Scheel down a hallway, navigating easily; this is Hofen's second visit in a week. "Home of Future Resident. Welcome!" says the sign outside the room Scheel's father will move into soon. Inside, a maintenance man touches up the paint on the walls. Hofen keeps up a stream of chitchat while she takes measurements, and then kneels to sketch a rudimentary floor plan on a blank sheet of paper.
Scheel's father, Robert, is being moved from an apartment a few blocks away. Scheel and Hofen arrive at his building before 3 p.m. The pile of newspapers outside lends it an air of abandonment, but his presence can be felt everywhere. It is easy to imagine him pushing the pedals around on the exercise bike in front of the TV or peering at the oversize buttons on the phone when he dials Susan.
His shelves hold books about history and books about dying.
Hofen measures the two dressers in the apartment. In another room, Scheel peers into the closet, then sits down on the bed, overwhelmed. She stares at her father's clothes, walks into the bathroom, and emerges a moment later, toilet paper in hand and tears on her cheeks. In situations like this, Hofen carefully gauges what reaction is appropriate. Scheel doesn't address her tears, so Hofen doesn't either. Hofen waits, then simply says, "I'm so sorry," and asks a question about transporting the clothes.
In January, Scheel's father was living by himself in this one-bedroom apartment. Then he was diagnosed with pancreatic cancer. At the time, Scheel had no idea that would be the end of his independence. Since his surgery, he has been mentally foggy and living at a full-time rehab facility. For Hofen, diving into their lives at this traumatic moment is just another proverbial day at the office.
She and her team are professional "senior move managers," shepherding the aging and their children through the material and emotional transition from homes to independent or assisted living communities. Hofen says crises are usually what prompts families to realize that a transition is needed. (Story continues below.)
[cincopa AcDAG4aCXyJL]
Ten years ago, Hofen was a stay-at-home mom with two kids, a father-in-law developing Alzheimer's, and 16 years of experience in corporate sales, marketing and customer service. When her husband's parents disclosed that they needed to move into an assisted living community, she decided that she would take her kids to Newton, Kansas, for the summer, and they would help her in-laws relocate. While other people describe the process of moving aging parents out of a family home as "the hardest thing I've ever done," Hofen says it was "like Christmas." As they packed room after room, the fragments of the past she unearthed enthralled her.
Since 2009, Managing Moves and More, the Silicon Valley-wide  company Hofen started, has grown from one employee to 15, but the team still has its monthly meetings at her home. On May 3, the six lead move managers gather in the living room of Hofen's new Mountain View condo. They sit on cozy couches; rows of folders are filed next to a desk in the corner, and paintings are leaned against the walls where they will eventually be hung.
Hofen asks who is available to join her in meeting a new client the next day. There is an awkward silence, and then several women reluctantly explain that they are just too busy. It is evident in the moment of negotiation that nobody has time to take on another client, but that the group has a collective investment in the venture, and they don't want to leave Hofen without the help she needs.
All of the employees work on an as-needed basis, and the volume of work at the company fluctuates. In the next several decades, demand for services like those offered by Managing Moves and More will likely jump.
In 2011, the first of the Baby Boomers turned 65, so it's official: the silver tsunami is here. Between 2010 and 2050, the number of people 65 and older will more than double, according to government projections based on census data. The segment of the population that has the highest care needs, those 85 and older, will more than triple.
*   *  *
At the core of what senior move managers do is a process they refer to as "downsizing" or "sorting." In almost every case — moving from family home to apartment, apartment to independent living facility, or independent living community to assisted living facility — seniors are moving from larger spaces to smaller ones and need to get rid of a lot of stuff.
For a senior, sorting can be like scanning through stations on the car radio. Move manager Cyndi Jenkel says that at any moment the person might stumble across a song that transports him back to freshman year in high school. She explains, "It can be like that with everything in your home."
Most people have difficulty getting rid of things because they worry that "if they don't have that physical representation, then they may lose that memory," she says.
People's stuff is their identity. It's hard to be a guitarist without a guitar or a construction worker without steel-toed boots. For many seniors, the hardest part of downsizing is looking towards the future. Most are at a point where stuff and space have become a burden – maintaining their houses and things requires energy they no longer have.
But many people can't face throwing away something like a tennis racket that they loved when they were younger.
"To get rid of it is really an admission that you're at a different stage in your life and that you're never going to be able to do those things again," Jenkel says. There is a symbolic dimension to this work. While downsizing, the move managers make seniors comfortable with who they will become and what they will (and won't) be doing in their next phase of life.
Aging is terrifying for most people, and seniors often delay, impede and interfere with the moving process in imaginative ways. Jenkel recalls a woman who – after about 15 minutes of sorting – would simply hide from her. At one point, Jenkel spread out eight pairs of binoculars on the senior's bed so that the woman could decide which ones to keep. The woman sat and looked through each pair of binoculars to test it out. A breaking news story came on the TV, and she yelled, "Get over here, you gotta see this." The next thing Jenkel knows, she is seated on the bed with the senior, and they are both watching the news through binoculars.
"It's hard not to get sucked into that sometimes," she says.
The move managers' stories make clear that getting through a move often requires both a helping personality and an excellent head for strategy. Susan Fontaine lists a few of the tactics she uses to keep reluctant clients moving:
She tries to make sure that people do not touch the items as they sort them; touching things makes people more emotional about them.
She will offer them only either/or choices – do you want to keep this, or that?
 If a person is holding onto something she hasn't used in a while, Fontaine will ask to put it in a box for X number of weeks. Fontaine then asks the senior to agree that if she hasn't missed the item after X weeks, they will get rid of the box.
The move managers also stress that the key is to establish rapport within the first few hours; they can't help someone make decisions until that person trusts them. This requires a feet-first jump into intimacy. One move manager recalls a time when a client who was a virtual stranger burst into tears. She not only hugged the woman, but ended up shedding a tear herself. Another one had a client ask her how he should dispose of his sex toys. Although it made her uncomfortable, she dutifully went home and harnessed the power of Google to discover that sex toys can be recycled, and she returned the next day with a plan.
*   *   *
Hofen sits at a kitchen table discussing sketches of potential room layouts with three generations of Grandma Rose's family. Rose and her family agreed to be interviewed on the condition that their last name not be used.
Tall and thin, Grandma Rose wears a blue sweater, blue sweatpants, and wire-frame eyeglasses. Her daughter Barbara, son George, and granddaughter Nathalie have all gathered at Rose's San Jose home for sorting day. George is a big, mild-mannered man with a calming presence. He and Hofen discuss furniture choices, and Grandma Rose defers to their decisions, saying, "In my current state, I'm not assimilating as well as I'd like." (Story continues below.)
[cincopa AkNAN76HVCms]
Hofen and Grandma Rose pick through the kitchen cabinet, selecting a few plates, bowls, glasses and mugs.  When they open her second silverware drawer, Rose seeks guidance, "Should I bring cake forks or regular?" Four sets of silverware join the dishes on the table. Hofen looks at the diminutive pile and cheerfully declares, "There's your kitchen."
On the counter, a bright yellow note is taped to the tray where Rose usually keeps her keys. In wavering handwriting it says, "Rose Do Not Drive, March 5th 2012."
In the bedroom, Hofen snaps iPhone pictures to use as references for the move-in at the assisted living facility. Rose takes a bottle of Tylenol off the dresser and places it in a cardboard box filled with papers, safety pins, a passport and a variety of knickknacks. George grabs the bottle and places it back on the dresser, suggesting that his mother will want to have the Tylenol with her.
Rose then takes several more items from the dresser and piles them in the box. Catching on, George explains to her that the box is for things that aren't going to her new home, and the dresser is for things that are going. She says, "Oh I got confused."
Rose's recent Alzheimer's diagnosis hastened the decision to move, and although she is sweet and good-natured throughout the day, consciously or unconsciously, she seems to be trying  to draw the process out.
When Hofen asks Grandma Rose if she wants to choose photos for her new place, Rose says that she doesn't need her pictures to be there on day one. When Hofen wants to go through the closet, Rose says she'd rather come back and rummage around later. When Hofen wants to go through a chest of warm clothes, Rose says she doesn't need to do that now, because those are her winter clothes. In each case, Hofen gently guides Rose through the taxing choices about what to keep and what to leave behind.
Rose asks Hofen if she will be there the day the movers come. Hofen assures her that she will.
After about two hours, Hofen looks at her phone and says, "eight new messages." When they finish sorting, she steps outside. After listening to the voicemails she sounds relieved when she says, "No fires." Hofen then zooms back inside to box up the things Grandma Rose will be taking to her new home.
*  *  *
Back in Palo Alto, Hofen and her husband-and-wife moving team, Katie and Carlos Butler, are waiting for Susan Scheel outside of her father's apartment. It is moving day, and as soon as the team is through the door a quiet storm of activity begins. Katie tapes boxes together, Carlos removes drawers from the dresser, and Hofen kneels on the carpet squinting at her floor plan.
Soon, Hofen hurries away to check on another job. Carlos mutters as he wraps each piece of furniture in moving blankets, transfers it to a small four-wheeled wooden platform, and trundles downstairs. Only the multiplying beads of sweat on his forehead give away how strenuous his work is. Katie busies herself unearthing the wealth of things that lie beneath the surface of every home. She opens bathroom drawers, packs what she deems necessary, and leaves the rest (except for medications, the family deals with those). In the kitchen she rummages through cabinets and makes piles for Scheel to review.
For this move, the Butlers are working with one of the simplest situations senior move managers encounter. While the pair take care of the physical move, Scheel is left free to address the higher-level aspects of the transition – bills, papers, photos, feelings.
Scheel adds sardines (her father's favorite) and removes plastic wine glasses (she doesn't think it's good for him to drink) from Katie's kitchen pile, searches through a family photo album, and then grows engrossed in his papers. She scrutinizes his financial documents and murmurs, "it's so weird to be going through my dad's private stuff."
The move managers call themselves surrogate children "without the emotional baggage." As Hofen puts it, "there's no such thing as a normal family," and senior move managing often involves mediating complex relationships.
One of the other move managers, Leslie Ballesteros, recalls a sweet older woman who would "tear into" her daughter each time she came over, criticizing everything she did. There are several stories of adult children who found it too overwhelming to be physically present during the move. Katie Butler recalls tension between two adult children, a brother and sister, of one of the seniors she moved. The sister asked Butler to act as a go-between in her phone communications with her brother. Then, in one particularly uncomfortable moment, Butler concurred with the brother's opinion about not having throw rugs in the bathroom, and he nodded and mouthed encouragement to Butler over his sister's shoulder.
*  *  *
Hofen and her team have just moved 93-year old Jane Bedke out of her Palo Alto apartment. Bedke's daughters sit on a thick carpet in the living room Jane has left behind. Slightly whimsical paintings of German cities remain on the walls, and a red plastic trash can completes the partial circle the three sisters form around a pile of their mother's stuff.
Butler hypothesizes that it's particularly hard for "people to get rid of things their parents gave them or their grandparents gave them, because it's like dishonoring their memory."
The sisters start by taking photos out of frames. They hold each item up and ask, "Does anybody want this?" The sisters come across Halls cough drops in many of the boxes they unpack, which makes them giggle. One sister, Janelle, comes across an empty Ziploc her mother has squirreled away and calls out, "does anyone want an empty bag?" This prompts louder giggles.
Most of the decisions are easy. One sister explains that for many things, "it was stuff to mother so it's just stuff." Then there are those few things that feel so imbued by their mother that they are unwilling to get rid of them. Janelle has decided to keep a wooden table her mother used to do jigsaw puzzles on, even though she has no use for it. Her mother was a puzzle enthusiast and Janelle says, "I just don't want it to be gone from our family."
After several hours, the sisters have dealt with books, bells, jewelry, tea-towels still in their original packaging, a jigsaw puzzle of the New York Times on the day their mother was born, two singing Christmas cards, a pile of American flag pins, a novelty sculpture of the sisters' faces carved into Mount Rushmore, a knee brace, an ankle brace, a back brace, an empty bullet casing, a necklace with a real gold coin on it, a manicure set, a luggage strap, a decorative thermometer, two clocks masquerading as make-up cases, and more fanny packs than any one person could possibly need.
The only item that stumps the sisters is a binder of Jane's genealogy research about distant relatives. They don't want it, and they think nobody outside the family will want it, but they feel terrible about throwing it away. Janelle says, "At some point you have to delay the decision. I'm not ready… I'll just have to store it."
Within half an hour, she circles back to the issue of the binder. She holds it up, and  says to her sisters, "I'm going to throw it out, are you okay with that?" Even after the three concur that it must go, they don't want to put it in the red trash can, so it awaits its demise in its own cardboard box.
Although the sisters are reluctant to throw things away, they also share a grim determination not to hold on to too much. Each time one of them disposes of something, they throw it in the bin with a little flourish.
Janelle Bedke explains that after her father died about 10 years ago, her mother moved from a six-bedroom house to this one-bedroom apartment. Janelle took the lead in that move and unhesitatingly calls it the hardest thing she's ever done. The decisions seemed endless; she came across reminders of her father everywhere. Janelle describes it as, "Death by a thousand tiny cuts."
This time, she is intent on getting her mother's things disposed of as efficiently and painlessly as possible. She asked her sisters to travel to Palo Alto (one lives in Florida and one in Oregon) to help, and hired Hofen's company to oversee the move. Hofen says she usually charges anywhere from $2,000 to $8,000 dollars depending on a variety of factors.
When move managers Susan Fontaine and Phyllis Phillips arrive to do the clear-out several days later, the bookshelves are bare, the couch is gone and the apartment is buzzing. Phillips collects cleaning supplies for HAZMAT disposal while Fontaine discusses furniture with an American Cancer Society representative who is scoping out items for donation.
Janelle mentions to Fontaine that she wishes there was something to do with the genealogy binder other than take it to the dump. Fontaine and Phillips end up spending four hours (off the clock) making calls and driving around, searching for someone interested in the binder. "You can get obsessed," says Phillips. "It's so important to the seniors that their stuff finds a good home, and they often can't let go of things if they know they will end up in the trash." The staff at the Sunnyvale Historical Museum suggests there may be a connection to the Mormon Church, and the binder eventually winds up at a genealogy organization in Salt Lake City.
When even the window dressings have been removed from the wall, and the carpet is bare, Fontaine asks Janelle if she wants to take a photo in the empty apartment. Janelle replies that she doesn't want a picture; she'd rather remember the apartment as it was. Janelle says she thought she did all her grieving during the last move, but that "this morning I got sad for the first time, knowing I wouldn't come here again. It's crossing a bridge, you know you can never go back over."
*  *  *
In Jane Bedke's new room at an assisted living facility, everything is the same, but different: her dresser is still her dresser, her bed still her bed, but there is no couch, no desk, no slightly whimsical pictures of Germany. Where there used to be a bedroom, living room and kitchen, there is now just one L-shaped room. (Story continues below)
[cincopa AEJAL7ajV6op]
Hofen's move managers do what they refer to as "mirror moves" where they attempt to translate the feel and shape of the original home. For older people, having their stuff around offsets the disquieting unfamiliarity of a new place. Fontaine says it's important to surround seniors with key things at this stage of life, because "they are losing who they are, so you want the things that remind them of who they are."
Jane is ensconced in her overstuffed armchair. For Fontaine, this is a magical moment. Fontaine says that for seniors, "Their life is their chair, right, and their chair is in this environment that's kind of falling down around them or is not working anymore, and then you get them into this facility and you set up the room real nice and then you move that chair." Jane is still sitting in her home, but it's a tidy, well-maintained home that isn't more than she can care for at this point in her life.
Jane works on a crossword puzzle Janelle brought, from an old children's magazine Janelle's grandson used to read. Janelle explains that she moved her mother because Jane could no longer make decisions about what to do with her day. This facility takes away the responsibility of deciding each moment, each minute, each hour of each day what she will do. Seated in her new home, there's less space to take up, fewer things to take care of, fewer memories to hold onto, fewer decisions to make; Jane is surrounded by only the most essential things.