Hear more about this story and how it developed on the Peninsula Report radio podcast.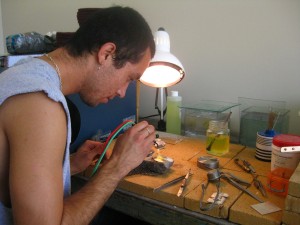 Shortly after midnight, a 23-year-old jumped off a treadmill at his local gym and headed toward the locker room. He indulged in a long shower before getting dressed and climbing into his white Acura, the only car left in the parking lot.
It had been a long day — no, a long week — for Red "Waddie" Dakota CrazyHorse, who steered through the rain-slicked streets of San Carlos. He parked in a driveway, climbed over the back seat and stretched out. Thank God I got a hatchback, he thought, before drifting off to sleep.
Recent graduates of an elite university don't picture themselves as ever being homeless. But CrazyHorse found himself as just that for three weeks this spring while working to establish his own business. He is a silversmith — a trade passed down through his family for three generations — and an entrepreneur.
After receiving a B.A. in Native American studies from Stanford in 2011, he moved back to the New Mexico Indian reservation where he was raised. As the climate grew colder, CrazyHorse had an urge to return to the Bay Area. He collected as much money as he could — $500 — and dreamed of turning his passion into profit.
Three days after Christmas 2011, he packed his new car with a few belongings and headed West. He didn't tell his family exactly when he would be leaving. He found a room for rent through Craigslist and made the journey alone.
At first, nothing went right. After signing a lease for a workshop space in San Carlos, he quickly ran out of cash and had to take a part-time job at TJ Maxx. The woman from whom he was subletting a space in her home kicked him out. He signed up for a gym membership at the local 24 Hour Fitness, mostly so he could use the showers. Peanut butter sandwiches became the staple of his diet.
And that's when he began sleeping in his car, alternating between the Acura and an inflatable mattress he kept on the floor of his silversmith workshop — it's not legal to live there — while trying to get his startup, "Collegiate Silver," up and running.
"I had everything to lose," he recalls.
Up all night
CrazyHorse, affectionately called "Waddie," short for his Native American name Wadema, is of average height, and rather skinny. An avid runner, he keeps his dark hair buzzed, and his muscles twitch intermittently — as though he's going to take off in a sprint at any moment. He typically greets friends with a fist bump.
On a sunny afternoon in late April, he's wearing dark blue jeans and a black polo. A safety pin sticks through each earlobe and dark aviators mask his bloodshot eyes.
"I pulled an all-nighter last night … all to make this," he says, pointing to a diamond-shaped pin stuck on his polo. He pushes up his glasses to rub his nose and eyes before letting them fall back onto his face.
The pin measured about an inch long by an inch wide. In the middle was the number 16, outlined with a silver square. It's an exact replica of the Stanford class diamonds that line the university's quad, with a square dedicated to each graduating class. He used a picture found online to create a template, and then painstakingly melted and cut silver to form the number. He filed all of the edges by hand.
Despite his exhaustion, he smiles and laughs. "Can you believe all that time for this?"
He's been pulling all-nighters to be ready for Admit Weekend at Stanford — four days dedicated to potential freshmen of the class of 2016. Current high school seniors will wander through the campus' student union, while parents purchase T-shirts and bumper stickers at the bookstore.
Collegiate Silver received its licensing approval from the university a month earlier. After getting the green light to use Stanford's trademarked symbols, CrazyHorse is hoping to sell his pins, belt buckles and other wares to admits, parents and graduates, in addition to the inventory at the bookstore.
"Today, I'm doing reconnaissance at Herff Jones," he says with a slight smile, referring to the giant in the educational commemoration business. "They're my main competition." A bold claim for an aspiring entrepreneur who peddles much of his wares from a cigar box he keeps in a backpack.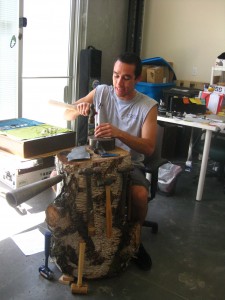 While in college, CrazyHorse spent every summer back home, working on jewelry with his dad and setting his own schedule. He always wanted to turn his silversmith talents into a business, but just needed the right push.
Over the last several summers, CrazyHorse has sold his silver Stanford "S" pin—the university's block letter symbol superimposed with a redwood tree — at an Indian trade show in Santa Fe. It was there he met Bob Ames, the first Native American to graduate from Stanford Law School.
Ames's and CrazyHorse's relationship, which began the summer before the younger man's freshman year of college, was forged by coincidence: an Ames relative once carried jewelry in her store made by CrazyHorse's grandfather. And Ames's grandson and Crazyhorse would be classmates in the fall.
Ames began distributing CrazyHorse's pins to Stanford administrators and affiliates, and introduced Crazyhorse to his eventual mentor, Tom Bennett. This is how CrazyHorse got the idea to turn his trade into a business
"Tom said to me, 'there's gold in your silver,'" CrazyHorse says.
Five years later, he set out to make it happen.
He spent nearly a year drafting a business plan, before returning to the Bay Area to apply for funding from banks. He was turned down multiple times, even by a Berkeley lending shop that specialized in creative funding.
He said his biggest regret is how much time he wasted perfecting the business plan, instead of pursuing multiple avenues at once.
Despite not having funding or a home, CrazyHorse built up the confidence to seek out help from an investor in Silicon Valley. To his surprise, he was loaned $10,000, providing enough capital to order proper machinery for his shop.
His own path
Just before New Year's Day 2012, he faced the possibility of going down a very different path. Fresh from college and unsure of what was next, he was back at the Pueblo de Cochiti, the reservation he grew up on.
The Pueblo, 25 miles south of Santa Fe, is home to more than 500 Cochiti natives. The Cochiti are known for their craftsmanship, especially jewelry and pottery. Each December, the reservation's spiritual leader designates six men to govern the village for a one-year leadership term, beginning in January. CrazyHorse's own father once served as the Pueblo's governor.
CrazyHorse sensed that he had been pegged to become one of these leaders, and that's when he knew he had to leave, or risk never starting his business.
"I knew they were looking at me to do something. It's public service and hard work, which I don't mind, but I had my heart set on [my business] already. I thought, 'I have to remove myself from the pool;' I had to get out of there."
On December 28th, the good cheer of the holiday season still lingered. But for CrazyHorse, a difficult decision had to be made. He left that morning.
"It's always a battle between the two … but I knew if I stayed, I would only get into trouble."
You could call it fleeing, he said. "But happiness is a choice."
"There's nothing to do in New Mexico but plan to escape."
CrazyHorse is the youngest of three children, each at least eight years apart. He began dancing in the Pueblo's religious ceremonies when he was 5, developing a respect for his culture without being pushed into it by his father. He was "always the brainy kid," and the only child in his family to attend school off the reservation.
When he was 10, the family suffered the loss of CrazyHorse's 19-year-old brother, who was killed in a head-on collision on the way home from a party. The event changed everything, and CrazyHorse considers his brother a guardian angel.
"The way I look at it is, would he want me to still be grieving over that? He'd say, 'Stop being a wimp.' That's kind of the way I've approached everything since then."
When middle school rolled along, his mother — a white woman from Connecticut — began looking into alternative options for CrazyHorse. "She said, 'We need to find you a different school, because in the one on the Reservation, in seventh or eighth grade [the kids] just get lost," he explains. "To me, that's adolescence."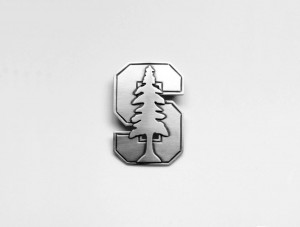 His mother opted for homeschooling in eighth grade, and then CrazyHorse attended an arts-oriented high school in Santa Fe, a 40-minute drive each way from his home. He always hoped to attend a liberal arts college and had his sights set on Oberlin. He applied to Stanford, though it wasn't really on his radar.
He was preparing for a spring weekend visit to Oberlin when the Stanford acceptance letter arrived and changed everything. His senior class had nine students, another of whom was also accepted to Stanford. After receiving a Gates Millenium Scholarship, CrazyHorse began fantasizing about Northern California.
The typical Stanford student is overcommitted, and CrazyHorse was no different. He ran for student Senate as a freshman, he did research in Hawaii. His junior year, he made plans to study abroad in Berlin while simultaneously serving as one of five junior class presidents. His fifth year he served as a resident assistant in a large dorm.
But every summer, he made sure to return home for the reservation's annual Feast Day, a celebration of Saint Bonaventure. He continued to observe his father's silversmith techniques. After his sophomore year of college, he landed an arts-related grant from Stanford, enabling him to update some of the tools used back home.
Mixing old and new
Collegiate Silver is stenciled in block letters on the front of a glass door. Inside is a small room with concrete floors and white walls. Tables with heavy machinery line one wall; a row of recently carved belt buckles glint in the sun, waiting to be shined. This afternoon in early May, the garage door is rolled up, and the opening chords of 'Sweet Home Alabama,' a staple of CrazyHorse's favorite Pandora radio station, greet passersby.
In the midst of the clutter is CrazyHorse, hunched over a circular piece of metal, which he is attempting to clamp shut. He swivels on his stool to the soldering station, where he heats the newly formed circle to white-hot, and then promptly drops it into an acid bath on the back shelf.
"My dad would tell me that I'm letting this get too hot," he says with a grin, before turning back around to find more materials.
In March, after his attempts with the lending shop in Berkeley failed, CrazyHorse's friend Mike offered to help go through a "dry run" at the shop. He brought along his girlfriend, also a Stanford graduate, whom he had told about CrazyHorse's financial frustrations. She suggested he contact her father, an employee at Microsoft with an eye for investment opportunities.
After his friends left, CrazyHorse barely waited for the door to close before opening his MacBook, frantically typing an urgent — but not too desperate — email to the potential financier. Discussions lasted for more than a week. The final question was how CrazyHorse's product compared to other collegiate jewelers.
"I said, in a side by side comparison, you won't be able to tell. I have full faith in my product, and it's not just a product. It's art."
Shortly after, CrazyHorse received a check for $10,000 loan, with an equity transfer clause and minimal interest charged. He quit his job at TJ Maxx on a Saturday afternoon.
"The next day I walked up into my shop, and lit up a cigar. Why? Because it's my shop," he says, laughing. "It was very liberating."
This is what a jewelry startup in the Silicon Valley looks like. From CrazyHorse's corner, he has a view of all of the shop's machinery. He currently works alone, interrupted only by the hourly passing of the Caltrain, whose tracks are the only thing that separates the garage from the 101 freeway. The occasional streaming of sporting events on an iPad and playlists from Pandora provide background noise while he works.
CrazyHorse shows off the tools the investment funding has afforded: metal stands for casting molds, a soldering gun, and his favorite: a small pen that emits electric current at one end for melting wax. "This would have made things at home so much easier," he says. "It's like a lightsaber!"
Today, CrazyHorse is creating silicon molds of his more popular pieces, including the iconic Stanford "S" and tree earrings. He rushes over to his "magic" table, where an old plastic vitamin container sits with a brush sticking out. The room is filled with what seems to be discarded trash, but every piece is put to use.
"I totally get my dad now," CrazyHorse explains. "When you have your own shop, you want to make tools out of anything."
He pours the silicone gel into his constructed container, preparing to mix it with other chemicals. He looks up the proper combinations in a small black binder, which contains notes from a class he took while at Stanford: ME 298—Silversmithing and Design.
And then, a funny thing happens. As CrazyHorse constructs the perfect stand on which the small tree mold for earrings will sit, he drops the electric pen. He rushes over to an old tree stump, placed squarely in the middle of the room. From it hang different tools, mostly large hammers.
WHACK. CrazyHorse quickly but carefully brings down a small hammer on the end of the stand.
"I can't believe I didn't think of this before," he yells over the music.
He brings the new piece of metal, now significantly shorter, over to the soldering station. The fire burns brightly as he heats up the edge of the metal, and carefully attaches it to the base of the tree. He drops the whole piece into the acid bath for cooling, and turns to construct the mold's casing.
By the end of the week, he's made more than one dozen pairs of earrings, ready to be displayed at the Stanford Powwow, an annual festival hosted on campus that brings many tribes together. He hopes to increase the scale of his operation so that the jewelry can be sold online through his fledgling website, in addition to the Powwow and Indian Market.
CrazyHorse says he's embraced the entrepreneurial mindset of the Valley. He refuses to cave into developing another iPhone application, but says his friends have taught him the start-up approach to financing, and some of the more superficial aspects of production.
His biggest concern currently is with packaging. "I want to be like Apple. They're so sleek … so what color is my box going to be? Do I put velvet on the inside? Does it come in a bag?" He quickly overwhelms himself.
A return home
CrazyHorse found housing in the garage of a friend's house off the 101 freeway, though lately he's pulled so many all nighters at the shop, he's never there. He also hired an intern through Stanford's Mechanical Engineering department in hopes of expediting production before the university's graduation ceremonies.
In early June, CrazyHorse traveled to New Mexico to revisit his high school, and take custom orders: he's been charged with designing class rings for this year's eight graduates. But he also took the time to surprise his parents, showing up to dinner unannounced. He said that though it had only been five months, his mother noticed a growth in his maturity.
"I'm learning a lot, I have so many good stories already," he says. "But they were more interested in what work was like at TJ Maxx, actually."