Hear more about this story and how it developed on the Peninsula Report podcast.
Jean Cecil knows that clients often find her intimidating at first. With posture reminiscent of Jackie O. and a taste for Elie Tahari clothing, smart heels and cranberry lipstick, the former lawyer exudes a chic professionalism befitting her role as executive director of Career Closet.
But Cecil points to her background as evidence that she's not much different from the down-on-their-luck women who seek her help. Now in its 20th year, Career Closet, a nonprofit with offices in San Jose and Foster City, trains clients on how to look for work and provides them with professional skills and free business attire.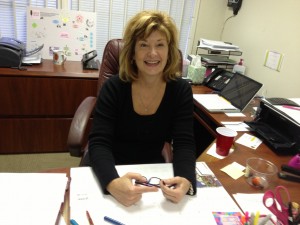 Born and raised in northwestern Michigan's gritty Benton Harbor, a factory town nicknamed "Benton Harlem," Cecil witnessed a murder when she was 16 and school violence amid race riots in the late 1960s. Having grown up in a family she describes as "dysfunctional," she divorced twice before marrying her current husband.
"I look at the women we dress. I look at the women in (Career Closet's) work experience program. I tell them we are no different," she said. "I might have a law degree…but I made a choice to get to know who I am and to be the best me that I can be, and that's what I want for you."
After studying psychology at the University of Michigan, Cecil worked in a male-dominated sheriff's department in Ann Arbor. In 1990, she earned her law degree from Michigan State University and began working as a lawyer. She quickly became the county child support director in the Lansing area and one of the youngest Friends of the Court, an agency that offers legal services in divorce, family support, interstate and paternity cases involving minors. "It was very fun," she mused of her fast-paced career.
Eventually Cecil began craving more than professional success. As she threw herself into her career, a marriage fell by the wayside, ending in divorce. Her second marriage met the same fate. When she married a third time, she decided to leave law, starting anew with her husband when he received a job offer from Santa Clara County.
Cecil discovered Career Closet by accident in 2002. After living in San Jose for six months, she decided to get rid of the business suits she had worn as a lawyer. At her neighbor's suggestion, she dropped them off at the old Career Closet site on Blossom Hill Road in south San Jose. A small sign that read "Dressers Needed" caught her eye. Going "stir crazy" from staying at home figuring out her next steps, Cecil signed up to dress clients twice a week.
In Career Closet's dressing program, clients meet with a volunteer dresser for a style consultation. After getting a sense of the client's background, including the job she is seeking or any religious beliefs that could limit clothing options, the dresser leads the client past racks of donated clothes, handbags, shoes and jewelry, gathering items along the way. The dresser then escorts the client to a changing room to try them on.
Clients leave the store with a week's worth of clothing, typically valued around $250. Dressers also teach clients about workplace-appropriate attire, tips for putting together outfits and interview techniques.
"I believe that the way you dress will either open a door or close a door," Cecil said. "It shouldn't be like that… but we all do it."  She gave the example of a waitress arriving to work each day dressed in a nice blouse and slacks only to change into a uniform. Still, "your boss sees that," Cecil said. "If a host or hostess doesn't show up that night, who do you think he's going to (ask) to fill that role?"
Jayne Arthur, the volunteer coordinator of San Jose's Career Closet at the time, assigned Cecil more responsibilities, such as answering phone calls and taking donations, giving her deeper insight into how the organization worked.
A self-described "change-maker," Cecil took charge of Career Closet as executive director in 2003, seeking to make it "bigger, more respected." She immediately tidied up the place and moved the waiting area indoors, where clients wouldn't feel ashamed seeking the organization's services. Before, clients sat on chairs in front of the store.
Then Cecil surveyed her clients, asking how they traveled to and from Career Closet. After discovering that many endured long bus rides, she realized that the organization needed to relocate. Two years later, she found Career Closet's current space in north San Jose, within walking distance of the Valley Transportation Authority light rail. She met a commercial builder who enlisted 28 companies to cover the $140,000 in renovation costs.
Cecil also added a boutique, which sells casual clothing to the public. Profits from the boutique cover rent and utilities, allowing her to apply for grants to build the organization's programs.
In 2009, she started the work experience program. Although the clients could dress professionally, many lacked the basic skills needed to maintain employment, such as punctuality. Program participants start by sorting donations in the back of the store. They later learn current business-appropriate styles, dress clients alongside more experienced dressers and work in the boutique.
They also learn front desk and receptionist skills, such as phone etiquette and computer entry. Career Closet's partner companies allow trainees to intern with them for two weeks.
"We were a very grassroots organization when I took over," Cecil said. "Now we are pretty well known in the community, and I believe that we are well respected, and we're innovative. I'm pretty happy with that."
Cecil said the biggest challenge of overseeing the program is remaining nonjudgmental, a skill she tries to instill in the volunteers, some of whom didn't begin as clients.
"We try really hard to ask where are they, and how do we put ourselves in that spot," she said. If Cecil catches a client trying to steal an item from the donation receiving area, she explains how the flow of money helps pay the organization's bills. For many of the women, planning a budget "is a foreign concept," she explained.
Cecil said her childhood background has helped her recognize the reasons underlying some clients' problems. When her husband, who volunteers to teach the work experience classes, insisted that they remove a rude, combative student, Cecil refused. She pointed out that the woman, whose child's father and own father left her, never had a positive male role model and would naturally want to challenge her male instructor.
She later spoke to the client about perception, engaging her in a role-playing activity that involved Cecil saying the same thing in different tones of voice. The client, who admitted she had no idea she sounded obnoxious, said the activity taught her how to step back from uncomfortable situations. The woman's behavior problems stopped.
One weekend, Cecil tasked the women with overseeing one of Career Closet's storewide sales. "Right as rain, everything was done perfectly," she said of the client, who now works at Target.
Other clients have changed during their experience with Career Closet as well, said Cecil. She recalled the time when Program Coordinator Heather Rodrigues came into her office, exasperated because all of the women in the work experience pogram had broken up with their significant others. Cecil considered it as a sign of the program's success. "We want (clients) to understand they can be anything they want," she said. "Be in a relationship because you want to be in that relationship, not because you're supposed to be."
The transformation is a visible one, Cecil said. When clients see themselves dressed in front of a mirror or begin to feel comfortable in the work experience program, she notices them standing with their shoulders back and head lifted, when only a few weeks before they might have avoided eye contact.
"I firmly believe what we're doing here is giving individuals the power to break their cycle of poverty," Cecil said.

[soundcloud url="http://api.soundcloud.com/tracks/73780923″ params="" width=" 100%" height="166″ iframe="true" /]