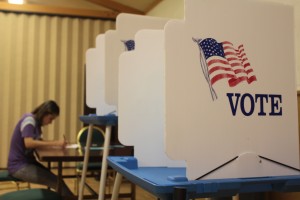 About 80 percent of Santa Clara County's registered voters cast ballots on Nov. 6, down from the 86 percent who voted in the previous presidential election year. This year, records show, about 29,000 more people registered to vote in the county than in 2008.
In San Mateo County, voter turnout also was 80 percent, which represented a 1 percent increase from 2008. The number of registered voters in the county went down by about 28,000 in the four-year period, according to records.
Some San Mateo County residents encountered confusion on election day because the polling place where they were accustomed to voting had been shifted or eliminated. Anna Freona was among them.
"I started giving my name and address, and they said, 'You no longer have your name and address in this book,'" Freona recounted. "I said, 'We've been voting all our life here.' And he goes, 'Well, they took out your precinct. You no longer have a precinct to vote. You have to vote by mail."
Due to redistricting, some precincts were left with fewer than 250 registered voters. In those instances, the polling place was closed, said county Elections Manager David Tom.