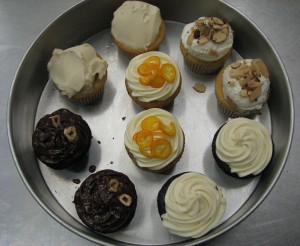 In the fairy tale, you simply follow the trail of breadcrumbs. But in San Francisco, to find the $1 cupcakes filled with champagne and grapefruit you have to know which bell to ring at a Mission District artist studio. To sip a Pink Lady at a 1920s speakeasy, you need to whisper the day's password to the woman in the black dress. The path to home-baked goodies in Dolores Park involves tracking down The Cookie Lady. And don't get me started on how hard it is to win a seat for the after-hours gourmet meal inside a Guerrero Street bakery.
Ever since returning to Stanford University from a semester abroad in England, I'd been looking for the Bay Area's hidden mysteries — our version of the London pub secreted away behind a breakfast club refrigerator, or the New York nightspot you enter through a telephone booth. If these undercover worlds existed here, I was determined to find them.
And so the search began.
The first step involved emailing and calling everyone I know who lives in the Bay Area and likes adventure. A few referred me to friends, or friends of friends, or acquaintances of friends of friends. I followed the trail of contacts, and most of them led to nothing. A few of the most promising tips led to people who were unwilling to share information because, as a journalist, I might expose their clandestine gatherings.
Some trails, however, led me to treasure.
*   *   *
Six days before the scheduled event, and a week after I have entered the lottery, an email arrives announcing that I "have ONE reserved seat for Tartine Afterhours" and that "this will be a cash-only event! Dinner is $55 + wine and gratuity."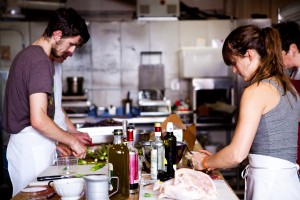 Samin Nosrat, once a cook at Chez Panisse, the Alice Waters restaurant, initiated the after-hours dinners at Tartine Bakery in May 2010. She wanted to "push the tables together" and create a communal, affordable dining experience. Initially, she planned it to be donation only, but soon realized that model was not sustainable. Despite calling her event "above ground" (because she's gone through the trouble of acquiring every permit to make it legal), the Tartine Afterhours Dinners possess many of the elements of an underground dining experience.
When I arrive at 600 Guerrero Street at 8 p.m., the door is open. Six large tables have been formed using the small café tables, and six to eight people have been squeezed at each. One of the six tables sits in the kitchen, directly across from the wood block where Samin and her crew work to prepare the night's four-course meal, which features a shaved summer squash salad, local king salmon, and Colin's rhubarb custard tart with rose petal cream.
A cellist and violinist play a Bach Rondeau in a small corner of the room. Servers rush back and forth but don't greet me when I walk in. It's as if they assume I've been here before, as if I should know where to take my place at the family table. But all the tables look full. I find a server and ask where I should sit.
"Are you Shonda?" she asks, without looking at any list of reservations.
"Xandra," I say.
"Right. You're at that table." She points to the back of the room. There are seven chairs, and they're all taken. As if reading my mind, she says, "We just need to pull up another chair."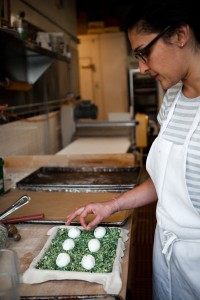 Samin — dressed in a brown cotton dress, an apron, skin-colored flats that make her look barefoot, and her dark curly hair tied back in a messy bun — tells me later that this night was so packed they had to borrow a chair from Delfina, the neighboring restaurant.
I take my place at the head of the table.
Immediately, the three closest to me introduce themselves. They are friends of the dessert baker, Colin Kull, who periodically emerges from the kitchen to lean on the backs of their chairs and chat. Even though most people have to enter a lottery to get in to the dinner, a certain percentage of seats go to friends of staff. Colin's friends and I strike up a conversation that lasts through the meal.
The four long-haired blondes at the other end of the table ignore us for the most part. The staff members notice and joke to each other in the kitchen after the meal about blacklisting them from future Afterhours Dinners. Apparently, Samin has the power to blacklist patrons, though she has never done it before. She says that "everyone who's come to the dinners has been pretty excellent."
The blondes do engage with the rest of us when "Margaret's green garlic and herb loaf" arrives and we all break it off in messy hunks. How can you not talk with someone when you're both digging your fingers into the same dish?
We aren't given serving utensils for the appetizers, which include spicy almonds, olives, little pickles, and fresh vegetables. Samin herself serves extra dessert tarts with her hands. It feels like a family dinner: the salmon is bare with the salsa in a bowl on the side, and the servers make quips about us leaving food behind for them to eat (which we do).
But in terms of quality, everything tastes like it came from a fancy restaurant. The garlic bread is perfectly soft and buttery with a crunchy shell; the salmon is tender and the salsa accompanying it combines the freshness of basil and lemon; the rose petal in the whipped cream gives dessert the subtle hint of a garden.
That's what Samin wants — to create a monthly event of home, where a bunch of strangers can share the experience of a gourmet meal together. She's been successful so far, advertising only among friends, on her website, and on her Facebook page. From the first dinner, for which 50 people entered the lottery, to this latest dinner, for which 500 people entered, Samin has gathered a large following.
Now, her only concern is that she might make people angry if they repeatedly don't make it in.
*  *  *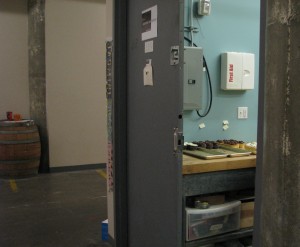 The instructions are to arrive at Jasmine Rae Bakery before 2 p.m. so I can meet Jasmine Rae de Lung before the cupcakes start selling.
About 1:20, I arrive at the slate-colored warehouse, its red banner announcing "1890 Bryant Street: Artist Studios," and call her cell phone. No answer. I try her studio phone and a woman picks up. "Jasmine is not here today," she says.
If there's one thing I've learned from these adventures, it's that things rarely go as planned.
Turns out, I've reached Rocio Ortega, Jasmine's assistant. She lets me in through a locked gate and door and up to the third floor—with slight reticence—so I can watch her work and wait for Jasmine in the studio. Few words are exchanged, and I begin to wonder whether the mysterious Jasmine will ever appear.
It is a remarkably clean space, filled with multi-colored aprons, a whiteboard listing the flavors of the day and trays of chocolate cupcakes that have just come out of the oven.
At last, Jasmine breezes in.
"Cupcake Wednesdays," she tells me, "is $1 cupcakes at 2 o'clock every Wednesday." Then she stops herself: "Don't put that in there! I don't want everyone to come. I mean they can… Just don't plug it." Then she laughs.
Considering she's a professional celebration cake maker and her cupcake orders usually sell for a minimum of $75, $1 a cupcake is a pretty good deal. This particular Wednesday, the options include: plain chocolate with grapefruit Chantilly filling and cream cheese frosting; almond with lemon curd and whipped cream; and brown butter with Nutella butter cream.
Some of the other ingredients she uses: champagne, hibiscus, lavender, balsamic vinegar, goat cheese, kumquats and saffron. Besides being a cake artist, Jasmine is a graduate student studying somatic psychology and hopes to practice therapy someday. "I definitely have a strong sensitivity to how people are," she says, "and that greatly informs how I express a cake for them."
The amount she bakes varies "depending on what it feels like in the morning" — her own mood and the climate outside — and how many people she feels will want cupcakes that day. This day, there are only about 15 of each type; supplies sometimes run out within 35 minutes, Jasmine cautions.
The tradition of Cupcake Wednesdays began six years ago after someone on the street saw one of her clients eating a cupcake and asked where it came from. Afterwards, the demand from her neighbors, artist friends and other locals increased until she had to create a space to sell individual cupcakes cheaply. But she keeps her weekly sale underground because she doesn't want it to become a big deal. She likes the intimate community it creates.
At 2 p.m., I watch her load the cupcakes onto gold plastic trays and place them simply on a wooden table by the padlocked door that separates her bakery from the cement hallway. She licks her fingers. Her bakery isn't out on the street, with a glass case of assorted pastries, a cash register, and small tables where customers can sit; instead, it is secreted away among studios of painters, sculptors, architects, and jewelers, with hardly any space to walk except on a narrow path around the large wood block where she creates her works of art. She writes the cupcake flavors on post-it notes and sticks them to the wall above the trays.
Customers begin to arrive. They are all either friends or acquaintances. As they stand in the doorway, she catches up with each and every one of them. One close friend brings her mother to visit the bakery for the first time, and when I leave, the three of them remain, laughing and stuffing cupcakes into their mouths with sticky fingers.
*  *  *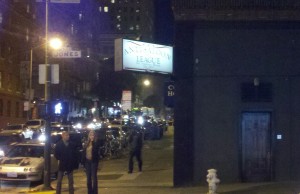 I turn from Geary Street onto Jones about 9:15 on a Wednesday night and look for address number 501. Not surprisingly, the number isn't visible.
At the corner of Jones and O'Farrell, a small, glowing sign protrudes from the bottom of the Hotel Shawmut. "Anti-Saloon League," it reads. "San Francisco Branch, Est. 1920." A secret code. This sign provides evidence that Bourbon & Branch, a speakeasy established in 1920, is nearby.
I ring the buzzer next to the coffee-colored door. A few moments later, a woman emerges from the dim interior. She has long black hair, black tattoos and a black dress that's cut short in front and drapes in the back. With the door almost closed behind her, as if she's protecting whatever is inside from invaders, she asks me, "What's the password?"
I answer correctly, since I've made a reservation and received an email containing the word of the day.
She smiles, pushes her back into the door and guides me in.
Under a red glow, dark umber high-backed benches flank oddly shaped wooden tables — one end wider than the other. Maroon velvet covers the walls, creating an atmosphere appropriate for a game of "Clue": dramatic, mysterious, seductive.
Couples in booths around me lean their heads together over alcoholic potions as I drink mine: a Pink Lady, an early 1900s blend of gin, applejack, lemon, housemade grenadine, and egg whites. "This lady is strong willed," the menu writes. "Not too sweet and has a voluptuous body." The whispers of the couples mingle with the sounds of substances being shaken and stirred and the clear voice of a jazz singer.
Every now and then, more women in black disappear through a sliding wall. I wonder if it's the door to The Library. On its website, Bourbon & Branch announces The Library as a room where guests without reservations can order drinks off a reduced menu. But that door, too, requires its own separate password.
*  *  *
If only there was a magic word to help find The Cookie Lady and The Pie Lady.
The two women — neither rivals nor partners — spend weekend afternoons wandering around the Mission and Castro districts, especially in Dolores Park, selling freshly baked treats. According to legend, The Cookie Lady wears a dress like Snow White, or maybe it's Alice in Wonderland, so I figure she will be spotted fairly easily.
One Saturday late afternoon, a day and time I am told they both will likely be out and about, I wander down Valencia, trying to track them down. On my Android phone, I find a blog post saying The Pie Lady at one point situated herself at the corner of 18th and Valencia. I head there. Nothing. I poke my head in at three restaurants on that corner but no one has seen or even heard of The Pie Lady or The Cookie Lady. Is it all a myth?
One hostess asks, "Does she sell regular cookies or special cookies?"
I laugh. "Just regular cookies," I say assuredly, but I'm not sure. No one has told me.
That's another thing I've learned: when on a quest for buried treasure, if you're lucky enough to extract some clues from people, just remember that those clues won't tell you everything there is to know. Some of the most important details you're going to have to find out yourself.
I walk farther down Valencia, and in between 18th and 19th a man selling gems tells me he's seen The Pie Lady and that she usually camps out a block or two away, he's not sure exactly where. The woman smoking beside him nods agreement.
At 19th and Valencia, no women are selling pies, but two men are grilling steaks. "She's usually on that corner," they tell me. They point across the street, in front of Rhea's Deli, and it's like a spot on the sidewalk glows where I can envision a woman standing with a heaping cart of pies. But she's not there.
Turns out the workers inside Rhea's Deli know The Pie Lady quite well, or at least enough to know her Twitter handle and know that "she's on vacation." That day's search ends there.
The Cookie Lady search ends in much the same way. In Dolores Park, I ask people lying on the grass, a food truck owner, a pair selling empanadas, and a Brazilian man named Marcio selling pizza. The park visitors and the food truck owner don't know who I'm talking about. The empanada sellers have seen her here before — "She's the one who wears a blue dress like Alice in Wonderland and has red hair" — but they've only been here three times and don't know her personally. The pizza seller knows her and has spoken with her a few times (I'm not surprised by this, since he ends up speaking with me for quite a while before I manage to investigate the rest of the park for clues).
Despite missing The Pie Lady and The Cookie Lady that day, I now know they exist, and my sense of adventure increases.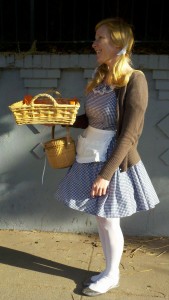 The following weekend, I return to Dolores Park. As I walk down 18th street headed for the green, I see a young woman coming towards me. She wears a short blue and white checked dress with a white apron and white tights, carries a basket, and has tied her blond hair into pigtails with white ribbon. She resembles Dorothy from The Wizard of Oz, except that she is on the phone. Immediately, I stop her with an enthusiastic point towards her basket.
She speaks into the phone, "Hang on a second." Then she turns to me. "They're pot-free." And that solves the mystery.
I wait until The Cookie Lady finishes her phone call and then I proclaim like a lover that I've been looking for her and have finally found her.
She asks me, "Did you talk to a guy selling pizza?"
"Yes!" I say. "Marcio."
"Yeah. He told me, 'Your friend was looking for you.' He must have meant you!"
And we share a laugh.
Another lesson about detective work was learned that day: Once you start looking for the gold, the gold might start looking for you. And the ultimate discovery often occurs at the moment you least expect it.
*  *  *
You'd think that the underground world of San Francisco would be filled with young, liberal hipsters and maybe some hippies left over from the sixties. The Cookie Lady definitely feeds the counter-culture folks at Dolores Park. At Samin's dinner, guests and servers alike sport tight jeans, beanie hats and tattoos. Colin the baker rocks a Beatles mustache and a flannel shirt. But the long-haired blondes at Tartine admit they work at Morgan Stanley, and Colin's friend sitting to my right works at Capital One.
Iso Rabins of Forage SF runs his own secret dinners in varying locations (undisclosed until the day of the event), including lofts, mansions and houseboats. He — like other orchestrators of this hidden world — is a kind of magician, creating "art installations" that often last for only a day. He believes "Silicon Valley is the patron of the food scene in San Francisco," and compares the attendees involved in tech start-ups and finance to artist patrons of the 1800s. "Through attending these events," he says, "they experience a lifestyle that they find really interesting."
Jordan Grosser, a chef who once worked for Iso, says his Clandestine Dinners with Stag Dining are "more like a DIY [Do It Yourself] sort of thing." While he and Iso fancy themselves artists, they also consider themselves Bay Area entrepreneurs and innovators, just like some of their patrons.
These events, fundamentally, are about the experience. They are a kind of game, a scavenger hunt through the city. There is so much gold out there: more than I could write about, more than I could attend, and far more than I could find. There are pop-up restaurants on bicycles, piano bars at people's houses, jazz clubs in SoMa warehouses, and dinners that move from house to house for each course. Once you start looking, you won't know where to stop.