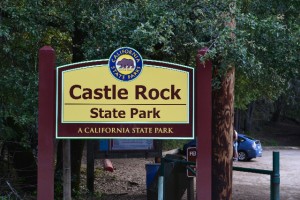 Citizens, nonprofit organizations and the state government have rallied to save 30 of the 70 California state parks originally slated for closure on July 1, in the wake of California's budget crisis.
Several Bay Area parks will be getting a reprieve, including Benicia Capitol State Historic Park in Benicia, Castle Rock State Park in Los Gatos, Samuel P. Taylor State Park in Lagunitas, and Tomales Bay State Park in Inverness.
The original 70, or approximately one quarter of California's 278 parks, were named for closure because the California Department of Parks and Recreation must reduce its budget by $22 million budget over two fiscal years, or before June 2013.
Most of the 30 saved parks owe their continued operation to nonprofits and donors, according to Roy Stearns, deputy director of communications for California State Parks. Four or five parks are now concessions, which means the state government will no longer be operating the parks, Stearns explained.
Stearns added that of the 40 parks still on the chopping block, 25 more may be saved if current partnership negotiations yield agreements. Many donors and non-profit organizations are working to save these parks, and several concession agreements are in the works.
Some Bay Area parks that remain on the closure list may still be saved, including Candlestick Point State Recreation Area in San Francisco, China Camp State Park in San Rafael, Olompoli State Historic Park in Novato, Portola Redwoods State Park in La Honda and Twin Lakes State Beach in Santa Cruz.
The agreements to keep the parks open are temporary solutions promising, at most, five years of continuing operation. Most parks have been granted only one or two-year reprieves, Stearns said.
On June 13, California State Parks announced that Castle Rock State Park, a popular hiking and rock-climbing destination in the Santa Cruz area, would remain open for at least one more year.
The announcement made Castle Rock the latest addition to the growing list of temporarily saved parks. The Sempervirens Fund, a nonprofit organization dedicated to protecting Santa Cruz's Redwood forests, donated $250,000 to keep the park open for one year.
"I'm delighted for the year reprieve," Reed Holderman, the executive director of the Sempervirens Fund, said. "But I'm worried and anxious about what's next."
The extra time is considered a temporary reprieve – an opportunity to keep parks open until the budget crisis can be resolved, Stearns said.
Holderman, too, acknowledged the one-year reprieve is far from a permanent solution and stressed the importance of continuing fundraising efforts within the community to keep the park open indefinitely.
"We're doing what we never thought we would do," Holderman said. "We're giving money to the state."
Holderman hopes the reprieve will give the Sempervirens Fund time to create a lasting solution, which will take form in a new entrance to the park. As part of the agreement, all user fees collected at Castle Rock will remain within the park and cannot be reallocated, as is the case at some other parks.
In the months leading up to the announcement that the Sempervirens Fund and California State Parks had reached an agreement that allowed Castle Rock to remain open, several organizations and individuals supported the cause.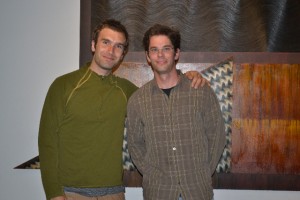 World famous rock climber and Santa Cruz native, Chris Sharma, flew in from Spain on May 18 to headline three fundraisers throughout the Bay Area.
Justin Vitcov, a Santa Cruz resident and childhood friend of Sharma's, planned the fundraisers with the hope that they would appeal to the wider Bay Area climbing community.
Sharma, who has climbed some of the most difficult routes in the world, said he was more than willing to dedicate his time to the park where he first climbed outdoors.
"Growing up and climbing at Castle Rock with my bros, putting up new boulder problems – it was really special," he said.
Since then, Sharma has gone far beyond local destinations. Today, the 31-year-old lives in Catalonia, Spain, where he continues to push the limits of human climbing.
Back in Santa Cruz, Castle Rock is still a popular destination for many Bay Area residents. Nestled in a forest of redwoods, it is a place of refuge and sanctuary – both an escape from, and a complement to, an urban lifestyle, Holderman said.
Holderman expressed concern over the precedent being set with the park closures. "It's a slippery slope," he said. "When you close one park, what's the incentive to keep others open?"
Vitcov is adamant that Castle Rock should never have been on the list for closure in the first place.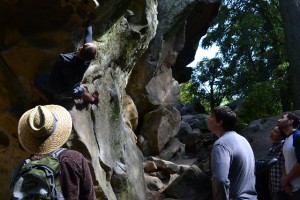 "The big thing about Castle Rock is that there's no reason for it to be closing," he said. "If you ever go there on any given weekend, you know real quick that place is full."
Over Memorial Day weekend, the park was crawling with people of all ages enjoying the beautiful weather. Less than half a mile from the parking lot, the eponymous Castle Rock was surrounded by groups of climbers cheering friends up to the top.
The Sharma fundraisers raised over $8,000 for the park.
"But it's just a drop in the bucket as far as the overall project goes," Vitcov said. "What's cool about it is that it's just two people… It shows that it doesn't take large-scale organizations to be able to raise some money."
Holderman urged individuals who want parks to stay open to write to Governor Jerry Brown, donate money, and support bills, like the California State Park Stewardship Act of 2012, that will help keep parks long enough until a permanent solution can be found.
Parks that Will Remain Open
Antelope Valley Indian Museum
Colusa-Sacramento River SRA
Del Norte Coast Redwoods State Park
Henry W. Coe State Park
McGrath State Beach
Mono Lake Tufa State Natural Res.
Samuel P. Taylor
Tomales Bay State Park
South Yuba River State Historic Park
Jug Handle State Natural Res.
Plumas-Eureka State Park
Jack London State Historic Park
Santa Cruz Mission State Historic Park
Bothe-Napa Valley State Park
Bale Grist Mill State Historic Park
Grizzly Creek Redwoods State Park
Sugarloaf Ridge State Park*
Palomar Mountain State Park
Petaluma Adobe State Historic Park
Los Encinos State Historic Park
Santa Susana State Historic Park
Weaverville Joss House State Historic Park
Castle Rock State Park
Shasta State Historic Park
Turlock Lake SRA**
Woodson Bridge SRA**
Brannan Island SRA**
Governor's Mansion State Historic Park
Limekiln State Park
*Operating agreement approved by State Parks, now at the state's Department of General Services for review.
**State has sent notice of intent to award contract for park operation