This article was originally published on SFGate.com, where Peninsula Press reporter Camira Powell is an intern.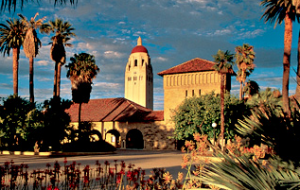 In case you didn't know it already, you're surrounded by very smart people.
An analysis done by the consumer resource site NerdWallet concludes that Palo Alto is the second "most educated" place in the nation. As the home of desirable Stanford University, innovative technology companies like IDEO and Hewlett-Packard, it makes sense that this Bay Area enclave climbs to the top. While 30.9% of Americans have completed at least a bachelor's degree, almost 80% of Palo Alto residents have an undergraduate degree and 14.5% have doctoral degrees, the highest percentage in the U.S.
Using data from the U.S. Census Bureau, NerdWallet focused on "broad-based education" (populations where the majority of workers are moderately educated over a workforce where some workers are very highly educated) to determine which cities made the cut.
Like many of the other nine cities that comprised the top 10 educated places (including the hub of Silicon Valley, Cupertino), Palo Alto is a wealthy city that's situated next to a higher-education institution. However, its close proximity to the colorful Bay Area helps it to attract people with diverse backgrounds in law, tech, medicine and finance. Just another reason the Bay still beats out L.A.