This article was originally published on SFGate.com, where Peninsula Press reporter Camira Powell is an intern.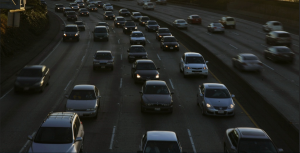 If you drive to work solo, you're not alone.
According to a survey done by the Public Policy Institute of California, over half — 56 percent — of Bay Area residents drive to work unaccompanied.
Unfortunately, increasing gas prices aren't the only thing commuters must worry about. There are numerous health costs (physical, mental, and emotional) to driving long distances to-and-from work. A recent article by MarketWatch shows commuters are more likely to experience neck and back pain based on a survey done by Gallup. Of course, sitting at a desk all day won't help, but the added strain of being confined in a car for 20 or more minutes a day only exacerbates the problem. Another study from Brown University showed that long commutes detract from participation in healthy activities, which can lead to issues like weight gain and high cholesterol. Commuting has also been linked to marital dissatisfaction due to the financial burden and the likelihood of one partner becoming more responsible for childcare.
And let's not even talk about the agony of finding a decently priced parking space in the city.
Although the Bay Area has become increasingly public transportation friendly over the years, our car-loving society still makes it hard to give up driving despite the fact it seems like commuting causes more problems than it solves.