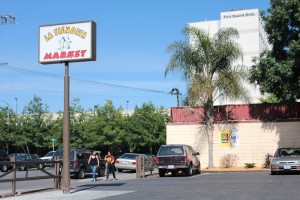 In a region proudly defined by its tech industry and a network of millionaire entrepreneurs, East Palo Alto has always been outside of the loop.
A few miles from the new Facebook campus and Stanford University, it's a place where homes can still be bought for low-six-figure sums, and you're as likely to hear Spanish as English while wandering the sunny suburban streets.
The city is a bastion of relative affordability for those in the trenches of Silicon Valley's economy. Median household income is $50,137, according to Census Bureau estimates — less than half of neighboring Palo Alto and Menlo Park, and well below the San Mateo County median of $87,633.
"We're a bedroom community for people providing services for all the cities around us," said the Rev. Lawrence C. Goode of St. Francis of Assisi, East Palo Alto's largest church.
But the city's unique position on the Peninsula is threatened by creeping gentrification. The signs have become increasingly obvious in recent years, as East Palo Alto is pushed at both ends by the devastating effects of the economic crisis and Silicon Valley's strong recovery.
Widespread subprime lending ravaged the community, where more than a third of single-family homes have gone into foreclosure since 2008. Investors began scooping up the available properties at rock-bottom prices, and the city now has a growing number of absentee landlords, many of them buyers from China. Half of the homes sold at foreclosure auctions in the past two years, for instance, are owned by people with primary addresses outside of the city.
This comes at a time when Facebook has appeared in East Palo Alto's backyard and nearby communities are beginning to see record real estate prices once again. Despite increased rental housing stock, rents in East Palo Alto are up sharply, perhaps an attempt to capitalize on the potential business of young tech workers.
"Anticipation of gentrification has been going on for a long, long time," said William Webster, a self-described "hard-core community activist" for 25 years. "But it seems that people's fears are being realized."
Many longtime residents and housing advocates worry that East Palo Alto will become inaccessible to the people it has traditionally served since its incorporation 30 years ago. Through nonprofits and city policy, including the only rent-control law in San Mateo County, they are trying to preserve affordable housing and what many regard as the community's greatest asset: access to jobs.
"Diversity is key to the health of the region," said John Liotti, CEO of AbleWorks, a financial education organization. "East Palo Alto has a vital role to play in the context of Silicon Valley."
That is especially true as wealth disparity increases in the area. In a study released earlier this year, the civic organization Joint Venture Silicon Valley found a widening gap in per capita income between high-earning Asians and non-Hispanic whites and low-earning African-Americans and Latinos.
But is the preservation of affordable housing an unwinnable fight against the inevitability of market forces? According to Jennifer Martinez, the executive director of Peninsula Interfaith Action, the shifts in East Palo Alto are indicative of broader trends.
"From San Francisco down to San Jose and across the Bay, we're seeing more low-income people of color being displaced," she said. "East Palo Alto is the most obvious of the subtle changes that are happening throughout the region."
***
This is not the first time that East Palo Alto has flirted with gentrification. Webster calls it a "perennial issue" for the city, one that has surfaced in various forms over the years. "It's a miracle, an absolute miracle, that we've held out as long as we have," he said.
In many ways, the current situation recalls the dotcom boom of the late 1990s, when the soaring potential of the new Internet economy sent Silicon Valley's prospects surging. Real estate in cities like Palo Alto, Menlo Park and Atherton quickly became among the most expensive in the country, creating a ripple effect on the region's poorer communities.
According to Webster, this period marked the beginning of East Palo Alto's last major demographic shift, as Latino families priced out of nearby areas flowed into the predominantly African-American city.
But it also spurred a newfound interest from developers, who saw in East Palo Alto some of the most affordable land remaining on the Peninsula. Opportunity forced investors and potential homeowners to finally look past East Palo Alto's largely negative reputation, defined by a violent period in the early 1990s when it had the highest murder rate in the country.
"There was a time when the thought of a white, middle-class person putting two feet on land in East Palo Alto was as ridiculous as me trying to fly to the moon with a pair of water wings," said Webster, who is Caucasian.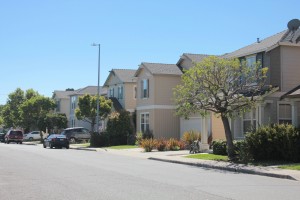 Among the new developments was University Square, an upscale neighborhood intended for the city's rising middle class that was snapped up by tech workers "waving their checkbooks to buy these homes," Webster said. Nearby housing was cleared to build the Ravenswood 101 business district, now the site of Ikea and several other big-box stores.
The pressing demand and soaring prices, with houses selling for more than half a million dollars, were only halted when the dotcom bubble finally burst in 2000. Webster semi-jokingly refers to that crash as a salvation for the city.
It seems unlikely that such a twist could change the course of East Palo Alto's fate once again. Indeed, it is another financial crisis that is driving radical changes in the structure of the community.
According to Robert Jones, the executive director of affordable housing development organization EPA CAN DO, risky loans for uneducated and unqualified buyers led to a severe impact in East Palo Alto when the real estate market began to unravel in 2007.
"We used to call it a 'breath test,'" he said. "People who really shouldn't have gotten a house" were qualifying for expensive adjustable rate loans they couldn't afford, because lenders knew they could still make money on a foreclosure sale.
At its peak, East Palo Alto was experiencing foreclosures at a higher rate than anywhere else in San Mateo County. Since the beginning of 2008, 1,422 of the city's approximately 4,200 single-family homes and condominium units have entered the foreclosure process, according to PropertyRadar.com. Prices plummeted more than 50 percent.
"This should have been a great opportunity for people with jobs but not a great income to buy homes in East Palo Alto," Webster said. "That did not happen."
The "bloodbath," as Liotti called it, eventually attracted the attention of investors, who began acquiring dozens of properties for cash at trustee's auctions held daily on a bench outside the county courthouse in Redwood City. Many were sold for less than $200,000.
"It was a fire sale of prices that Silicon Valley will probably never see again," Liotti said. "People woke up and realized there's a good deal here. It was only a matter of time."
These investors have subsequently become some of the largest property owners in the city.
Principal among them is Palo Alto businessman Abraham Farag, who has acquired foreclosed properties all across the Bay Area, including at least 60 in East Palo Alto since 2010, according to records from the San Mateo County Recorder's Office.
In the past two years, half of the foreclosed East Palo Alto homes that have sold at trustee auctions have been purchased by limited liability companies connected to Farag, including Working Dirt LLC, Post Apple LLC, Real Estate Green 2050 LLC and Develop R2 LLC.
Many of these were flipped for a quick profit, but some still remain in the companies' possession. Of 28 homes acquired by Farag in 2011 and 2012, eight have not been sold. Liotti speculates that these have been turned into rental properties.
Farag declined to comment for this story.
***
The absentee landlord phenomenon is becoming increasingly common in East Palo Alto.
Ken Harris, who has worked as a real estate agent in East Palo Alto for 40 years, said the market is currently dominated by Chinese investors. Most intend to rent out the homes they purchase in East Palo Alto, he said, but some have moved in.
"There has been a changing of the guard," Harris said. "You're going to see a melting pot."
The trend worries affordable housing advocates like Webster and Liotti. With a large portion of the housing stock in East Palo Alto owned by people who do not live there, they said, the city is especially vulnerable to gentrification.
Their primary fear is that the Bay Area's expensive housing market will push affluent tech workers to look for more affordable options in East Palo Alto, ultimately displacing the low-income population that has traditionally lived there.
These concerns were amplified with the arrival of Facebook. The social media giant moved its headquarters in late 2011 to a campus on Willow Road in Menlo Park, a mile from the border with East Palo Alto.
Harris, the real estate agent, said he has not yet seen Facebook employees buying homes in East Palo Alto. While he has rented to some, he expects any resulting gentrification will be a slow process.
But Webster is positive that the economic realities of living in Silicon Valley make that transition inevitable.
He points to the environmental impact report for Facebook's new campus, which emphasized cutting down on the number of daily car trips, as a sign that the pressure on East Palo Alto's real estate will only increase as Facebook continues to expand and workers look to live nearby.
"If Facebook is there for the long time, it's going to change everything," he said. "Once they realize they can't afford homes in Palo Alto or Menlo Park, they're going to get over whatever reservations they have and buy in East Palo Alto."
According to reports, Facebook's Menlo Park headquarters currently has space for up to 6,600 employees, far more than the 3,600 that previous tenant Sun Microsystems was allowed. Plans are underway for another new campus across the street that could house 2,800 more.
Facebook did not return requests for comment. In 2012, the company pledged $150,000 towards East Palo Alto's efforts to preserve affordable housing.
"With gentrification, you can either embrace it or run away from it," said Court Skinner, a member of the East Palo Alto Planning Commission. "But if you run away from it, you won't run as fast as Facebook."
That anticipation is now motivating many affordable housing advocates and nonprofits in the city.
Liotti's AbleWorks set up a community land trust in 2011 to promote home ownership among low-income buyers. The goal of the program is to acquire and repair distressed properties, and then make them available for working-class families to purchase.
"If you lose the working class, you destroy the fabric of the community," Liotti said. "So how do we bring equity into the market?"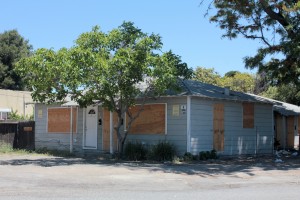 Success has been limited so far. AbleWorks has turned around three homes and is working on a fourth, but Liotti says it will take 10 times that to make a significant impact, and the housing stock is simply not available.
Foreclosures in East Palo Alto have slowed and few homeowners are selling. High demand for this low supply has pushed home prices over $350,000 again, making it difficult for AbleWorks to buy even those properties that make it past the courthouse bench. Liotti concedes that their program came "probably a year late."
The same barriers have recently put a halt to Habitat for Humanity Greater San Francisco's work in the city.
The affordable homeownership organization launched its Neighborhood Revitalization Program in early 2009 to rehabilitate blighted homes and stabilize communities in the midst of the foreclosure crisis. Executive director Phillip Kilbridge says they placed new "committed, local" owners into 15 houses in East Palo Alto and nearby east Menlo Park.
But in April, Habitat for Humanity was outbid for a property by a cash offer of $470,000, an amount far beyond the nonprofit's means. "We are for all intents and purposes out of that business," Kilbridge said.
He sees the increasingly competitive East Palo Alto market as an ominous sign for low-income families in the region.
"When you have a housing shortage, you have an affordable housing shortage," Kilbridge said. "If we can't support our entire ecosystem of workers, they'll have a tough time competing."
***
The rental market, always a crucial part of East Palo Alto's housing equation, has been strongly impacted by recent changes in the community.
Since 2007, when the foreclosure crisis hit, the population of renters in the city has increased from 48.6 percent to 54.2 percent, or more than 3,000 people, according to 2011 estimates from the Census Bureau's American Community Survey.
That's well above Palo Alto and Menlo Park, with renting populations of less than 40 percent, though both have also trended upwards in the same time period.
Despite a concurrent rise in rental units, median rents in East Palo Alto have surged $200 and the average number of residents per household is up slightly.
Of particular concern to affordable housing advocates is East Palo Alto's west side. Separated from the rest of the city by Highway 101 and bounded by the San Francisquito Creek, this small area between Willow and Embarcadero roads encompasses the majority of multifamily units in the community.
The housing stock is owned almost entirely by Equity Residential, a publicly traded real estate investment trust based in Chicago. The multibillion-dollar company acquired 1,800 units from Wells Fargo in 2011 after previous owner Page Mill Properties defaulted on its loan two years earlier.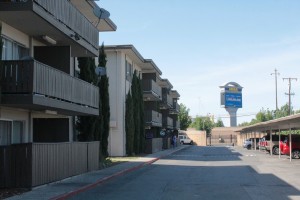 Rumors abound that Equity plans to convert the Woodland Park complex—a sprawl of low-rise apartment buildings inhabited primarily by families—into high-end rentals, and eventually condominiums, for Silicon Valley's more affluent clientele.
According to Martinez of Peninsula Interfaith Action, eviction notices skyrocketed last year when Equity took control. She suspects that the company is targeting the Facebook crowd to replace its current low-income residents.
"If you look at the prices they're promoting on Craigslist, I can't imagine who else could rent there," she said. A three-bedroom apartment that was $1,200 per month under rent control might now be advertised at twice that.
The speculation is conspiratorial, but not unjustified given the neighborhood's recent history.
The Palo Alto-based Page Mill Properties began acquiring buildings on the west side in 2006 and quickly became the largest landlord in East Palo Alto. Despite the city's rent control ordinance, Page Mill raised rents and evicted residents, displacing about 1,200 families, according to Tameeka Bennett, who works on housing issues with Youth United for Community Action.
After a protracted battle and numerous lawsuits with the city, the situation peaked in 2009 when Page Mill Properties asked San Mateo County to unincorporate the west side from East Palo Alto's "sphere of influence." Later that year, the investment company defaulted on its loan and lost the properties.
Page Mill Properties could not be reached for comment.
Youth United, an environmental and social justice organization, was one of many local groups to get involved with the Page Mill battle. It petitioned Wells Fargo to break up the foreclosed portfolio and sell the smaller parcels separately, an effort eventually joined by East Palo Alto's city council.
Bennett said residents feared a repeat of Page Mill Properties if another investor assumed complete control of Woodland Park. Many are still worried about Equity's intentions.
"Any landlord coming into East Palo Alto, especially the west side, buying up a lot of properties, there are going to be concerns," she said. "It does make us nervous and leery about what their plans are."
The distrust is palpable. In January, the city halted development on the west side for 22 months as it updates its general plan, which will include a specific area plan for the west side.
Meanwhile, Christopher Peter, managing director for the Woodland Park complex, is working hard to change the cynical perceptions of Equity Residential.
Peter came to East Palo Alto in 2010 to manage the properties for Wells Fargo and was retained by Equity. He said he chose to live in Woodland Park so he could better understand the neighborhood and address its needs.
He points to recent community improvement efforts, such as a playground that Equity built because the west side has no parks.
"We've brought it up to a standard that is more desirable for people to live here," which is reflected in a rising occupancy rate, Peter said. "Actions speak far louder than words."
Peter believes that Equity Residential has been met with skepticism because of Woodland Park's history, but apprehensions raised by housing advocates are the result of a misunderstanding.
While many late-payment notices are sent out every month, few have led to evictions, he said. The reminders sparked a dialogue with residents that led to an improved rent payment system, and monthly three-day notices are down from 300 to about 160.
Equity realigned prices with what was allowed under rent control, he added, and returned what residents had overpaid to Page Mill Properties.
"We're not looking to turn anybody away," Peter said. "Pricing is simply reflective of the current market conditions."
Peter hopes to convey to the city that Equity Residential is committed to maintaining and improving Woodland Park for its residents.
"I'm not aware of any specific plans for redevelopment in the long term," he said. "There remains a lot of attention that needs to be paid to capital improvements on the current buildings."
***
East Palo Alto itself is grappling with many of the same issues.
Though the city has made affordable housing a priority in the wake of the foreclosure crisis, revamping the rent stabilization ordinance in 2010 and passing a new law controlling condo conversions last year, some policymakers want to make responsible development part of East Palo Alto's plan as well.
"There are a lot of misguided efforts to retain a lot of the old housing" that is inadequate, said Skinner of the Planning Commission. "The state of the city encourages people who have any success at all to leave."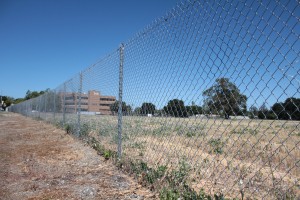 Skinner believes East Palo Alto has an opportunity to benefit from its location in the midst of affluent Silicon Valley. Many residents struggle to find employment in the city, he said, and bringing more jobs could elevate overall conditions so that cheap housing is no longer so desperately needed.
Last September, the city approved plans for a new "downtown" along Bay Road with commercial, industrial and office space, as well as residential units and parks. Development is underway.
East Palo Alto Planning Manager Brent Butler said the city is also working to keep housing affordable by increasing supply. Lot size requirements for second units have been reduced and his department has incentivized nonprofit housing providers to get involved in the community.
These new policies build on a longstanding requirement that 20 percent of any new housing development be offered below market rate.
"The market always produces for the higher income groups, so the lower income groups become the job of the government," Butler said.
That job has sometimes fallen unduly on East Palo Alto. Several nearby communities are years behind on state requirements for providing affordable housing.
But Menlo Park was ordered last year by regional authorities to build at least 1,000 units of low-income housing, Butler said, which should help reduce pressure on East Palo Alto's market.
In turn, he would like to see East Palo Alto grow as a diverse, mixed-income community, which Butler says has been shown to improve overall achievement and prosperity in a city.
If that sounds like the flip side of the same gentrification coin, it just might be. But maybe that's the workable solution that East Palo Alto has been searching for.
"A little gentrification is good, because a rising tide raises all ships," Liotti said. "What we're advocating for is gentrification with justice. You can't give the rich opportunities at the expense of the poor."
***
Interactive map: East Palo Alto residents reflect on life in the city

View East Palo Alto residents reflect on life in the city in a larger map