Hear more about this story on the Peninsula Report radio podcast.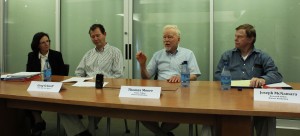 Palo Alto's vice mayor clashed today with a proponent of the measure to legalize medical marijuana dispensaries in the city, arguing over the initiative's merits and motives.
At a Stanford University panel hosted by the Peninsula Press, Vice Mayor Greg Scharff said the city's elected officials are united in their opposition to Measure C, which they believe could increase crime and lure young people to use the dispensaries to buy marijuana for recreational use. Scharff cited 77 complaints related to dispensaries in San Jose, a city that recently stopped allowing them.
If Palo Alto voters approve the measure on Nov. 6, the affluent city would be "the only (one) on the Peninsula that allows these dispensaries," Scharff said. He predicted that the initiative would fail by a large margin: 65 percent to 35 percent.
Thomas G. Moore — a Hoover Institution senior fellow who has studied the issue and is a supporter of the signature-gathering effort that placed the initiative on the ballot — strongly disagreed with the vice mayor. He said alcohol and tobacco are more harmful than cannabis, and yet city officials appear to have no problem allowing those businesses.
"Crime is mostly related to liquor stores, and we have them all over the place in Palo Alto," Moore said. "We paid the cost of Prohibition — violence, lots of violence."
While he is confident the measure would pass, Moore declined to say by how much. He predicted that the dispensaries would be used less by high school students than by senior citizens with chronic or terminal diseases, who do not want to buy an illegal product. Already, he said, "It's easier (for high school students) to buy marijuana than beer."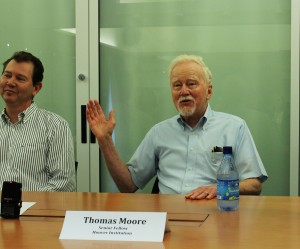 The Peninsula Press panel also featured Palo Alto City Attorney Molly Stump and Joseph D. McNamara, former San Jose police chief and a research fellow at the Stanford-based Hoover Institution. But the most pointed exchanges occurred between Scharff and Moore, particularly over the initiative's funding sources. (The Peninsula Press is a news project of the Stanford Graduate Program in Journalism).
Scharff expressed uneasiness over who is paying for the Measure C campaign. "It's very shadowy," he said. "It's not transparent at all, which is very surprising."
Complying with requirements of the state's Fair Political Practices Commission, the pro-C group reported that it has raised $128,000. No breakdown of individual or corporate contributions was provided. Moore said today that he doesn't know the source of funding. "I've got more things to do in my life than investigative it," he said.
The specific question that Palo Alto voters will face on Nov. 6 is whether to allow three medical marijuana dispensaries; the city now has none. If passed, the city would receive 4 cents for every $1 of dispensary sales revenue in taxes, along with $10,000 a year for each dispensary permit.
"As far as I can see, it's a win-win situation," Moore said in an interview prior to the panel. "The city gets more money, and the people get more service. … Why should anybody be against that?"
The ballot measure would not allow dispensaries near residential areas, schools, parks, libraries or substance abuse centers. Despite those protections, the City Council voted unanimously to oppose it. Scharff said the council placed no weight on the financial considerations. "For every million dollars, it's $40,000 (in tax revenue) … it's completely irrelevant" to the city budget, he said.
Stump emphasized that selling pot for profit is illegal in California.
Palo Alto voters are deciding at a time when federal agents continue to crack down on dispensaries across the country, including where they are legal under state and local law. Seventeen states and the District of Columbia have legalized marijuana, with laws varying by state. None offer protection against federal prosecution.
In February, San Jose stopped allowing its dispensaries amid federal raids. Yesterday, Los Angeles went in the opposite direction: The City Council preliminarily voted to repeal its dispensary ban, a move led by a council member suffering from cancer.
Medical marijuana has a tangled history in the United States. Marijuana was legal but highly taxed until 1970, when Congress passed the Controlled Substances Act and made it a Schedule 1 drug. Schedule 1 refers to drugs with "a high potential for abuse" and "no currently accepted medical use."
A federal appeals court in the District of Columbia is expected to rule soon on a challenge to marijuana's Schedule 1 status. Oral arguments start Oct. 16.
California voters legalized medical marijuana when they passed Proposition 215 in 1996, setting up potential conflicts with federal law. Nearly a decade later, in 2005, the U.S. Supreme Court ruled that federal law enforcement could override state protections and pursue suspects who distributed, possessed, or used marijuana.
Soon after President Obama took office, his attorney general, Eric Holder, Jr., stated that federal authorities would target shops that use medical cannabis as a front for drug trafficking. But last year the federal stance shifted and authorities began to crack down on dispensaries more broadly, including landlords who leased space to them.
McNamara said legalizing marijuana would eliminate a black market for the drug that breeds crime and disproportionately hurts racial and ethnic minorities. He labeled as "crap" the argument that drugs are "not bad because they are illegal, they are illegal because they are bad."