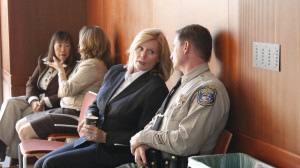 Listen to reporter Rachel Estabrook discuss this issue on the Peninsula Report podcast.

Gov. Jerry Brown vetoed a bill tonight that would have limited local law enforcement's ability to cooperate with federal immigration authorities.
Brown's office announced the decision three hours ahead of a midnight deadline to sign or veto the bill, known as the Trust Act, or allow it to become state law without his signature.
Most county sheriffs in California opposed the bill because it conflicted with mandates of the Obama administration's Secure Communities program and would have made their jobs more difficult. But Santa Clara County Sheriff Laurie Smith, with support from the county's Board of Supervisors, is a vocal critic of the federal program and, since last October,  has been limiting her agency's compliance.
The bill's supporters included Smith, House Minority Leader Nancy Pelosi, immigrant rights groups and its sponsor, Assemblyman Tom Ammiano, a San Francisco Democrat. They had urged Brown to take a stand against Secure Communities' requirement that local law enforcement authorities share arrest information in most cases — including misdemeanor violations — with immigration authorities. Immigration officials then can ask that an undocumented suspect be held in county jails to await deportation proceedings.
The bill that Brown vetoed sought to limit local cooperation to cases where undocumented immigrants are charged with, or convicted of, "a serious or violent felony." That's essentially what Santa Clara County has been doing for nearly a year. Governments in Washington, D.C., and Cook County, Ill., also have pursued limiting enforcement of Secure Communities.
"Federal agents shouldn't try to coerce local enforcement officers into detaining people who've been picked up for minor offenses and pose no reasonable threat to their community," Brown said in a statement tonight. "But I am unable to sign this bill as written. … Unfortunately, the list of offenses codified in the bill is fatally flawed because it omits many serious crimes."
The veto is consistent with Brown's past actions in regards to Secure Communities. In 2009, as state attorney general, he agreed to the partnership with Immigration and Customs Enforcement (ICE) officials.
Smith and Ammiano could not immediately be reached for comment.
In an August letter urging Brown to sign the Trust Act into law, Smith wrote: "Immigrant victims and witnesses of crime have told me they are afraid to come forward to cooperate with local law enforcement out of their fear that they could be detained by ICE under [Secure Communities] and deported." Smith believes that her county's approach has helped improve local officers' relations with immigrant communities.
The Obama administration put Secure Communities in place in 2008. It created a new channel for data from state and local law enforcement officers to flow via the FBI to ICE, which is part of the Department of Homeland Security. This data makes it easier for ICE to identify undocumented immigrants and place detainers on them. Detainers are requests for state and local jurisdictions to hold people for a period of up to 48 hours so they can be put in the custody of ICE.
According to ICE statistics, 52,716 of the 68,555 people removed from the United States under Secure Communities this year, as of July 31, had been convicted of a criminal offense, or about 77 percent. That means about 23 percent of people who have been removed this year were visa violators, overstays, those who returned to the United States after previously being deported, or those who committed similar civil infractions.
Since the program was implemented in Santa Clara County in May 2010, ICE officials said, 85 percent of the 1,502 immigrants who have been removed had been convicted of a crime.
These statistics lead critics of Secure Communities to say that it has facilitated the detention and deportation of tens of thousands of immigrants who are not immediate threats to public safety.
"The problem with [Secure Communities] is that the research that's been done so far has shown that a lot of the people that are being held under these detainers, the people that are being identified by ICE, are not serious criminals, violent criminals," said Michele Waslin of the Immigration Policy Center, a research and analysis group based in Washington, D.C.
If the Trust Act had become state law, it would not have explicitly stopped the flow of data to ICE.  But it would have limited execution of detainers to cases that involve "serious or violent felonies."
These are many of the same cases ICE wants to target with Secure Communities, and the agency says it has made improvements since the program started in response to criticism. The changes include how the agency handles traffic offenders and provides special protections for witnesses and victims of domestic violence, according to ICE spokeswoman Virgina Kice.
"Over the past three years, ICE has dramatically changed the way it conducts immigration enforcement," Kice wrote in an email to the Peninsula Press. "Secure Communities has proven to be the single most valuable tool in allowing the agency to eliminate the ad hoc approach to identification used in the past and focus on criminal aliens and repeat immigration law violators."
These changes have not satisfied immigrants' rights advocates.
With the Trust Act, California had a chance to tell the federal government "your enforcement policies are hurting our communities. This is not something we want to participate in. This is not good for the immigrant communities and as much as we can, we don't want to have anything to do with it," said Jill Malone, a community volunteer with the San Jose-based organization PACT, or People Acting in Community Together, an inter-faith community organizing network.
Nevada County Sheriff Keith Royal, president of the State Sheriffs' Association, agrees with Gov. Brown. "I think the way the language of [the Trust Act] is structured, it allows certain people to fall through the cracks, and that's the concern," he said. "It's an issue of public safety." In particular, Royal was concerned that those arrested for drug crimes, robberies, and other nonviolent offenses would not qualify under the TRUST Act's "serious or violent felony" provision.
Jon Feere said the issue is more basic than that. California's legislature, which passed the bill in August, "seems to want to create a scenario where immigration law enforcement is dependent on some sort of additional criminal act," said Feere, an analyst for the Center for Immigration Studies, a Washington, D.C.-based research organization. "That's just not the way immigration law works." Immigration policy, he added, "exists for a variety of reasons; not just for public safety reasons."
Feere argues that Secure Communities creates an essential channel for information sharing that will make it easier to enforce immigration laws that are already in place. Supporters of the Trust Act, he said, "Would prefer a pre-9/11 mentality where the federal agencies aren't communicating with each other, the feds aren't communicating with the states, the states aren't communicating with one another, and we still have a lot of holes."
In her August letter to Brown, Sheriff Smith urged the governor and the legislature to call on the federal government to pursue comprehensive immigration reform. Brown himself called for such reform in his veto letter. "Comprehensive immigration reform — including a path to citizenship — would provide tremendous economic benefit and is long overdue," he said.
Brown also said he wants to work with legislators to rework the Trust Act. "The significant flaws in this bill can be fixed," he said.
Other states, such as Alabama and Arizona, have gone in the other direction, recently passing laws that make it easier to detain and deport immigrants.