Hear more about this story and how it developed on the Peninsula Report podcast >>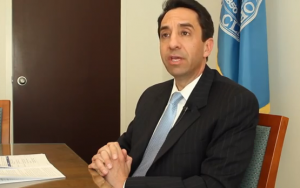 As the Santa Clara County Board of Supervisors brought its recent special session to a close, the room's focus quickly shifted. The board had called the session to determine how to fill the board seat George Shirakawa recently vacated. But the audience's attention focused more on what would become of the issues Shirakawa advocated for most vocally during his two terms on the board.
Shirakawa represented a large part of San Jose before he resigned at the end of February amid charges of perjury and misappropriation of public funds. He had been the board's only minority member, even though the county is 37 percent foreign-born. Overall, 65 percent of the residents are minorities, and Santa Clara is among the counties most welcoming to immigrants in the nation. As just one example, the county recently sent a letter to members of the U.S. Congress on how to shape comprehensive immigration reform and recommended providing all immigrants a path to citizenship. Shirakawa's profile on the county's website touted the importance of immigrants to the region.
"Even though there were those things that happened with Supervisor Shirakawa, he was a great advocate for a lot of issues that happen in the community, especially around people of color and especially around immigration," said Charisse Domingo immediately after the special session. Domingo is an organizer with the Santa Clara County Forum for Immigrant Rights and Empowerment coalition, a group of service and advocacy groups.
"This was the county that stood up to ICE," she added. "So we wanted to make sure that that voice is still there."
Standing up to ICE, the federal Immigration and Customs Enforcement agency, refers to a policy the county adopted in fall 2011 that Shirakawa played a major role in crafting. It severely limited the county's participation in the federal program called Secure Communities. Established by the Obama Administration in 2010, Secure Communities created a channel for passing information about those suspected of being in the country without legal status to ICE, and holding those individuals so that the agency can decide whether to deport them.
Santa Clara County's policy limiting cooperation between local law enforcement and ICE was the nation's second and remains the strongest, on par only with Cook County in Illinois. And while other jurisdictions have not gone as far as Santa Clara, the policy here has inspired other counties and cities to consider or adopt similar measures.
But on April 4, the county's Public Safety and Justice Committee plans to consider a request from the district attorney to loosen the policy, allowing the county to more easily hold onto serious and violent felons who the district attorney thinks pose significant threats to public safety. Community groups like Domingo's warn that any revision could seriously harm cooperation between immigrant communities and local law enforcement authorities here, as well as jeopardize efforts across the state and the country to fight Secure Communities.
District Attorney Jeffrey Rosen first presented his request at a November committee meeting along with a report prepared by his office. Its analysis of cases found that over a four and a half month period between October 2011 and February 2012 after the county enacted the policy, it honored none of the 788 detainer requests it received from ICE. Of those, Rosen says, 110 were convicted "serious or violent criminals" who finished serving their sentences or were released by the court for another reason.
"I think it presents pretty compelling evidence that we need to modify the policy that we have in this county in order to save money and protect our community," Rosen said at the committee meeting in November.
"What I think we need, and what I think is quite reasonable, is to allow the federal government to have one day, or two days," Rosen said in an interview, "to merely interview a person. And I don't think that's an unreasonable request given the public-safety interests at stake here. We already had a case where somebody would've been held in custody, but the ICE detainer was not honored by our county, and then he went out and raped a woman."
Instead of passing Rosen's report straight to the full board, the Public Safety and Justice Committee passed the issue to the county's public safety officers for a review led by County Counsel Lori Pegg. Then-Supervisor Shirakawa headed the committee at that time and made the decision to refer the review to the broader group of public safety officers. Shirakawa resigned from the board on March 1, hours before Rosen held a news conference alleging that Shirakawa misused about $130,000 in campaign funds and his county-issued credit card. Shirakawa pleaded guilty to the charges at a hearing Monday.
The review of Rosen's report went ahead, and Pegg plans to present its findings at the April 4 committee meeting. A copy of it already posted to the county's website reveals that the group did not reach a consensus on whether to amend the policy.
Along with Rosen, Sheriff Laurie Smith supports honoring some detainer requests. She declined comment for this story.
On the other side, Acting Public Defender Molly O'Neal supports keeping the county's policy as is. "Where I finally threw my anchor down was that it doesn't make sense nor do we need to consider immigration status when considering who to keep in the justice system," O'Neal said.
"When a person is arrested, we have all of these procedural mechanisms in place to determine whether they should be held or not held," she added. "The system we have is immigration-blind." O'Neal's office wrote its own report on the policy and shared it with the board in January; it says the data in the district attorney's report is problematic because it focuses on a "snapshot in time" instead of tracking the cases to their conclusions.
Rosen maintains that 30 percent of the 110 people he focused on violated court orders to return to court for hearings after being released, "and that causes me and many residents in our community a lot of concern," he said.
Rosen does not advocate eliminating the county's detainer policy altogether, and he was the only one of California's 58 district attorneys to support a statewide version of the policy that the state assembly passed last year. But Governor Jerry Brown ultimately vetoed it. The measure, called the Trust Act, would have limited cooperation between local law enforcement authorities and federal immigration authorities to cases where undocumented immigrants are charged with or convicted of "a serious or violent felony."
"I'm the only one that took the progressive approach and said, let's only honor ICE detainer requests for dangerous criminals," Rosen said. "Something I don't quite understand is, the same groups that are saying they want the county to keep this particular policy are the same groups that six months ago were asking me to send a letter to the governor to sign the Trust Act. So if that was something they wanted to happen statewide, why don't they want it to happen in Santa Clara County?"
Jazmin Segura, who works on policy issues for an immigrants' rights group based in San Jose, said one of the main reasons she supported the Trust Act was that it included a provision allowing for Santa Clara County's policy to remain in place.
"The Trust Act was set as a minimal standard for other counties to abide by, but that other counties, like Santa Clara, could go farther if they wanted to," she said.
Segura works for SIREN, Services Immigrant Rights & Education Network, and spoke at the November hearing of the Public Safety and Justice Committee when the district attorney first presented his report.
Segura said the detainer policy is about more than specific stories or figures. "It's been very beneficial to use that policy as an opportunity to organize within our community and show people that our community isn't interested in cooperating with ICE." That's particularly necessary, she added, since the U.S. deported more people in 2012 than in any prior year.
For immigrants' rights groups, maintaining Santa Clara County's policy is also about continuing to set a baseline for the state and the country. "It's very, very important for the Santa Clara policy to remain intact," said Rosa Cabrera with the statewide organization PICO, a faith-based group that advocates for and provides services to immigrants. "It encourages other local jurisdictions to provide greater support as well."
Rosen's objections to the policy stem from the 2011 process that led to its establishment. At the time, the board had convened a working group of public-safety officers similar to the one that conducted the review this winter. The group produced a version of the policy that allowed the county to honor detainer requests for people convicted of serious and violent crimes, along the lines of the version Rosen is promoting now.
But before it was approved, Shirakawa proposed adding a provision that required written agreement from the federal government to reimburse the county for any costs of detaining those convicted criminals. The final policy included that provision, and since ICE has refused to produce such an agreement, the county has honored no detainer requests over the past year and a half.
That explains why Rosen, when he presented before the Public Safety and Justice Committee in November, expressed "serious reservations" about convening another group to review the policy. "I spent six months in a committee working on a recommendation that was completely disregarded and changed," Rosen said. "And I'm reluctant to engage in a process like that again." He added, "I think it's really just a policy question for the board of supervisors to decide."
Supervisor Dave Cortese, who is the detainer policy's biggest supporter on the county board since Shirakawa resigned, says the board should not take any action on the policy until it fills the seat left vacant by Shirakawa's resignation.
That district, "is the most diverse demographic of any district in the county," Cortese said. "It's just a district that needs to be represented any time we deal with immigration issues."
[YouTube]YBd1uoyKhL8[/YouTube]

[soundcloud url="http://api.soundcloud.com/tracks/87186192″ params="" width=" 100%" height="166″ iframe="true" /]