Hear more about this story and how it developed on the Peninsula Report podcast >>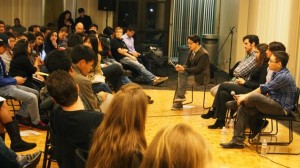 Close to 200 Stanford students packed an event Sunday evening to learn about a key aspect of getting their business ideas off the ground. The event wasn't about securing venture funding or making connections at Google, though; it was about how to start a company without getting deported.
Part of Stanford's Entrepreneurship Week, the event featured a panel of four foreign-born, Stanford-connected inventors and entrepreneurs who shared stories of their own successes and failures in getting visas to work in the United States. Moderator Tony Lai, CEO of legal help platform LawGives and an associate at Stanford-sponsored accelerator Start X, said "there is a huge amount of confusion in this area still," but the high turnout on Sunday night showed the importance of the issue to students and aspiring innovators.
The panelists each took different paths to gaining legal status, but they agreed that entrepreneurs should be proactive, start the process early and get a lawyer who will consider all options.
"You have to be creative," said Montse Medina, co-founder of Jetlore, a maker of software that combs social networking posts to help companies target advertising messages. "Don't let the lawyers tell you what to do; you have to be creative yourself."
Medina said her company employs three U.S. citizens, one green card holder and seven visa holders. That means lots of experience with U.S. immigration authorities and applying for visas, including her own H1B visa, which is sponsored by the company she helped start.
"If you're going to start a start- up you need to be ready to do everything yourself. From accounting to taxes to immigration—absolutely everything," she said. But, "You do want a lawyer that is going to give you ideas, who'll say, of course this is what everybody does, but there's also this other option. This is the lawyer that you want."
While Medina and her co-founder, a Russian native, have navigated the visa process on their own, Chun-Kai Wang went to work for Microsoft after graduating from Stanford in 2007 because he thought the tech giant could get him a green card. Wang, who co-founded the mobile gaming company Kooapps, is a native of Taiwan.
"The lawyer told me it would take a year and a half," Wang said. "I wish I had recorded that," he added with a smile. It ultimately took Wang more than four years to get a green card, and the process taught him the limitations big companies have in getting visas for their employees.
"For a while I hated Microsoft, but at the end of the day it's not their fault," Wang said. "There's a lot of things they can do, but at big companies, they're doing 5,000 applications and they can't be creative about every one, so you have to be proactive."
Pablo Diaz-Gutierrez agreed. "Beware of the H1B process and the aligning of your interests with big companies," said the co-founder of Appfluence, a software company aimed at making people more productive. "The company has to work through a batch of applications for their employees, and if you don't make it in that batch, you have to wait until the next year."
H1B is the visa most commonly used by technology companies in the area, and it allows employees to work only for the sponsoring company for the length of the visa, which is three years with the possibility to extend to a second three year term.
Medina briefly lifted the crowd's spirits when she described her experience transferring an H1B visa from an established company to her own start-up, a process she said was fairly easy. But an immigration attorney in the audience disagreed
"A lot of people ask if you can start your own companies when you're on an H1B," said Sweta Khandelwal, an attorney in Santa Clara. "It does not allow you to work for anybody else," including your own business.
Wang said he got around the requirement by not making a salary when he was working at Microsoft and starting Kooapps. "Make sure, if you have an H1B, even if you incorporate" your company, "don't get pay stubs," Wang said. He told the cautionary tale of a friend at Microsoft who did make a salary at a start-up on the side and, as a result, lost his chance to get a green card through Microsoft.
Wang, Diaz-Gutierrez, and panelist Ricard Garriga, an entrepreneur from the online network Younoodle, agreed that despite the challenges, there are advantages to being a foreigner in the innovation economy, particularly around Silicon Valley.
"By virtue of being a foreigner you have a group of compatriots who become your support network," said Diaz-Gutierrez. "And you have connections to a place where it's probably much cheaper to hire people. So in terms of outsourcing, purely American companies have to go through intermediaries and that's always a hassle."
There are also advantages to having employees spread around the world if they can't get legal status in the U.S., said Garriga. Younoodle has employees spread from Chile to South Korea. "The companies here are focused on global sales and so it's really cool to have people around the world working with your company," he said.
Ali Yahya, a Stanford graduate student in computer science, attended the event to get advice on navigating his visa application process. Yahya is a citizen of Mexico and is about to register a company with his classmate, Juan Batiz-Bemet, who has U.S. citizenship. "I'm overwhelmed and daunted a little," he said after the event. "But I'm encouraged to look into things more," he added. "The main message for me was, be proactive and creative. And that resonates with me," as an entrepreneur.
Still, Wang said the best thing to do is follow Diaz-Gutierrez's path. "I cheated and got married to my wife who is an American citizen," Diaz-Gutierrez told the crowd. "So I have a green card."
"That's the best way," Wang said above the crowd's laughter. "That's an insider tip."
Today E-week hosts a related event with immigration attorneys who will answer questions from students specific to their own visa and business situations. The full E-week calendar is available here.
Editor's Note: An earlier version of this story misspelled Tony Lai's name as Kai.

[soundcloud url="http://api.soundcloud.com/tracks/87462863″ params="" width=" 100%" height="166″ iframe="true" /]