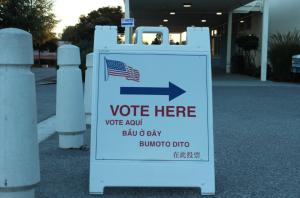 When Santa Clara voters elected event planner and small business owner Debi Davis, parks and recreation commission member Jerry Marsalli and planning commission member Teresa O'Neill to the seven-person City Council this month, they created a council deep in public service experience and with strong ties to law enforcement.
Marsalli is a retired lieutenant who worked 30 years in the Santa Clara Police Department, which employs Davis's husband, Bill, as an officer. Once they are sworn into office, Davis and Marsalli will join Councilman Pat Kolstad, also retired after a 30-year career in the police department, and Councilwoman Patricia Mahan, who is married to a retired San Jose police officer.
This group will shape policy in Santa Clara at a time when the city, like many California municipalities, is grappling with questions of compensation and pensions for public safety workers. The loss of state-allocated redevelopment money means the City Council must also consider potential cutbacks in several of its departments, including the police, according to Kolstad.
Compensation negotiations with the police union are on this year's calendar. Davis will have to recuse herself from those negotiations, given the conflict of interest created by her potential to benefit from them economically through her husband's income, said City Attorney Richard Nosky.
Nosky said similar measures may need to be taken by Kolstad and Marsalli if questions about police retirement benefits and pensions arise. Conflicts of interest regarding the already retired officers are "less likely," however, because most changes affect future retirees rather than current ones, he said.
Marsalli explained that since he and Kolstad have retired, their pension checks now come from the state, not the city.
Nosky praised Marsalli for approaching him prior to the election to inquire about potential conflict of interests and how to handle them. The city attorney said he has "no doubt" Marsalli will do everything asked by the law to avoid potential conflicts.
"As far issues involving city budget, the police department's budget, the type of equipment they should be getting, those will not be a conflict for me to be voting on," Marsalli said.
Kolstad echoed the idea that his background would not affect his decision-making, citing cutbacks the council enacted during his tenure as evidence that his priority is the balanced budget mandated by a Santa Clara city charter amendment.
"It's tough to think about your friends not getting a raise or some of them getting laid off, but you have to make the difficult choices to balance the budget every year," Kolstad said.
The similarities in backgrounds of council members raise questions about diversity on a City Council that, in addition to the prevalence of police ties, is an all-white septet representing a city that is less than half white, and nearly 40 percent Asian-American, according to the 2010 census.
Nosky said concerns about diversity in the city's governing body had been raised before, most recently in August 2011 when the council appointed a charter review committee to study whether or not the at-large-by-seat election system should be altered.
A member of that committee, high school teacher Karen Hardy, said she isn't so worried about diversity in regards to ethnicity, but rather "diversity of thought."
With the council's current makeup, Hardy said, "I don't see where you have a diversity of thought, opinion or outlook. That worries me, because we need to look at our situations and realize that doing the same thing the same way may not be the right answer."
In the "at-large" system, council candidates choose to run for a particular seat with no geographic ties to certain areas of the city. Nosky said most voter-advocacy groups concerned about diversity favor a district-based voting system to foster closer ties between candidates and those electing them.
The charter review committee recommended a more moderate change to at-large elections (with candidates not tied to a particular seat), as well as the creation of a program to encourage minority voting. Another concern, Hardy said, is the city's rules for term limits. While council members are restricted to serving two consecutive terms, they are permitted to return for another pair of terms after a two-year hiatus, which Hardy said limits turnover.
"People have long histories and attitudes and feelings, and I think sometimes those change slowly," Hardy said, noting that Santa Clara, incorporated in 1852, is the oldest city in the South Bay. "My concern is we take the attitude of 'this is the way we've always done it,' and that's not always the best way to do things."
Kolstad said the results of the recent election leave Santa Clarans with an experienced City Council ready to "hit the deck running," adding that he feels "lucky" to have a council "knowledgeable and experienced in city government."
The charter review committee's suggestions were not adopted by the council, in part, according to Nosky, because it was too late in the election cycle to make change practical. He added that there is a possibility the newly elected council will revisit the issues down the road.
"In a city the size of Santa Clara, the people who tend to run for City Council are the ones who tend to be pretty visible around City Hall already," Nosky said. "That's no different anywhere."
"(A change in system) could cause as many problems as it solves," said Nosky, citing complicated state and federal guidelines associated with redistricting or other changes. "I don't think anyone is suggesting that would be a panacea for whatever ails City Hall."