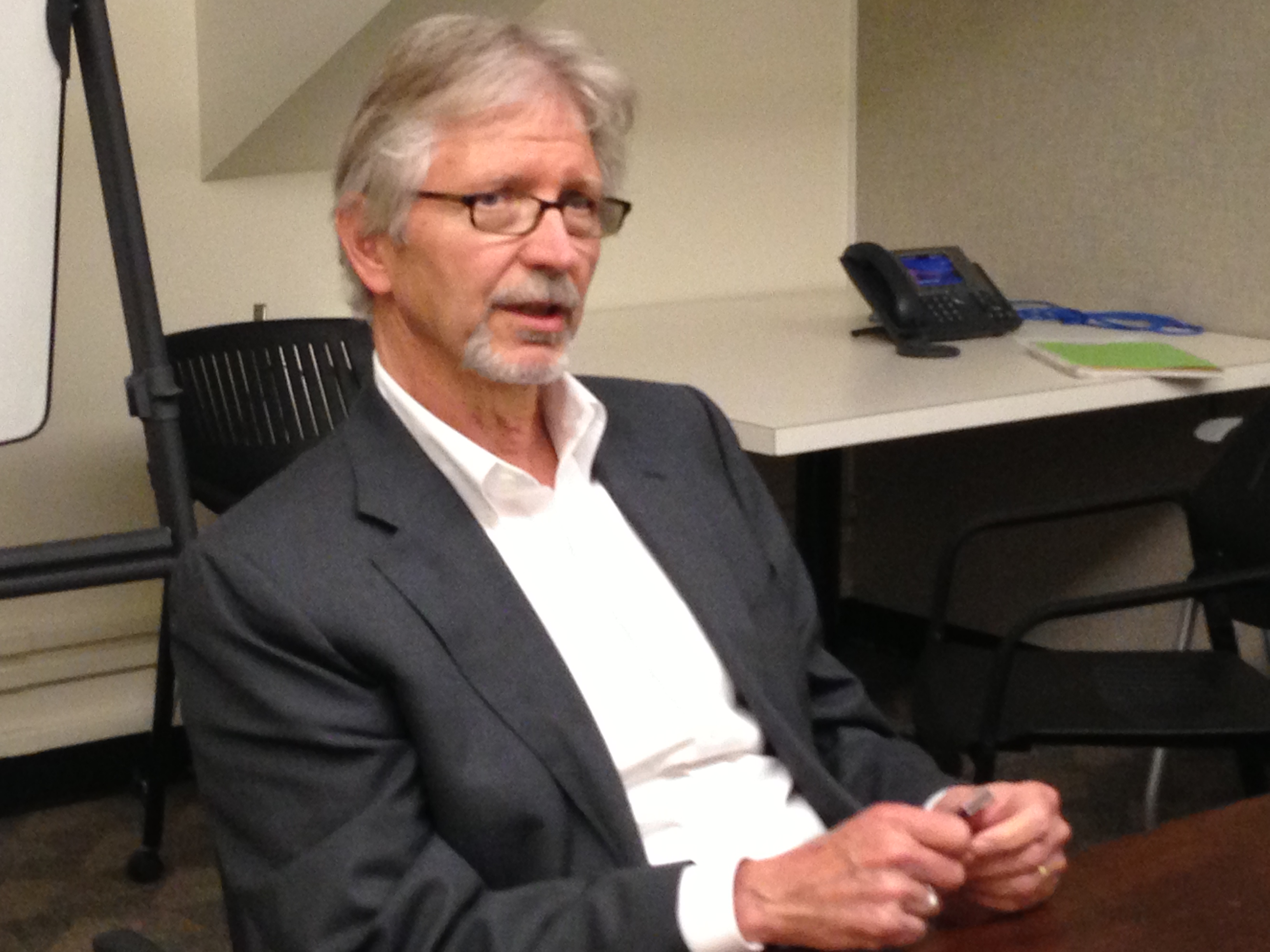 Palo Alto city leaders expect developer John Arrillaga to revise his controversial plans for a site off University Avenue, near the Caltrain station, to meet a 50-foot height limit without forcing him to do so, City Manager James Keene said.
Arrillaga, the billionaire philanthropist, envisions a complex anchored by a performing arts center, four office buildings and a revamped transit center as a bridge between downtown and the Stanford University campus. But the proposal he submitted to the city became a lightning rod last September when the building heights — topping off at 161 feet — far exceeded the restrictions that date to the early 1970s.
In a meeting with Peninsula Press reporters and editors Wednesday, Keene expressed confidence that the project would be revised in response to widespread community concerns that the towering structures would be divisive and out of character with the city's architecture. "I'm counting on the proposal itself coming forward at a reduced height without us having to overtly make that specific recommendation," he said. "I think it's pretty clear to me, our [city] council and our community that in order to have this project go ahead there's no need to have it go ahead above the existing height limit."
Attempts to reach Arrillaga for his response to Keene's comments were unsuccessful. In November, his development team reworked the original proposal, reducing the tallest high-rise to 113 feet and two others to 99 feet. Still, the council opted against putting the plans to a citywide vote in June and encouraged more public feedback.
In recent months, some Palo Alto residents have expressed frustration that negotiations appear to have moved behind closed doors. Others believe the outcry is unfair given Arrillaga's history as a major patron of both Stanford and the Palo Alto community. He has invested millions locally, which isn't necessarily the norm for Silicon Valley entrepreneurs.
"Individuals and companies here have the whole globe as their perspective. People thinking about giving are much more likely to pursue an initiative in Africa than Palo Alto," Keene said.
If built, the proposed development, known as 27 University, would add around 200,000 square feet of office space without creating any housing. That ratio embodies a problem that Keene said frustrates the region: a "fundamental disconnect" between job growth and the availability of affordable housing. "Despite the improvement of the economy … a lot of fundamental underlying issues that have been plaguing the region are still there and unresolved," Keene said.
The city manager said the council will reconsider plans for 27 University early next month and decide how to best engage the public in the discussions.
"It's really just a question of urban design, not just height in and of itself," Keene said. "It probably means the overall scale of the project needs to be smaller. … I'm hopeful that early in this outreach process, the city and Mr. Arrillaga can share some concepts that keep within the existing vernacular of downtown."