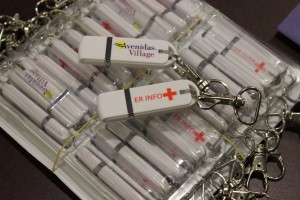 At least once a week, Palo Alto resident John Kittermaster rides his bike from his home at Moldaw Residences on East Charleson Road to the Stanford University campus, a route he estimates to be about five miles.
A former construction-project manager, Kittermaster carefully blueprints a route to maximize safety, riding under Alma Road to avoid the bumpy CalTrain train tracks and treacherous lane shifts.
But despite his precautions, the 85-year-old still has concerns about his safety. Though his route is a visible one, he worries about what might happen if an accident leaves him alone and unable to tell first responders his identity and medical history.
"I used to be a pretty good biker, but my talents have diminished, needless to say," Kittermaster explained. "I worry about what happens if, god forbid, I fall and hit my head and can't tell the medical responders who I am."
Kittermaster, a member of Moldaw Residences' health committee, found a solution in a new program developed in Palo Alto at nearby Avenidas Village, which provides resources and programs for senior citizens who choose to live at home rather than in an assisted-living facility.
The program provides seniors with USB flash drives on key chains so they can carry important medical information with them at all times. The drives are free, but Avenidas Village accepts donations.
The flash drives, labeled in red type with the words "ER Info" and a red cross, are pre-loaded with a form that lists the owner's name, emergency contacts, and medical information. Even if the owner is unable to speak for himself due to shock or injury, first responders can discover pre-existing medical conditions, potential medicines to avoid and whom to contact.
Annie Hagstrom, Avenidas's liason to the Palo Alto Medical Association, started the program at Avenidas and believes it provides the perfect solution to the safety concerns facing active seniors like Kittermaster.
Kittermaster agreed and brought the idea back to his fellow residents at Moldaw,  a home for senior citizens connected to the Albert L. Schultz Jewish Community Center on Fabian Way in Palo Alto. While many of his neighbors were just as enthusiastic about the idea of having necessary medical information attached to something that is always with them, like their keys, others raised concerns about privacy.
To make it easy for first responders to access the information, the flash drives are not protected. As a result, if a flash drive was lost or stolen, the owner's information would be free to anyone who found it.
Hagstrom says that while these concerns are legitimate, one way Avenidas combats them is with a form of suggested information that does not include any more information that necessary. That form includes the owner's name, date of birth, an emergency contact, list of preexisting medical conditions, and a list of his/her medications.
"We won't let you put anything on there that's going to harm you," Hagstrom told residents at the meeting. "I've seen people try to put their social security number on there and I say – why? We won't let you do that."
Though the flash drives come with that preloaded form of basic information, owners do have a choice of what information they would like to carry with them. Kittermaster, for example, says he included his Do Not Resuscitate order (DNR), his "Power of Attorney" paperwork, and information about cremation.
Still, Hagstrom and others involved with the program suggest that residents avoid putting information like social security numbers, financial details or addresses on the drives.
"I used to volunteer at Cedar Sinai Medical Center in Los Angeles, and people would come into the emergency room with no identification," Lara Weston, a Moldaw resident said. "The detectives would come and poke around to try to figure out who they were… I think these flash drives are a wonderful idea for anyone who wants to live well."
Kittermaster was able to download his information onto the flash drives himself, but many Moldaw residents aren't as tech savvy and need help putting information onto their drives. It's a service Avenidas provides, even though that process  raises further privacy concerns because it gives the tech support people access to a senior's information.
Avenidas' protection against this potential intrusion currently consists of a sticker to seal the senior's information in an envelope delivered directly to Avenidas. Hagstrom said those stickers ensure only trusted program volunteers access the records, and give and indication if someone else had opened the envelope.
Despite the privacy concerns, response to the program at Moldaw and among other Palo Alto seniors has been positive and Hagstrom and her colleagues are considering expanding the program nationwide through various national senior citizen networks.
Still, she is quick to point out that the program is worthless if first responders and hospital workers don't know to look for the flash drives. Though the drives are well-labeled, the fact that they are not in use for these purposes far outside of Palo Alto means emergency medical personnel in other parts of the country and world would not necessarily know how to use them or what they were for.
Hagstrom is working to increase awareness in the Palo Alto area, contacting Stanford Hospital, El Camino Hospital, and the Palo Alto Police Department to provide posters and information. She said those outlets have been receptive, with members of the Palo Alto Police Department going so far as to suggest the program be extended to Palo Alto children to provide information if they are separated from their families.
For now, however, Hagstrom says an expansion of that kind is not on the radar, as the priority is still making the program effective for local seniors and, eventually, seniors around the country. While first responders have been receptive locally, Hagstrom also explained that Stanford hospital brings in 40 new medical residents each academic quarter, making the problem of informing medical personnel a daunting one.
Still, she said Avenidas is already working with a senior residence near Washington D.C. called Georgetown Retirement Residence to extend the flash drive program to its residents. She said she emphasized the importance of outreach to the medical community before agreeing to help that center and believes the rapidity with which medical personnel grow accustomed to and accept the program will be crucial to its ability to expand nationwide.
Eventually, she hopes the program can create an alliance with the American Association of Retired Persons, which has well-worn distribution channels for America's aging population, and would be able to facilitate wide-ranging outreach to the medical community.
In the meantime, Hagstrom and others still have questions to answer about the program's privacy and the efficacy. Many Moldaw residents questioned whether or not emergency responders would have access to computers to be able to access the information.
Statistics vary on the number of police vehicles and ambulances with on-board computers nationwide, though most estimates exceed 75 percent. The number in Silicon Valley is much higher.
Even so, residents wondered about the amount of time wasted by responders dealing with the flash drives instead of caring for the patient. Hagstrom said the process of plugging the flash drive in and clicking on the information takes about "five seconds."
If privacy concerns are addressed, and medical personnel are made aware of the flash drives, Hagstrom sees many factors advantageous to national proliferation of the program.
First of all, she estimates each flash drive costs about $4.75, meaning they are financially feasible for a great number of the nation's seniors or even a national program like AARP, which she hopes will someday be interested in providing the drives to its members. Secondly, the flash drives are highly durable, meaning they would be able to take the wear and tear to which they might be subjected to on a constantly carried key chain.
Other health companies have experimented with flash drives for members, though for different purposes. Kaiser Permanente, a large health-insurance provider, gives patrons flash drives containing their insurance information so they can have it on hand. Those drives, however, are not meant to be carried constantly to inform medical personnel. Rather they are intended to be an easy way to ensure customers have easy access to their own insurance information should questions arise.
So for now, as long as Kittermaster sticks to his usual bike route, he can feel confident that emergency medical personnel will always know who he is and have his pertinent medical information. But soon, he and Hagstrom hope, active seniors around the country will be able to feel safe anywhere thanks to a tiny flash drive and a program begun in Palo Alto.