Hear more about this story and how it developed on the Peninsula Report podcast >>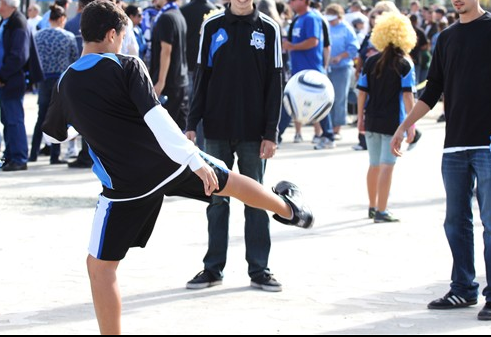 This article, by Peninsula Press reporter and former SF Gate intern Chelsea Janes, originally appeared in the San Francisco Chronicle on April 19, 2013.
The National Women's Soccer League, the third try at an American women's professional league, opened its first season last weekend with nearly 20 former Bay Area college standouts on league rosters.
But none is playing within 600 miles of her alma mater, even though two of them – Kelley O'Hara and Teresa Noyola – won the Hermann Trophy as the NCAA's player of the year while with Stanford, and two others – Alex Morgan of Cal and Rachel Buehler of Stanford – are national team regulars alongside O'Hara.
The eight-team league does not have a team in California.
Financial failures of past California franchises have scared off potential new owners and made U.S. Soccer, the body that governs the new league, wary of California bidders.
History justifies those concerns: The Bay Area's highly saturated sports landscape include two failed women's soccer franchises in the past 11 years.
Bay Area snubbed
According to Sunil Gulati, president of U.S. Soccer, the organization vetted 11 bidding groups for eight slots. Among the rejected finalists were groups from Hartford, Conn., and Los Angeles that could be strong contenders for future teams, as league officials say they hope to expand to 10 to 12 franchises in the next few years.
The eight that made the cut: The Boston Breakers, the Chicago Red Stars, FC Kansas City, the Portland Thorns, the Seattle Reign, Sky Blue FC (based in Piscataway, N.J.), the Washington Spirit and the Western New York Flash (based in Rochester).
The Bay Area, which has had teams in the now-defunct Women's United Soccer Association (2000-2003) and Women's Professional Soccer, which folded last year, did not have a bidding group among the finalists.
The experience of the Bay Area's WPS team, FC Gold Pride, may be to blame for the Bay Area void.
After finishing at the bottom of the league in 2009, FC Gold Pride's owner Brian NeSmith, former CEO of Sunnyvale's Blue Coat Systems, built a star-studded roster that included Buehler and O'Hara and featured five-time FIFA world player of the year Marta of Brazil. The Gold Pride dominated, winning the 2010 WPS championship, yet folded in the months that followed, doomed by a lack of ticket sales and sponsorships.
"We were a true startup, but without a lot of start-up capital," then-FC Gold Pride general manager Ilisa Kessler said. "We didn't have the funds to do huge marketing campaigns like you'd see with all the other start-ups in Silicon Valley."
Then again, neither did most other WPS teams.
Monetizing it
The struggle to find deep-pocketed owners derailed WPS teams like the Los Angeles Sol and St. Louis Athletica, who folded like the Pride. But others, like the Boston Breakers and Western New York Flash, endured with relative success.
For Kessler, part of the reason for FC Gold Pride's demise may have been, surprisingly, the uncommon prevalence of dedicated soccer players in the region.
"There's a huge amount of soccer participation in the Bay Area," Kessler said. "I always joke that we would've had more money if I had a dime for every time a parent would tell me that the last thing they wanted to do on their weekends was to go watch soccer. Because they've been all week long bringing their child from practice to practice and game to game."
Stanford goalkeepers coach Jay Cooney has been involved in every edition of women's professional soccer in the Bay Area, coaching the keepers for the San Jose CyberRays in the WUSA before joining Stanford and FC Gold Pride in the same role. He believes interest in women's soccer is high in Silicon Valley, but that's only half the battle.
"It's like a tech startup: Here's a great idea for an app – it's fantastic, it's streamlined, but I don't know how the heck I can make a profit from it," Cooney said. "I think people really care about the game and we have knowledgeable soccer fans here in the Bay Area, but the question is: how do you monetize it?"
Unlike the two leagues before it, the NWSL will be sponsored in part by the United States, Canadian and Mexican soccer federations, each of which will subsidize salaries of a set number of its national team players. League officials wouldn't comment on their expectations for average or subsidized NWSL salaries. The New York Times reported the WPSL's average salary to be around $25,000 in 2011.
A soccer tradition
California has provided American women's soccer with some of its most memorable moments and crucial characters.
Most fans trace their memories of the women's game to the 1999 Women's World Cup, played on U.S. soil and won by the Americans. The Rose Bowl hosted that final, a game the U.S. won in penalty kicks over China in front of 90,185 fans, the largest ever at a women's soccer match.
The U.S. featured several players from Bay Area colleges, including San Jose native and Santa Clara alum Brandi Chastain, whose Cup-winning penalty kick and unbridled celebration became the lasting memory of that World Cup. Another American to knock in a penalty kick that day, Joy Fawcett, was a three-time All-American at Cal. Julie Foudy, who captained the U.S. team from 1991 to 2004, was the first four-time All-American in the history of Stanford women's soccer.
The biggest current American star is Morgan. She is playing for Portland, as is Buehler. O'Hara and fellow Stanford alum Madeleine Thompson play for Sky Blue FC, Noyola for Seattle.
Other teams who have players with Bay Area ties include: Boston (Mariah Nogueira, Stanford; Jenny LaPonte, Santa Clara), Chicago (Leslie Osborne, Santa Clara; Rachel Quon, Stanford) and Kansas City (Bianca Henninger, Santa Clara; Danville native Courtney Jones; Nicole Barnhart, Stanford).
"I'm a West Coast girl, so I'm really excited I get to stay on the West Coast," Buehler said. "I think it's the closest city to San Diego, where I'm from and my husband will be living, so it will be nice to be as close as possible."
While she would have loved to see a California team, Buehler said she understands the need to start in cities with "investors that have the money, ability and long-term vision and commitment" to help the league thrive.
Cheryl Bailey, the league's executive director, said "soccer-rich" markets with "good fan base and support" – like the Bay Area – will be considered as the league ponders expansion.
After all, many of the league's players have been there before.
NWSL
The eight teams
Boston Breakers
Chicago Red Stars
FC Kansas City
Portland Thorns
Seattle Reign
Sky Blue FC (based in Piscataway, N.J.)
Washington Spirit
Western New York Flash (based in Rochester)
NOTABLE BAY AREA STARS
Alex Morgan (Cal), Rachel Buehler (Stanford): Portland
Kelley O'Hara (Stanford): Sky Blue FC
Teresa Noyola (Stanford): Seattle

[soundcloud url="http://api.soundcloud.com/tracks/90985145″ params="" width=" 100%" height="166″ iframe="true" /]