Editor's Note: This article was written for a Stanford narrative journalism class. Some student reporters pursued stories outside the San Francisco Bay Area on topics that would be of interest to Peninsula Press readers.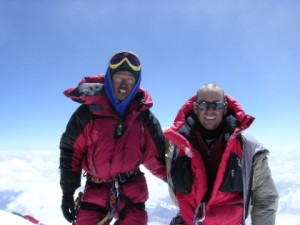 Hundreds of yellow, red and blue specks quickly appear every April in the valley below the 18,000-foot summit of Kala Patthar, one of Nepal's most popular hiking destinations. The spots are clustered on a rocky field at the edge of the snow and ice that lies in the shadows of the world's greatest monolith, Mount Everest. They are tents that make up a temporary village known as Everest base camp. In the spring of 2008, Michael Kobold hunkered down in one of these tents and, under the curious gaze of Ang Namgel Sherpa, assembled a mechanical watch.
The owner of Kobold Watches, Michael hatched his scheme to start a watch company a decade earlier during a class project at Carnegie Mellon University; he decided to continue the venture after the class ended, essentially because he didn't much like college and was bored. He founded the company with $5,000 when he was 19, working out of his apartment in Pittsburgh. It proved to be successful beyond expectation — in the first year he grossed $85,000. His watches now sell for as much as $10,500 each and can be found on wrists ranging from Bill Clinton's to Bruce Springsteen's.
"I'm still sort of amazed," Michael says. "I didn't think I'd be running my own watch company for more than two semesters."
Unlike most others at Everest base camp that spring, Michael had no desire to scale the great heights. He was there as the official watch sponsor for Sir Ranulph Fiennes, declared by the Guinness Book of World Records the "World's Greatest Living Explorer."
Michael doesn't fit the watchmaker stereotype. Rather than being steeped in tradition and methodology, he gets through life by immersing himself in what he loves to do and somehow, almost naively, stumbles from one adventure to another. It was a hair-raising experience on the Autobahn, sustained by Michael's training in tactical driving, that peaked Fiennes's attention, initiating the friendship that would lead Fiennes to leave his longtime sponsor, Rolex, to join the Kobold team.
"Because I wasn't climbing, I had a lot of time on my hands," Michael says. So he brought the necessary parts to put together a couple of movements, the internal mechanism of a watch, to keep himself occupied. In the process he discovered that his boyhood-hobby-turned-profession caught the attention of another crew at base camp: the climbing Sherpas.
"Sherpa" most broadly means an ethnic group of Tibetan Buddhists from the mountainous regions of Nepal. Ethnic Sherpas also typically use the word for their last name. In western culture, the Sherpa people are most famous for the roles they have played in the expeditions to the high Himalaya. Climbing Sherpas are still hired by, and crucial to the success of, the bulk of Himalayan expeditions.
Mostly young locals from the Khumbu Valley with dozens of Himalayan summits under their belts, the climbing Sherpas on Everest are well accustomed to the professional climbers, doctors and madmen adventurers who make the pilgrimage to the world's highest point each year. But Michael and his craft were something entirely new to them. In a setting where the goals people strive for are physical and gargantuan, in a country where time is considered only in a relative sense, Michael bent over an array of miniscule parts spread on a folding table, seemingly engaged in a quaint and whimsical enterprise.
I was one of the aforementioned mad adventurers only a year earlier. In 2007, I stood on the summit of Everest, having climbed there with Namgel. Lakpa Thundu Sherpa, one of Namgel's lifelong friends, was also there with my teammate Wim Smets. Namgel, Thundu and other climbing Sherpas were indispensable to the success of our expedition.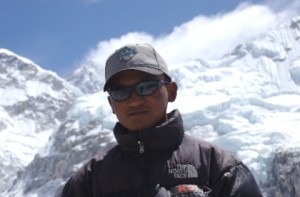 Born in neighboring villages in the Khumbu Valley, Namgel, 27, and Thundu, 42, became climbing Sherpas because, despite the inherent risks, "guiding is one of the best jobs in our world," Namgel says. "We never would have become climbing Sherpas if other Sherpa careers were an option."
Namgel received a basic education through the grade school in the Khumbu Valley founded by Sir Edmund Hillary (the first man to have climbed Everest), but after that his parents couldn't afford to send him to college. Thundu didn't even have the opportunity to attend the Hillary School. They both became climbing Sherpas through family connections, each having a friend who taught them how to climb. Namgel has summited Everest seven times, Thundu nine times.
Once they could afford to, both moved to Kathmandu with their wives, Pemba Doma Sherpa (Namgel's wife) and Bandi Tamang (Thundu's wife), in order to provide educations for their children. Namgel and Doma have a 2-year-old daughter; Thundu and Bandi have an 8-year-old son and a 9-month-old son.
When I was on Everest with Namgel, he was just starting out on his climbing Sherpa career. He was 22 at the time, a few years older than me. Standing about 5-foot-5, Namgel has a deeply tanned, round face that often displays an earnest look, enlivened by curiosity. He was so quiet we could almost forget he was there—that is until we noticed he was doing the same thing as us in jeans and a sweatshirt while we were wearing gortex and fleece. Or until we needed his help, which he would always eagerly provide.
Thundu, older and with more summits under his belt, is slightly taller, slightly leaner, with a longer face. His English wasn't as good as Namgel's, but when he was hanging out with a posse of other Sherpas it was obvious that he carried a certain social sway. He was known for being one of the stronger climbing Sherpas, and was highly respected by his peers.
My own summit day on Everest was probably both the best and the worst day of my life. Even when all the factors that allow for someone to summit Mt. Everest align — a stretch of good weather, acclimation to the altitude, logistical organization with the other climbing groups — it would be hard to describe any summit day as having gone "smoothly." Just existing above 8,000 meters is difficult, much less making the effort required to trudge up steep slopes. Being at this elevation feels a bit like dealing with the worst hangover imaginable: Your brain seems to stop working, so even menial tasks are baffling; the thought of eating can make you want to vomit; you are acutely aware of the extreme cold around you, but at the same time are somehow numbed to it.
Plodding along through the deepest part of the night, I tried to sift through my thoughts to figure out why I had gotten into this situation — why continuing up was something I so desperately had wanted to do. My headlamp burned out. I couldn't get my harness fastened tightly enough. I was worried that my feet were getting too cold. I would stop, turn around, and tell these things to Namgel. He would do what he could, but ultimately it would always come down to the same thing: "Keep going, Sam."
Four years later, I would meet Namgel and Thundu again, this time in my hometown of Long Beach, Calif. They were now accompanied by Michael, who was in the process of completely changing their lives.
*     *     *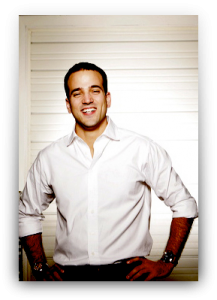 Although Michael had no intention of going up Everest when he was there in 2008, he found himself climbing it the next year because of a bet.
At that point, Kobold Watches had been a sponsor of the Navy SEALs for quite some time, and when he returned home from his first trip to base camp he went to a SEAL charity dinner in New York. Slightly chubby with a youthful face, Michael was an easy target for teasing by these men of steel. A SEAL team commander poked fun at him for not having made it to the summit.
Michael doesn't drink but he sometimes acts like he does when others around him are imbibing. The alcohol was flowing that night. "I said something very stupid," he recalls. "I said that I would go back and climb Everest to the summit, and raise money for their charity." The SEALs took him at his word. They brought him to their base near San Diego to train him up. They made him do "all sorts of über physical activities, a lot of which I passed out from," he says. "I think they were having fun—they called me puny watchmaker."
When Michael arrived at the airport in Kathmandu to attempt his Everest climb, he met the woman who would become his wife. A pretty, tough blonde from Hungary, Anita Ugyan was soft spoken and shy and yet she led the daring life of a professional mountaineer. Their romance began on the trek up to base camp.
Michael, previously ambivalent, became exited about the climb because of Anita, and he was much more motivated to raise the $250,000 he promised to the SEAL fund. "There were times when I thought 'this is so stupid, what am I doing here, I don't belong here,'" he says. "But of course if you give up you don't raise the money, so I stuck with it."
When Michael returned home, however, he was dismayed to find that despite making it through to the summit he failed to meet his goal by $235,000.
Michael says he would have preferred to make up the difference by just writing a check , but Anita, whom he married six months after he returned from the summit and who actually liked climbing mountains, convinced him to go back the next spring. In the hope of attracting more funders, she thought the two of them should this time try to make the climb with an additional risk — they decided to attempt it without using supplemental oxygen.
The summit of Everest has only a third of the amount of oxygen that's available at sea level. This is essentially the reason why climbing it is so hard. Mountaineers have tried to lessen the effects of so little air, which makes climbers heave several breaths with each step, by using supplemental oxygen out of tanks similar to those used by scuba divers. Some believe that relying on the use of supplemental oxygen is "unpure," but not using it is also significantly more dangerous—it slows you down and increases the likelihood of coming down with a deadly case of altitude sickness.
Only 5 percent of all Everest summiteers today made the climb without supplemental oxygen.
*     *     *
The 2010 expedition started out well. Now making his third visit to base camp, Michael had managed to become a favorite among the climbing Sherpas. He was sometimes invited into the kitchen tent for dinner, where the Sherpas normally ate but rarely allowed westerners in. German born, half a foot taller and from a privileged background, in some ways Michael was the polar opposite of the small, wiry Sherpas. Still, they shared some common attitudes. He started to discover the humor beneath their dark, smiling eyes. Getting to know Namgel and Thundu better was "a lot of fun and very refreshing, because they are incredibly good and decent people," Michael says.
Namgel later revealed to him that when the Sherpas found out he and Anita were coming back, they had reserved the best tent spot for them, positioned with an excellent view of the Khumbu ice fall — their unconventional honeymoon suite. Namgel and Thundu explain that they took a particular liking to Michael because he "was very good, humble . . . We thought he was a good man and a good climber and helpful to us."
Trouble first struck when the team was high on the mountain, not yet with the intention of going to the summit, but as part of the gradual process of "climb high, sleep low" used to adjust to high altitude. Their goal was to stay the night at Camp III, at 24,500 feet, and then come back down before going back up again for their summit push. "Climb high, sleep low" is important for any mountaineer to adapt to the thin air, and it was now even more important for them given the goal to climb without supplemental oxygen.
While they were still at Camp II, at 21,300 feet, Anita came down with a severe case of acute mountain sickness from the altitude. Dr. Rob Casserley, the expedition physician, ordered her to go back down to base camp. Weak after a sleepless night, she relied on Namgel's help to safely navigate through the crevasses and seracs of the treacherous Khumbu ice fall.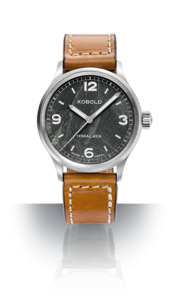 Anita descended all the way to the teahouses hikers stay in on their way up to base camp, and after a few weeks she seemed to be fully recovered. She and Michael gave up on the goal to climb without the use of supplemental oxygen, but beyond that they were both still in the game.
Michael, Anita, Namgel and Thundu ran into further complications on their summit day in 2010. Several hours into the climb, Namgel noticed a hissing sound coming out of Michael's oxygen system. Standing on a ridge that dropped down thousands of feet into Tibet, Namgel changed out Michael's tank and then determined that the hissing was caused by damage to Michael's regulator, the device that reduces the pressure of the air in the tank as it flows out to make it breathable. Namgel changed it out for a spare.
Once the equipment was exchanged, Namgel turned around to throw on his pack. Michael pivoted to face him. He looked down and noticed that Namgel was unclipped from the rope. Namgel took a step to adjust his pack when suddenly Michael heard a panicked, desperate scream.
Namgel was sliding toward the edge of the ridge. "Please, please, I'm not clipped in! Please clip me in!"
Michael lurched for Namgel's carabiner — the clip that was supposed to be securing him to the rope — yanked him up and clipped Namgel back in, saving him from what he later said was the closest he had come to falling in many years.
Michael contemplated throwing in the towel but was convinced to continue on. They slowly moved up, one foot in front of the other, toward the summit.
*     *     *
From the 29,029-foot Everest summit, the team descended down to the 21,300-foot high camp II. They finally stopped to rest for the night, 21 hours after they had first left for the summit. But they were still far from home free.
"I cannot breath," Anita began to say. She said it again and again, but the team wrote it off as difficulty from having spent the day breathing the dry air out of the oxygen cylinders. About an hour later, she suddenly collapsed on the sharp rocks outside the tent.
Michael yelled for Rob. He assessed her pulse and breathing — none. He shined a light into her eyes. They stared blankly up.
"Break break break, this is Camp II," Rob called over the radio to base camp. "We have an emergency. Patient is unresponsive, no pulse, no respiration, suspected case of stroke." He looked up at Michael. "We might have lost her," he said.
Michael tried to call out from Namgel and Thundu, but he couldn't produce a noise. He ran to their tent, banged on it and croaked to them that Anita was dying.
Namgel, Thundu and Rob acted quickly. They pulled out a syringe full of epinephrine (adrenaline) to try to get her out of cardiac arrest. After four or five minutes, her heart was pumping again.
Namgel and Thundu stayed up with Anita the whole night, nursing her back to a lucid state. They had been climbing for 45 hours. They didn't sleep for two and a half days. The next morning they got her back down to base camp, where she was helicoptered out.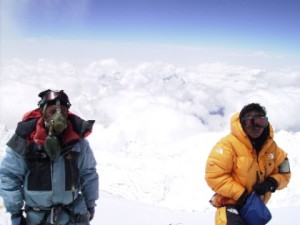 "I had almost lost my wife of less than a year," Michael wrote on his expedition blog. "But thanks to the remarkable responsiveness and skill set of Dr. Rob Casserley and the formidable nursing skill of Namgel and Thundu, Anita's life was saved."
To this day, Michael isn't sure what happened to Anita. "I'm not a doctor," he says. "I just know that she had a swollen air pipe. She had such a bad cough and she coughed up the lining of her lungs. She had asphyxiation. She turned blue and died."
And yet, with the help of Namgel and Thundu, she came back to life.
*     *     *
Michael had been toying with the idea of asking Namgel and Thundu if they wanted to learn how to become watchmakers ever since he noticed their interest in it. Now he felt adamant that he wanted to give them a chance at a new way of life.
Back at base camp, he asked if they wanted to come live with him and Anita on his farm an hour south of Pittsburgh for a year so he could train them in watchmaking. He wanted to enable them to open the first watch shop in Kathmandu.
Namgel and Thundu were both in disbelief—they were skeptical that Michael could actually pull this off. It wasn't until they got their visas in the mail that they allowed themselves to feel overjoyed.
At first Michael and Anita were anxious about culture shock: "Of course there are risks involved when you're taking Sherpas who are living one way of life, and bringing them to America where they'd live a totally different way of life," Michael said. "In the states we have a set of influences that are not entirely wholesome, for anybody, much less for a bunch of guys who have lived in a very sheltered an protected environment like Nepal, where you might go out with your boyfriend for three years before you even get a kiss."
During the first two months, Namgel and Thundu stayed exclusively on the farm, which neighbors an Amish village. They practiced English through board games and learning how to cook. After a couple of white-knuckle crash courses around the farm (literally), Namgel learned how to drive. And they began their instruction in watchmaking.
At the Kobold headquarters in Pittsburgh, Michael introduced them to Dale Poindexter, head watchmaker, who was to be their teacher. "At first I thought it was going to be a disaster," Dale admits. Still perfecting the trade himself, he didn't feel he even knew enough to be their mentor.
They also had a hard time understanding Dale, an African-American Pittsburgh native in his late twenties. He used a lot of slang and talked fast. Communication was laborious because most of the time Namgel had to translate for Thundu.
Early on while they were learning how to assemble a watch movement, Namgel and Thundu accidentally dropped the pieces they were working on, scattering them all over the floor. "It was very confusing for us and we didn't know which parts were missing," Namgel recalls. They got on the ground and sorted through it all persistently, eventually recovering all of the parts. They had the movement working two to three days later, with Dale's help.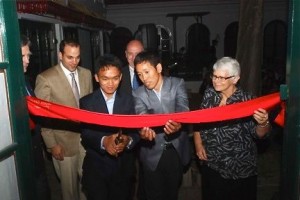 Dale was relieved at how well Namgel and Thundu caught on. "Where they're from, they're used to working hard. They're not close to being as lazy as a lot of people in America are," Dale said.
As they felt more at ease, Namgel and Thundu's humor started to come out, too. The shop is a busy place, with a lot going on Dale said. "Chop-chop" is one of the most common phrases to get thrown around — one that Namgel and Thundu playfully picked up on. "They liked to tell each other to chop-chop," Dale recalled with a laugh.
Despite Michael's attempts to shield them from parts of America, Namgel and Thundu caught on to U.S. pop culture, too. Once while on break, Dale shot the breeze with a  co-worker, talking about rap music and sharing samples of their favorite songs while Namgel and Thundu listened in.
"You're going to poison their minds, they don't listen to this kind of music!" Michael said when he walked in.
Namgel looked up at him. "I listen to a little Biggie and Tupac," he said.
After the months of acclimation to life in Pennsylvania, Michael decided to give Namgel and Thundu a grand American tour before they returned to Kathmandu. They visited 18 states over the course of eight months.
Driving through the streets of New York City in a yellow cab on a clear, sunny day, Michael braced himself for the worst when he asked them what they thought of it.
"It's just like Kathmandu," Namgel said. "Lots of cars and lots of people."
They saw the ocean for the first time in California. They saw the "mountain-hills" in Hollywood, and got arrested for climbing the Hollywood sign. What they both reported to be the best part of the trip was the Kennedy Space Center in Florida. Namgel had learned about space exploration when he was a child at the Hillary School, but in such an abstract, removed way that it was hard to understand that it was actually real. Once he saw the size and scale of the shuttles in the museum, space exploration became awesomely imaginable to him.
*     *     *
Kobold Himalaya opened its doors on March 26, 2012 in Kathmandu. Despite, or maybe because of, the eccentricity of a watch shop where time almost takes on a meaning different from the one it has here, the opening was greeted with fanfare. Amongst the guests were members of the deposed royal family of Nepal and the commander-in-chief of the Nepali army.
Michael worried that the event would be "totally overwhelming." But Namgel and Thundu each said a few words, and Michael proudly reports that they held their own. Namgel and Thundu's families couldn't stop smiling the whole time. Their families, which now also included Michael.
"They love him something serious," Dale said. "Just as much as he loves them."