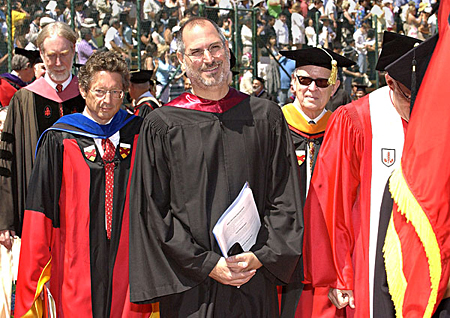 Watch the Full 2005 Stanford Commencement Address >>
"When I was 17, I read a quote that went something like: 'If you live each day as if it was your last, someday you'll most certainly be right.' It made an impression on me, and since then, for the past 33 years, I have looked in the mirror every morning and asked myself: 'If today were the last day of my life, would I want to do what I am about to do today?' And whenever the answer has been 'No' for too many days in a row, I know I need to change something."
Steve Jobs, the legendary co-founder of Apple who died Wednesday at his Palo Alto home, offered those words to Stanford University graduates in a 2005 commencement address.
In a statement announcing Jobs's death, Apple praised his "brilliance, passion and energy" and said "the world is immeasurably better because of Steve."
The 2005 commencement address has been viewed nearly 5 million times on YouTube and is a top download on iTunes U. In it, Jobs spoke of his passion for his work, and Apple, despite the fact that it fired him in 1984, before rehiring him in 1997.
"Sometimes life hits you in the head with a brick. Don't lose faith. I'm convinced that the only thing that kept me going was that I loved what I did. You've got to find what you love. And that is as true for your work as it is for your lovers. Your work is going to fill a large part of your life, and the only way to be truly satisfied is to do what you believe is great work. And the only way to do great work is to love what you do. If you haven't found it yet, keep looking. Don't settle. As with all matters of the heart, you'll know when you find it. And, like any great relationship, it just gets better and better as the years roll on. So keep looking until you find it. Don't settle."
Watch the Full 2005 Stanford Commencement Address:
[youtube]UF8uR6Z6KLc[/youtube]