Hear more about this story and how it developed on the Peninsula Report podcast.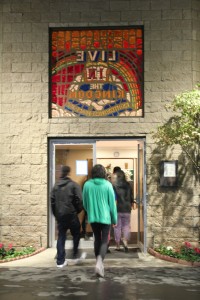 There were many reasons to pay attention to the presidential election last month. For Luis, a college student in San Jose, it was the difference between continuing to live in the shadows and having the chance to become a legal U.S. resident.
Like other undocumented immigrants age 30 and younger who came to the country as kids, Luis is eligible for a federal program called Deferred Action for Childhood Arrivals, or DACA, which President Obama established by executive order in June. The program is a path to temporary legal residency for young people attending school or enlisted in the military.
But DACA's fate hinged on Obama's re-election. Republican nominee Mitt Romney, who took a hard line on immigration during his party's primary, evaded talking directly about the program throughout much of the campaign before announcing in October that he would not continue it as president.
"From the get-go we've been telling people that this was a benefit granted through executive order and as easily as it was granted, it could be taken away," said Vanessa Sandoval, the immigration legal services director at SIREN, a community group that works for immigrants' rights and education in Santa Clara County.
Now, the program will almost certainly continue for at least four years, motivating Luis and others like him to apply for benefits that were previously unavailable to them. This means that while the nation loudly debates more comprehensive immigration reform, tens of thousands of immigrants are quietly getting temporary legal status.
More than a quarter of the applicants so far are in California.
"After the elections, there was a breath of relief that the program will continue," Robert Yabes, a program director for Catholic Charities of Santa Clara County, said in an e-mail. "We have been inundated with phone calls as to when our next DACA workshop will be."
Luis spoke on the condition that his last name would not be used due to his current legal status. He is one of about 17,000 people eligible for DACA in Santa Clara County, the most of any county in the Bay Area, according to Chicago-based researcher Rob Paral. Paral's analysis of 2010 Census data was provided to the Peninsula Press by the International Institute of the Bay Area, a nonprofit immigrant services group.
A consultant to the American Immigration Council, Paral estimates that 6,500 people in San Mateo County are eligible for DACA.
Catholic Charities held its first post-election workshop on Nov. 30 at the Nuestra Senora del Refugio church in San Jose. Luis attended to learn about the program and how to apply. Now 25, he came to the U.S. from Mexico as a child with his parents. "I thought about applying when (DACA) first came out," he said, "but…it was an election year and I wasn't sure it would continue."
Luis has readied most of the necessary paperwork, which includes proof of his continuous presence in the United States for at least the past five years. Receiving deferred action status would make him eligible for an Employment Authorization Document, which shows U.S. employers that someone can work legally, as well as a driver's license in California. DACA benefits last for two years, by which time Luis will have graduated from college and entered the job market.
Yabes said, "With that work permit they can apply for a Social Security number…which makes a huge difference for these kids." Recipients can also apply for a second two-year term after the first expires, but the Obama administration has said that DACA is not a pathway to citizenship. The program also does not provide a vehicle for family members to get legal status.
Critics say DACA wrongly protects undocumented immigrants and their families by not sharing applicant information with federal immigration authorities, undermining those agencies' enforcement work. Others say the Obama administration overstepped its authority in creating the program and bypassing the legislative process.
Some DACA benefits have been controversial among lawmakers as well. In September, motivated by the launch of the program, Rep. Duncan Hunter of California's 52nd district, an area south of San Diego, introduced a bill that would deny a certain type of federal funding to states that issue driver's licenses to undocumented immigrants—including DACA recipients. The bill is still in a congressional subcommittee.
Hunter has called parts of DACA "sanctuary" policies that are in violation of the law.
According to the most recent figures released by the U.S. Citizenship and Immigration Services (USCIS) agency, which administers DACA, nearly 309,000 people applied since the program started in August through Nov. 15, 2012. Of those, more than 53,000 have been approved. (USCIS did not indicate how many applications had been denied.)
People in California have filed the most applications, more than 81,000—nearly double the next state, Texas. Through Nov. 15, Mexican citizens made up about 69 percent of applicants.
Yabes said his organization has helped file between 600 and 700 DACA applications, and not one has been denied. In San Mateo County, a collaborative of the four major immigrant service groups in the area have helped submit more than 200 applications since they began tracking their progress in October.
SIREN got its biggest rush of applicants just before the presidential election. "We were telling our clients that we'd continue accepting applications but to be aware that if Romney won, there was no guarantee they'd be approved after January," Sandoval said.
Like the clients at Catholic Charities, Sandoval said SIREN's constituents are breathing a sigh of relief. For some, there's no longer a sense of urgency. "Now that Obama has said DACA is safe for the next four years, I feel that people are more comfortable with the program and not in so much of a hurry," she said.
She added that the $465 application fee paid to the federal government is substantial for a lot of applicants, and people may be saving that money for the holidays. The fee does not include charges from community agencies or private lawyers to help with the application, which can be an additional $400 or more.
Sandoval said many people are planning to get their applications in later, since they have been afforded the luxury of time. That might explain why, despite the high volume of calls immediately following the election, the Nov. 30 workshop in San Jose drew approximately 70 people—roughly two-thirds the turnout at Catholic Charities' last session two days before the election.
Potential applicants may also be waiting for more comprehensive immigration reform, the prospects for which have risen significantly due to the perceived power of the Latino electorate in helping to re-elect Obama. But Sandoval doubts that is the case. "The clients I've seen would not hold off and wait for comprehensive immigration reform and not do DACA," she said. "They'd hope that once there is reform, they'd be able to transfer status to whatever new program is created."
Many people don't want to get stuck assuming that comprehensive immigration reform will happen, Sandoval said. "Because it was close in 2006 and didn't happen, and it didn't happen in Obama's first term, people are weary and cautious about whether it'll actually happen," she said.
Young immigrants such as Luis also benefit from the law known as the California DREAM Act. Passed in 2011, it allows undocumented students to receive financial aid from the state and private organizations for higher education. A broader, national bill, also called the DREAM Act, failed in Congress last year.
The federal DREAM Act would have allowed states to offer in-state tuition to undocumented immigrants, and provided legal status that would become permanent. Senate Republicans introduced an alternative version, called the Achieve Act, on Nov. 27, which offers some of the same benefits but does not provide a path to full citizenship. That bill has come under fire from immigrants' rights groups and is considered unlikely to pass.

[soundcloud url="http://api.soundcloud.com/tracks/73779533″ params="" width=" 100%" height="166″ iframe="true" /]