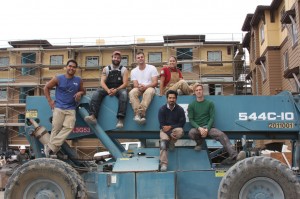 Jobs paying less than $50,000 a year make up the majority of Silicon Valley's projected employment growth, according to a 2012 report, and that means many more workers will commute long distances because they can't afford to live in the valley.
In a housing market inflated by high-salary technology jobs, the median price of a single-family residence in Santa Clara and San Mateo counties remains at nearly $700,000.
The cost of renting is often out of reach as well. The report, released by the Non-Profit Housing Association of Northern California and Urban Habitat, shows that the average Silicon Valley bank teller, paramedic, waiter or retail employee falls well short of the annual salary needed to afford a two-bedroom apartment: $69,560 in Santa Clara County and $82,400 in San Mateo County.
As a result, 98,000 cars commute to and from the valley each day, and more than one-third of the workers driving them earn less than $40,000 annually, the report said.
Some commute from Stockton or Modesto (both almost two hours east of Silicon Valley), others from Hercules (more than an hour north). Even though housing is much cheaper there, these long-distance commuters pay in other ways: They spend a big chunk of their income on transportation and also lose time with their families. (Story continues below.)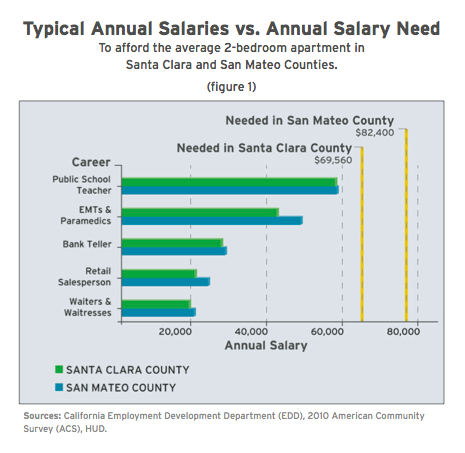 The report's findings come as no surprise to Phillip Kilbridge, the executive director of Habitat for Humanity Greater San Francisco, a nonprofit organization which builds affordable homes for underemployed Bay Area residents. Kilbridge said he has seen a steady increase in the number of people seeking Habitat homes in recent years. And the professions of his clientele are surprising.
"We might serve a preschool teacher or a teacher's aide, or folks in entry-level education. We might serve people who work in hospitals, but not necessarily nurses or doctors…but more entry-level physicians," he said. "We'll serve people in the service industry…whether they be folks who are serving coffee or bagging groceries or working at Home Depot."
Spending too much on housing
According to the report, about one-third of Latinos and almost a quarter of African Americans in San Mateo and Santa Clara counties pay more than 50 percent of their income on housing, while about 17 percent of their white neighbors pay that amount. 
"When 50 percent of every paycheck is going to rent a 'garage' that a family is living in," Kilbridge said, "they don't have a lot of room for health care and education and transportation and healthy food."
Habitat for Humanity Greater San Francisco aims for homeowners to spend no more than 30 to 33 percent of their income on housing, Kilbridge said. Nationally, spending 30 percent or more of your income on housing is considered a "housing-cost burden," according to the U.S. Census Bureau.
Even if the average salary were higher, there are not enough homes in Silicon Valley to meet the work force's demand, according to the report. In the nine counties that comprise the Bay Area, there is roughly one apartment or house per job. But in Silicon Valley —  primarily  San Mateo and Santa Clara counties — there are three jobs for every apartment or house. And those rents and mortgages are out of reach for most workers.
The need for more public transportation

To combat the 98,000 cars driving in to Silicon Valley, the report calls for more affordable housing near job centers and better public transportation options.
Kilbridge said that Habitat for Humanity Greater San Francisco is addressing the problem by building a housing complex with 36 three-bedroom homes in Daly City. It's located on the Grand Boulevard (Mission Street and El Camino) and is two blocks away from the Colma BART station. The Colma station allows access to Millbrae, downtown San Francisco, and Menlo Park via Samtrans.
"We're trying to not just build in job-rich environments," Kilbridge said, "but in transit-rich environments even more so." Even though city planning officials often require Habitat for Humanity to build at least one parking space for each home, the organization rarely receives complaints or requests for a second parking space. The reality is that easy access to public transportation is of increasing importance for low-income families.
With the need for better public transportation, the Non-Profit Housing Association and Urban Habitat recommend Bus Rapid Transit as a way to move forward. Right now, more people use buses than trains, but more of cities' transit budgets are spent on rail lines than on bus routes.
The report argues that if the cities of Silicon Valley invest in better bus lines, fewer cars will be on the road, even as jobs increase. With the high cost of housing in the area, the report recommends that cities and private developers create more affordable housing options nearer to workplaces, while also investing in more accessible public transportation.