Hear more about this story on the Peninsula Report podcast.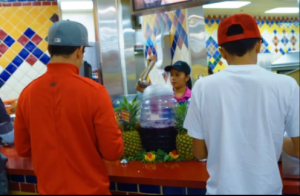 Growing up in Mexico, Monica Romero enjoyed sugary drinks — soda, fruit juice and her grandmother's homemade horchata. It was only years later, after she came to the United States and brought her two daughters to doctors, that she learned the bad side of the beverages.
Her preschool-age girls are "used to a lot of juice, but I'm trying to change that," Romero said recently while one of her daughters played with a child's cart inside Mi Pueblo Grocery in East Palo Alto.
Romero thought juice drinks were healthy until she discovered that many contain a lot of extra sugar that her girls do not need. Her youngest daughter just had surgery to fix a couple of cavities. When doctors first told the East Palo resident the ills of juice, she was surprised. "All my childhood, they used to give me juice," she said.
Nearly 65 percent of East Palo Alto residents are Hispanic, according to the latest Census, including many who grew up in Mexico, El Salvador, Guatemala and Honduras. Drinks such as horchata, which resembles liquid rice pudding, remind immigrants of home.
Romero stood in the deli section of Mi Pueblo, a store that caters to Latino tastes. Top-selling drinks include horchata, jamaica (made from the hibiscus flower) and tamerind juice, said Mike Sanchez, the store manager.
In interviews, shoppers spoke of the various aguas frescas sold in the store and in Hispanic areas throughout the United States.
One older woman waved a reporter's tape recorder over. "Riñones? Do you know riñones?" she asked. Kidneys. What was she going to say about kidneys? "Jamaica is good for your kidneys, and your heart, but really good for your kidneys," she explained in Spanish.
Horchata, well known throughout Central American cultures, has less-known benefits, "It's just good," Mi Pueblo deli worker Blanca Diaz and Elizabeth Pinto said simultaneously. But a study in the medical journal Pediatrics classifies horchata simply as a sugar-sweetened beverage. Made with heaping spoonfuls of sugar, horchata adds more than 200 calories for every eight ounces. In comparison, the same amount of most sodas contains about 100 calories.
"Many studies have shown that beverages are where people are taking in way more calories than their bodies can handle," said Dr. Lisa Chamberlain, a pediatrician at Ravenswood Family Health Center in East Palo Alto and an assistant professor of pediatrics at Stanford.
What had been a treat once in a while when made fresh at home has become a more common fast-food accompaniment. So what is a parent to do?
"If you could do just one thing," Dr. Chamberlain said, "if all you do is take out those drinks and replace it with water and sugar free drinks, like sugar free lemonade … you can really help people stabilize."
Romero is trying, with help from her family. The main hold out is Romero's grandma, who still gives the girls sodas and juice when Romero is not around.
But something must be working. When asked what she likes to drink, one of Romero's girls shyly responded, "water," and went back to playing with her shopping cart.

[youtube]KRAgH-FbyDk[/youtube]

[soundcloud url="http://api.soundcloud.com/tracks/73778870″ params="" width=" 100%" height="166″ iframe="true" /]