Hear more about this story and how it developed on the Peninsula Report podcast.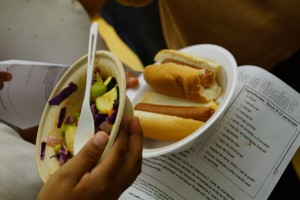 The kids sprinted onto the basketball courts behind the Boys and Girls Club in East Palo Alto, and soon the sounds of laughter and squeaking sneakers filled the air.
But health researchers don't care about the number of baskets scored; they are charting reductions in body mass index (BMI). The elementary school-age children are part of Stanford GOALS, one of several East Palo Alto-based programs and research projects that began in recent years to fight childhood obesity.
A team of researchers including Dr. Dana Weintraub, a clinical assistant professor in pediatrics at Lucile Packard Children's Hospital, has enrolled more than 100 kids since September and is still recruiting. The seven-year study, which accepts only children whose BMI is greater than the 85th percentile, combines after-school team sports with home visits to promote a healthy diet.
Information collected by area school districts shows that nearly 42 percent of East Palo Alto fifth-graders were overweight or obese during the 2010-11 school year, compared with 24 percent of their peers throughout San Mateo County. Physicians and community leaders, however, point to evidence that a pattern of rising weight gain in the city appears to be leveling off.
"There is still a lot of work to be done in this community, but with all of the new things coming here, it does give people hope," said Lisa Preston, the executive director of the Ecumenical Hunger Program.
In many cities and towns across the United States, researchers have heralded similar progress, though data lags behind what is happening in real time. Results of the next national survey are due in January 2014.
What researchers want to see now is a continued trend. "Its not just one magic thing or we would have done that by now," said Dr. Elizabeth Baca, a pediatrician at Ravenswood Family Health Center and clinical instructor at Stanford University. Baca stresses the need to take a comprehensive approach that addresses nutrition, exercise and safety. Chris DeTrinidad, the athletic director at the Boys and Girls Club, emphasizes the latter. As East Palo Alto's streets and playgrounds have become safer, he said, "we have places … where kids can go after school and be healthy and active at the same time."
Baca, along with community partners, launched a program called "Goals, Education and Training for FITness." It was inspired in part by the Rethink your Drink campaign, a Bay Area-wide effort to encourage kids to drink water instead of sodas.
Collective Roots, a nonprofit founded in 2000, makes organic food  available to residents at a Wednesday afternoon farmers' market outside of Ravenswood Family Health Center. Once a month, the market hosts a cooking lesson using only ingredients found in the market. As part of its goal to promote "food justice," Collective Roots also created a community garden that residents are welcome to use, as well as cooking classes for adults and kids.
Diana Vea gets fresh fruits and vegetables for her two children through the Ecumenical Hunger Program. Last year the program started "Pack the Bag," which, rather than relying solely on donated foods, purchases healthy items to include in a family's weekly allotment.
When she is unable to get enough fruits and vegetables through the program, Vea said, "I feel guilty."
A federal program — Women, Infants and Children (WIC) — tackles the issue by providing food and information about nutrition to low-income pregnant women, infants and kids up to age 5. It encourages women to breast feed, if possible, as formula-fed babies tend to be fatter.
WIC has been around since the mid-1970s, but in 2010 the program began to emphasize produce and less fattening foods, working with parents from the time of their children's first meals.

[youtube]iG3gzSEIkvE[/youtube]

[soundcloud url="http://api.soundcloud.com/tracks/73778870″ params="" width=" 100%" height="166″ iframe="true" /]