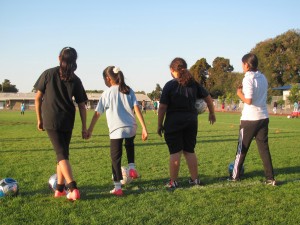 Youth sports leagues in East Palo Alto will see their rental costs for fields and gyms at local schools increase about 40 percent under a new facility fees policy.
Representatives from the Ravenswood City School District, the nonprofit athletic organizations and the city of East Palo Alto met twice since October to craft the agreement, which was announced at a school board meeting Thursday night.
The leagues had been upset by the district's cost-saving decision last May to eliminate a reduced rental rate for youth sports groups. In September, school officials temporarily reinstated the discount while the parties met.
Under the updated guidelines, space will cost $7 per player for a 12-week season, up from $5 per player. Groups will also be required to have a custodian on campus to supervise and lock up, and will be credited for any contributions to maintenance work.
School board Vice President Sharifa Wilson, who served on the facility fees committee, emphasized the spirit of collaboration. She said the discussions offered an opportunity for the district to get more involved with a valuable extracurricular resource.
"We really came to common ground in that our focus is on the kids," Wilson said, "and recognizing that all these kids are our kids."
Shannon Pekary, the director of Ravenswood Youth Athletic Association, called the new fees "workable" and "affordable." He said that they will save his group thousands of dollars per season as compared to renting fields or gyms hourly under the old fee schedule.