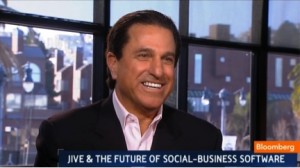 Can social software in the workplace improve productivity?
Jive Software (NASDAQ: JIVE), a Palo Alto, Calif., maker of Facebook-like business software, thinks so.
The company, which went public a year ago, posted better than expected fourth quarter and year-end earnings on Tuesday.  But the company's net losses continued, due to long-term debts, acquisitions of two smaller companies, and investments in staff and engineering.  The company said losses are likely to continue into 2013.
For the fourth quarter of 2012, Jive reported net losses of $15.6 million, or 24 cents per share, compared to net losses of $12.7 million, or 39 cents per share, for the same period a year ago.
Excluding charges related to the acquisitions of Meetings.io and Producteev, both of which closed in November 2012, the company reported net losses of $9.1 million, or 14 cents a share, compared to losses of $9.1 million, or 28 cents a share, for the comparable quarter in 2011.
Analysts had expected an earnings loss of 15 cents per share.
Jive reported revenues of $32.5 million for the fourth quarter, beating the consensus estimate of $31.5 million, a 44 percent uptick year-over-year. Jive's revenues from its software products increased the most, while sales of professional services grew although by a smaller percentage which was expected based on past statements from the company about its strategy.
The company also reported year- end losses of $47.4 million, or 76 cents per share, an improvement over the $50.8 million in net losses, or $1.95 per share, reported in 2011.
Excluding charges, mostly for acquisition-related expenses and stock-based compensations, Jive reported net losses of $26.9 million, or 43 cents per share, compared to $33.9 million, or $1.30 in 2011.
Before earnings were announced on Tuesday, shares of Jive fell 4 percent to $14.57 at the 4pm close of trading on the NASDAQ stock market. Since the earnings announcement, the stock has dropped 6 percent.  At Wednesday's 4pm close, the stock was down to $13.65, but up 12 percent from the $12 per share price at which it opened on its first day of trading Dec. 13, 2011. The company's stock peaked at $28.15 in March 2012. The stock's 52-week low of $10.63 came on Nov. 5, 2012.
Steven Ashley, an analyst at Robert W. Baird & Co., said he thinks Jive's financial position is probably better than the bottom line figures indicate.
"I think some of the pressure on the stock tonight will abate," Baird said. He pointed to Jive's strong stores of cash and the completion of multi-year deals that, while not reflected in Tuesday's report, will benefit the company long-term.
Ashley added that Jive appears to be hiring at a faster pace than anticipated, which "hurts your margins immediately but has potential to [increase] the pace of your revenue growth down the road."
The company's investments in products and new staff are based on expectations that social software for businesses is a growth market. A 2012 McKinsey and Co. report indicates the software, often called "enterprise social," can increase employee productivity by 20 to 25 percent by reducing e-mails and time spent searching for information inside a company. The report said that could add about $1 trillion in value for businesses in four sectors: consumer packaged goods, retail financial services, advanced manufacturing, and professional services.
Jive Chief Executive Officer Tony Zingale echoed that view on a call with analysts Tuesday. He said, "2013 will be the year 'social business' goes mainstream."
Zingale said the diversity in Jive's customer based indicates that social enterprise is not a niche product. He said that each of Jive's top 10 deals in the fourth quarter came from customers in different industries, including airline, mining, and financial services.
Ashley said it remains to be seen whether small and midsized companies will adopt enterprise social software.
For now, large customers are driving Jive's sales. The company announced it closed its biggest deal ever in the fourth quarter, with a Fortune 50 business. It declined to name the business but said that it was already an existing customer.
Looking ahead, the company said it expects revenues will continue to rise but losses per share in 2013 will be higher than analysts had predicted.
The company anticipates revenues in the first quarter of 2013 will be in the range of $33.5 million to $34.5 million. Non-GAAP losses per share for the quarter are expected to be in the range of 15 to 17 cents.
For the full year 2013, Jive estimates revenues will grow by 23- to- 25 percent and fall in the range of $148 million to $153 million, meeting analysts' expectations. The company estimates non-GAAP losses per diluted share will be in the range of 53 to 60 cents compared with the consensus projected losses of 27 cents per share.
Zingale said growth in coming years will "require" expanding sales abroad. Growth will be helped by partnerships like the one announced recently with PricewaterhouseCoopers that offers both Jive's social business platform and PwC's consulting services.
Analysts have speculated that Jive might be targeted for acquisition. Ashley cited SAP AG, Oracle Corp., and IBM Corp. among potential buyers.