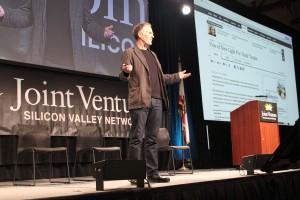 Tim O'Reilly, who has been called "The Oracle of Silicon Valley," has a very un-Valley view of government.
Speaking at Friday's Joint Venture Silicon Valley Conference in San Jose, he explained how business leaders and governments could better work together in the online information and big-data age. O'Reilly is a publisher, venture capitalist and open data evangelist.
"People forget how much the government does to encourage technology," Reilly said in an interview before his keynote speech. GPS systems and Google Maps wouldn't exist today, he said, without the satellite system installed by the federal government. "Our entire industry depends on government intervention. The first step is to rid of this libertarian, Silicon Valley disdain for government."
"We create bad government by insisting the government is bad," O'Reilly said.
But the pace at which government technology works will have to catch up to private industry, which follows the 18-month turnaround principle called Moore's Law in catalyzing waves of technology. Otherwise, O'Reilly said, "as computing accelerates, government falls farther and farther behind."
O'Reilly says some in government are already using data and technology in exciting ways and have learned that they can pick up the pace by opening up datasets and listening to users. For example, he said that when the city government in Honolulu redesigned its website recently, it looked at past usage data and took suggestions from city residents. The new layout better reflects how people use the site, instead of how the city wants to present itself. He also cited an experiment in New York and Louisville, Ky., to use data to predict crime patterns.
He added that hacker activity often reveals the next trend of innovation. For example, when hackers "jailbreaked" Apple's iPhone to create new tools, Apple was induced to create a one-stop App Store. He predicted health care, particularly personalized medicine, would be next.
Public officials from around the Peninsula who were in attendance Friday offered different reactions to O'Reilly's keynote.
James Keene, city manager of Palo Alto, agreed with O'Reilly that the government should facilitate innovation through technology. Government should invest in technology "enough to jumpstart solutions but not all the way," he said. "The role of government is to facilitate…how people can live together," he added.
Santa Clara City Planner Steven Lynch was more cautious. "It's just money," he said. "There are a thousand good ideas but the issue is funding."
San Jose Council Member Xavier Campos took a similar view. "Cities do not develop technological systems but buy from the private sector," he said.
O'Reilly acknowledged that, though he talked at a high level, he hoped conference participants — regional business and municipal government leaders — would consider his framework of thought.
Pulling up a slide, he said a simple equation shows how computers and people can work together to improve services: "The invisible hand of the market + Internet = global brain."
O'Reilly pointed to the San Francisco-based car service Uber: Customers order cars, and drivers receive requests, both through phone applications, but it's the relationship between people and machines that is most useful. In fact, O'Reilly said that we will need more human staffing and more human interaction to work with machines. A good example? Walk into a local Apple store, which has more sales clerks than other retail stores. All are all holding devices connected to the inventory and cash registers.
Governments should facilitate this interaction, O'Reilly added. Government "should provide fundamental services on which we, the people, build the applications."
Editor's Note: An earlier version of this story incorrectly had the final quotation written as, "Government should create systems in which we the people are the applications."