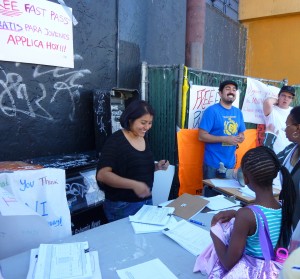 Single mother, Donaji Lona came to San Francisco from Mexico 12 years ago in search of the land of opportunity. What she found was a barrage of rising rental and transportation costs that made caring for her two sons a major challenge.
Lona became a member and then a staff organizer for People Organized to Win Employment Rights, commonly known as POWER, a membership-based advocacy group of Latino and African-American workers in San Francisco. Since then, she has been a part of some important victories for low-income families in the city – including her own.
In 2009, POWER's group of youth and transit advocates started calling for the Free Muni for Youth Pilot Program, to provide free transportation for the youth of more than 40,000 low-income families in San Francisco. The San Francisco Municipal Railway (Muni) operates the broad fleet of streetcars, light rail vehicles, diesel buses, alternative fuel vehicles, electric trolley coaches and the cable cars around the city.
It started as 20 San Francisco schools began eliminating yellow school-bus service for their students over the past several years to cut costs, leaving many students to rely on Muni to get to class. Then the price of a Muni Youth Fast Pass skyrocketed from $10 in 2009 to $21 in 2012.
"This perfect storm led to a number of situations where kids were having to choose between paying for Muni on a given day or paying for lunch," San Francisco Supervisor David Campos, a big supporter of the free Muni program, said in an interview.
He said some kids would choose just to walk to school. Others would hop on Muni without paying, risking fines or disciplinary action.
As a single mother of two children, ages 17 and 12, Lona said she encountered this problem firsthand. One son wanted to take music lessons because the school he attends does not have art classes. He applied and won a scholarship. But that was just half the battle.
"Sometimes I just don't have enough money to let my son take the bus to go to these classes," Lona said. "It's a challenge."
As the prices continued to rise, the number of kids paying for monthly transportation passes declined. People in the community reached out to POWER about the growing problem. And POWER answered.
"We started making things happen," Lona said. "How is a young man to get to school if he doesn't have the 75 cents to do that?"
While the support from much of the community was evident, some were not in favor of the program. In July 2012, the Metropolitan Transportation Commission rejected a proposal for funds, disappointing POWER and the youth advocates that had been fighting for the program for almost two years.
San Francisco Supervisor Scott Wiener also opposed it. Wiener voiced concerns about the youth program being funded directly out of Muni's operating and maintenance budget. He said Muni's transportation system is in need of significant upgrades, and more children riding Muni would just put additional pressure on the system.
"Muni is dramatically underfunded," Wiener said in a phone interview. "We should not be paying for this and taking away the critical funds from Muni's budgets."
And although free transit for youth is a pilot program, Wiener said there is no way it will end once it begins.
"Muni will have permanent ongoing operations to fund this program," he said. "If you give it to people for free, it sends a signal that somehow the system doesn't cost money. Once we give it for free, it's inevitable that low-income seniors and the disabled will come forward as well."
At $21, the monthly youth pass is a 75 percent discount from the $72 adult pass. Wiener said it would be better to consider lowering the cost, rather than giving it for free.
But Campos argues that a free transit program is vital. The city is becoming increasingly less affordable for families. Free Muni is just one step forward for low-income families, saving them $21 per child a month. For Lona, that amounts to $42 total per month.
"That's huge," she said. "It's enough money to buy enough food for three days. Can you imagine? I can tell you really honestly I can get more quality food for my kids, more fresh vegetables, with this money."
"Sometimes you really, really want to give quality food for your family, and it's something you cannot do."
Now that's something Lona can do.
After a two-year fight, the POWER youth and transit advocates are victorious. Last December, the San Francisco Municipal Transportation Agency approved funding for the program.
Starting March 1, the agency, which operates Muni, will launch the Free Muni for Youth Pilot Program. Low and moderate income students who live in San Francisco will have free access to Muni for a 16-month period when using a Clipper card, the all-in-one transit payment card for Bay Area.
All San Francisco youth ages 5 to 17 with a gross annual family income at or below 100 percent of the Bay Area Median Income level are eligible for the program. That means a family of four making a median income level of $103,000 annually would qualify for the program.
"What's remarkable about this whole campaign is I've never seen so many young people come to city hall and advocate," Campos said. He thinks the adoption of the program in San Francisco may spur other cities in the Bay Area to look into programs of their own.
Some other U.S. cities offer similar programs. New York City provides three free swipes for kids at the subway each day – one to go to school, one for an after-school program, and one to come home. Cities like Portland and Chicago have variations on the free youth passes as well.
While free Muni is one victory for Lona and the people of POWER, Campos said there is always more work ahead of them.
As Campos put it, "We need to continue to make every effort as a city to make the city affordable, so that families of all income levels are able to live here."