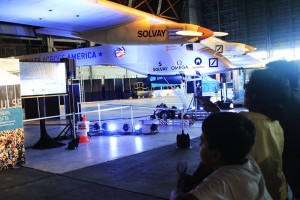 You've heard of solar energy powering our cellphones and our homes. But this news is a power first: solar-powered air travel.
Solar Impulse, an ultralight plane powered completely by the sun, will kickoff its coast-to-coast flight from Moffett Airfield in Mountain View on May 3.
The plane doesn't require any fuel, relying solely on its solar panels during the day and stored battery power at night. With a wingspan of 208 feet and a weight of 3,527 pounds, Solar Impulse is capable of cruising at a leisurely 40 mph. In comparison, most commercial planes, like the Boeing 747, having a cruising speed of around 560 mph.
The plane will make several stops on its "Across America" tour from Mountain View. The first will be in Phoenix, Ariz., followed by several stops in cities along the way, before finally touching down in New York City in June or July.
By 2015, Solar Impulse's Swiss pilots, Bertrand Piccard and André Borschberg, plan to fly a similar plane around the world. Piccard and Borschberg said Solar Impulse is designed to showcase the potential of solar power, but it will never replace fuel-powered commercial flights.
Borschberg and Piccard introduced 1,000 members of the public to the plane at an open house event at Moffett Airfield on Saturday, April 20. Watch the video for a closer look at Solar Impulse.
[youtube]6X2aTwldhTI[/youtube]