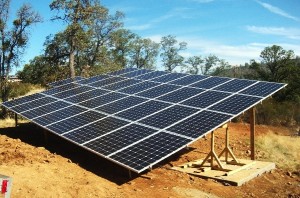 The San Francisco 49ers recently announced that they plan to install 400 kilowatts of solar panels on the team's new Santa Clara stadium to help offset the power that the venue will consume when it opens in 2014.
The announcement on Feb. 26, which the 49ers touted as making their stadium "the greenest in the NFL," garnered a lot of local press attention for what amounted to a glorified update on the construction process. But it was an exciting moment for the Bay Area's environmental advocates, who have had few such high-profile solar projects in the commercial sector to cheer about.
Since the 2006 creation of the California Solar Initiative, a state-funded incentives program that subsidizes solar systems connected to public utilities, the implementation of solar energy in residential units has continued to climb, while adoption among the business community has seen no steady growth.
In the Silicon Valley, which once aimed to place itself at the heart of the clean tech industry, commercial solar installations through the state initiative fell about 13 percent in 2012, according to the recent 2013 Index of Silicon Valley, an annual report published by the civic organization Joint Venture Silicon Valley. The 5.96 megawatts installed last year, down from 6.9 megawatts in 2011, is still above 2009 and 2010 levels, but well below a 2008 peak of 7.86 megawatts.
Residential solar in the region, on the other hand, grew for the fifth straight year to 11.2 megawatts, though it was up only a few hundred kilowatts from 2011.
That unsteadiness is mirrored statewide. Residential installations hit a monthly high of 16 megawatts in January, according to the California Solar Initiative's online database, up from 10.6 megawatts a year earlier and 8.3 megawatts in January 2011.
By contrast, commercial installations totaled 7.5 megawatts in January, above the same period in 2012 but below 2011, when 9.4 megawatts were installed.
Jim Sweeney, director of the Precourt Institute for Energy Efficiency at Stanford University, says that challenges of cost and scale make businesses less likely to jump on board the push for solar.
Solar panels are "not the most economically efficient energy system," he said. Though California has made them an energy priority, state subsidies are necessary to make the switch financially worthwhile, and "there is a maximum you can get, which makes it challenging for commercial buildings."
In particular, the ratio of roof space to interior space is favorable to homeowners, Sweeney added. Large, multiple-story commercial buildings would have a difficult time installing enough solar panels to offset all of the energy that they use.
The City of Palo Alto has confronted that resistance as it makes a push for a 100 percent carbon-neutral energy portfolio, according to city council member Patrick Burt.
Since the California Solar Initiative was introduced in 2006, Palo Alto has created two solar programs: PV Partners, which provides participants with financial incentives to install solar panels, and a feed-in tariff aimed at businesses that would buy back extra energy produced for use in the local grid.
The goal is to promote energy sustainability in Palo Alto not only through greater use of renewables, but also local generation, Burt said. "It is allowing us to build up resiliency."
While more than 500 homeowners have participated in PV Partners, "it's been a challenge to get businesses interested" in the solar programs, admits Lindsay Joye of City of Palo Alto Utilities.
She said that PV Partners has had about 35 non-residential participants, including schools and non-profit organizations, but the feed-in tariff has not gotten any applicants since it was launched in early 2012.
While she acknowledges that solar systems are not as economically favorable to businesses, Joye said that these collaborations are necessary in an urban region like the Bay Area, where there is not open space to build solar farms, and they can be beneficial to commercial buildings by monetizing space that is not normally used.
Palo Alto relaunched its feed-in tariff program in December with a higher buyback price and is now more aggressively promoting the option to businesses.
"The tricky question is: How much do you offer to pursue environmental goals?" Joye said.
That's the same question that businesses are asking, according to Larry Morgan, who heads sustainability efforts in the Americas region for German multinational software company SAP AG.
SAP has a Palo Alto office that participated in the city's PV Partners program as part of its larger philosophy and strategy of sustainability, Morgan said. But choosing to take part required careful evaluation of whether it made business sense.
"Solar panels take up a lot of real estate," he said. "In Silicon Valley, real estate is expensive."
With Palo Alto's incentives and a federal tax rebate, the company faced a seven-year return on investment for the installation, according to Morgan, a safe-enough investment. SAP's solar panels now provide about five percent of the building's daily energy consumption.
But making that commitment can be difficult for companies, he added, when the money might be better spent on eco-friendly efforts that more directly benefit employees, such as alternative commuting and sustainable food programs.
Morgan suggested that if solar energy is going to work in a commercial setting, the conversation needs to move away from roofs, which already house important mechanical systems for many companies, and toward more visible options, such as shade-providing structures in parking lots.
"Solar panels are usually out of sight, out of mind," he said. Businesses want to "invest money into something more tangible, that people can see and feel the effects of every day."