Hear more about this story and how it developed on the Peninsula Report podcast >>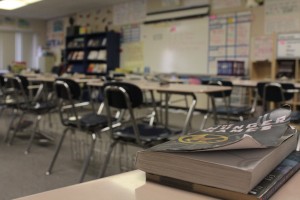 East Palo Alto has come a long way since the early 1990s, when it briefly reigned as the murder capital of the United States. But for residents of this small Bay Area city, the battle to reduce violence and crime wages on.
This spring, those efforts will take on an unexpected new front with the launch of a truancy prevention program targeting chronically absent students in the sixth through tenth grades. The collaboration between city and school officials is funded by East Palo Alto's Measure C, a parcel tax passed in 2006 to support police and community initiatives focused on violence reduction.
"This is a group that is highly, highly at risk," Mayor Ruben Abrica said in an interview. "When you have young people who are not in school, they are going to be more vulnerable to be recruited by others who are up to no good" or to be the target of violence themselves.
Since last fall, the city has coordinated with the Ravenswood City School District and Sequoia Union High School District to identify East Palo Alto students who have missed 20 or more days of school. In the program's pilot phase, set to begin in April, these students will be targeted for outreach by a social worker who the city is still in the process of hiring.
"Rather than theorize," Abrica said, "the idea is to go find out, visit the families and see what else the schools can do, what else the city can do, what else even the families can do" to better support the students.
But Karin Schlanger, a therapist in East Palo Alto who is not involved with the truancy prevention program, is doubtful of the effect it can have.
"These are multi-problematic families; they're illegally in the country, they don't have money, they can't drive," she said. "The least of their problems is that the kids don't go to school."
Though it doesn't deal directly with crime, the truancy prevention program emerged as part of a broader overhaul of how East Palo Alto uses the Measure C money, about $700,000 per year.
Half of the annual fund goes to the police department, but for several years the city has struggled to allocate the remainder to worthwhile organizations, Abrica said. As a result, they hired an outside consultant to advise the city on where to focus its violence reduction efforts.
"We wanted to see how we could use the Measure C funds more strategically," Abrica said, which ultimately meant concentrating on larger grants for a few specific projects.
In addition to prisoner reentry and family services, the city decided to pursue an educational intervention. The truancy prevention program was the result of discussions with representatives from Ravenswood, which serves East Palo Alto elementary and middle school students, and Sequoia Union, where they continue on beginning in the ninth grade.
In January, the East Palo Alto City Council approved $163,333 for the initiative. The money will be used to hire a social worker, as well as support staff to coordinate between the city and school districts.
"We were very excited," Ravenswood Superintendent Maria De La Vega said. "This is something we've been bringing up consistently for several years," but "because of cuts to funding across California, it's been hard to gather those resources."
Ravenswood has identified about 60 students for the first phase of the truancy prevention program, according to De La Vega. But the issue extends beyond those who are chronically absent.
"This is an age where there's a lot of growth for students," she said. "They can get easily distracted" by their peers or difficult personal circumstances.
According to the district's student services office, 21 percent of sixth through eighth grade students in Ravenswood were truant last year, meaning they were absent at least three days without a valid excuse.
This figure is lower than nearby Redwood City, which had a 38 percent truancy rate in the 2010-11 school year, according to online reports from the California Department of Education. But East Palo Alto is above neighboring communities like Palo Alto, where 18 percent of middle school students were truant in 2010-11. Mountain View's rate was about 11 percent, while Menlo Park's was below one percent.
The absences are felt especially hard in Ravenswood, which is funded primarily by the state based on average daily attendance in the district, though De La Vega insists that her primary interest is figuring out what "we have to do to help students feel more connected to the school."
Truancy raises additional educational concerns at the high school level, as more students begin to drop out.
East Palo Alto is one of eight cities that feeds to Sequoia Union, and Superintendent Jim Lianides says Ravenswood students are cutting class at a higher rate than most. The district has 103 ninth and tenth graders eligible for the truancy prevention program.
"We have to do everything possible to get them in class and help them succeed academically," he said. "We want to get them graduated and on to a better life."
Lianides hopes the truancy prevention program will offer more insight into the "family issues and other social issues" that are keeping students, many of whom are from the same families, away from school.
"Kids don't suddenly become truant when they get to high school," he said. "We're collaborating with Ravenswood to get at the issue sooner."
Schlanger, the East Palo Alto therapist, says a lack of value in education at home creates an environment that allows kids to become truant, but this will not be solved through a visit from a social worker.
As the director of Grupo Palo Alto, a non-profit therapy clinic that works with underserved members of the community and volunteers at several schools in East Palo Alto, Schlanger said she deals with these issues daily.
The solution is to increase parent participation and communication at school, she said, to "create a sense that families care, because it would encourage students to care."
She added that many kids lack a consistent means to get to school, while others believe they are not getting much out of it. The funds would be better used on more buses and classroom aides, Schlanger said, to make school more accessible and engaging for students.
"It's easy for everybody to blame everybody," Abrica said. "The reality is that nobody has the whole picture, everybody just has part of it."
He emphasizes that the social worker will be making a diagnostic assessment of the truancy problem in East Palo Alto, rather than taking on cases. This is just a first step, he added, which will provide direction for future efforts by the city and school districts.
De La Vega is already looking forward to expanding the program, perhaps with the assistance of local non-profits and businesses.
"Ideally, we would have a person like this at every school" to track students who are chronically absent and help them readjust when they come back to classes, she said.
But for now, Abrica is satisfied by the precedent that the truancy prevention program sets and the opportunity for change that it offers.
"I've been here 35 years," he said. "This is really the first time that the school districts and the city are collaborating on a specific project."
"It has the potential to unify us, and the parents and the community, and say we can make a difference here and we're going to make a difference."
[youtube]rLSoeG08Q5Y[/youtube]

[soundcloud url="http://api.soundcloud.com/tracks/87372589″ params="" width=" 100%" height="166″ iframe="true" /]