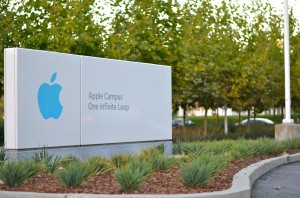 UPDATE, Oct. 16: The Cupertino City Council voted unanimously on Tuesday night to approve the project.
On June 7, 2011, in one of his last public appearances, Steve Jobs entered Cupertino Community Hall to rousing applause. Wearing his trademark black turtleneck and blue jeans, Jobs made an emotional pitch to the City Council for his passion project — a centralized Apple campus. 

"Apple's grown like a weed, and as you know we've always been in Cupertino," Jobs said, making it clear throughout his 20-minute presentation that he wanted to keep the company in the city. He died four months later.
More than two years since that appeal, the council is poised to vote tonight to green-light the project, known as Apple Campus 2. A second, more procedural, hearing is scheduled for Nov. 19 to certify the vote and advance Jobs' dream toward reality.

For such a massive project — at 2.8 million square feet, the campus would be nearly a million square feet larger than the 49ers' football stadium in Santa Clara — it has faced relatively little opposition. One reason is that the tech giant has done extensive community outreach, with more than 80,000 pieces of direct mail, said Dan Whisenhunt, Apple's senior director of real estate & development. In addition, citizens had the chance to voice their opinions at about 150 "informative gatherings" and in writing, he said.
"Everything they've done to accommodate the city, I think, is phenomenal," said Maryann Bettencourt, who has lived in Cupertino for 18 years and runs an Allstate agency in the city. "The layout of their plans, maintaining the trees, the bike paths…all those little attention to details is really pretty admirable."
At a public hearing on Oct. 1, City Council members praised the company's cooperation. "I've met with them several times," council member Barry Chang said. "I was pleasantly surprised that they are willing to look into any option and work out the details."
Upon completion (with 2016 as the target date), the Apple Campus 2 will feature a spaceship-like, four-story building vast enough to house engineers, support personnel, and research and development staff all in one space. Apple's current Cupertino workforce of 16,000 is projected to grow to 24,000, and yearly property taxes the company pays to the city are expected to increase from $25 million to $57 million. The project would create about 9,000 construction jobs throughout the three-year building period, according to Apple.

[soundcloud url="https://api.soundcloud.com/tracks/116573228″ width="100%" height="166″ iframe="true" /]

At the Oct. 1 hearing, the company made clear it plans to begin construction as quickly as the city will allow. Whisenhunt joked that he'd start building "tomorrow, if you'd let me."
Local business leaders like Shiloh Ballard, vice president of housing and community development for the Silicon Valley Leadership Group, turned out on Oct. 1 to urge the council to fast track the project. Her group represents more than 370 companies. "We are thrilled to see a local, homegrown company planting even deeper roots," Ballard said.
But letters submitted to the city reveal pockets of opposition. Sunnyvale resident Gary Beaupre wrote, "I can only imagine how adding several thousand cars from the Apple 2 Campus to the Wolfe/280 and Lawrence/280 on- and off-ramps will make those trips into San Jose feel like a traffic congestion nightmare."
Traffic wasn't Beaupre's only concern. "How big is too big? Answer: The Apple 2 Campus is too big. It's time that people acknowledge that a project can simply be too big for a given location, and it's time for us to do something about it before it's too late."
When Jobs pitched the project in June 2011, he was gaunt from his battle with cancer. Yet his voice was heard loud and clear: "I think we do have a shot at building one of the best office buildings in the world."