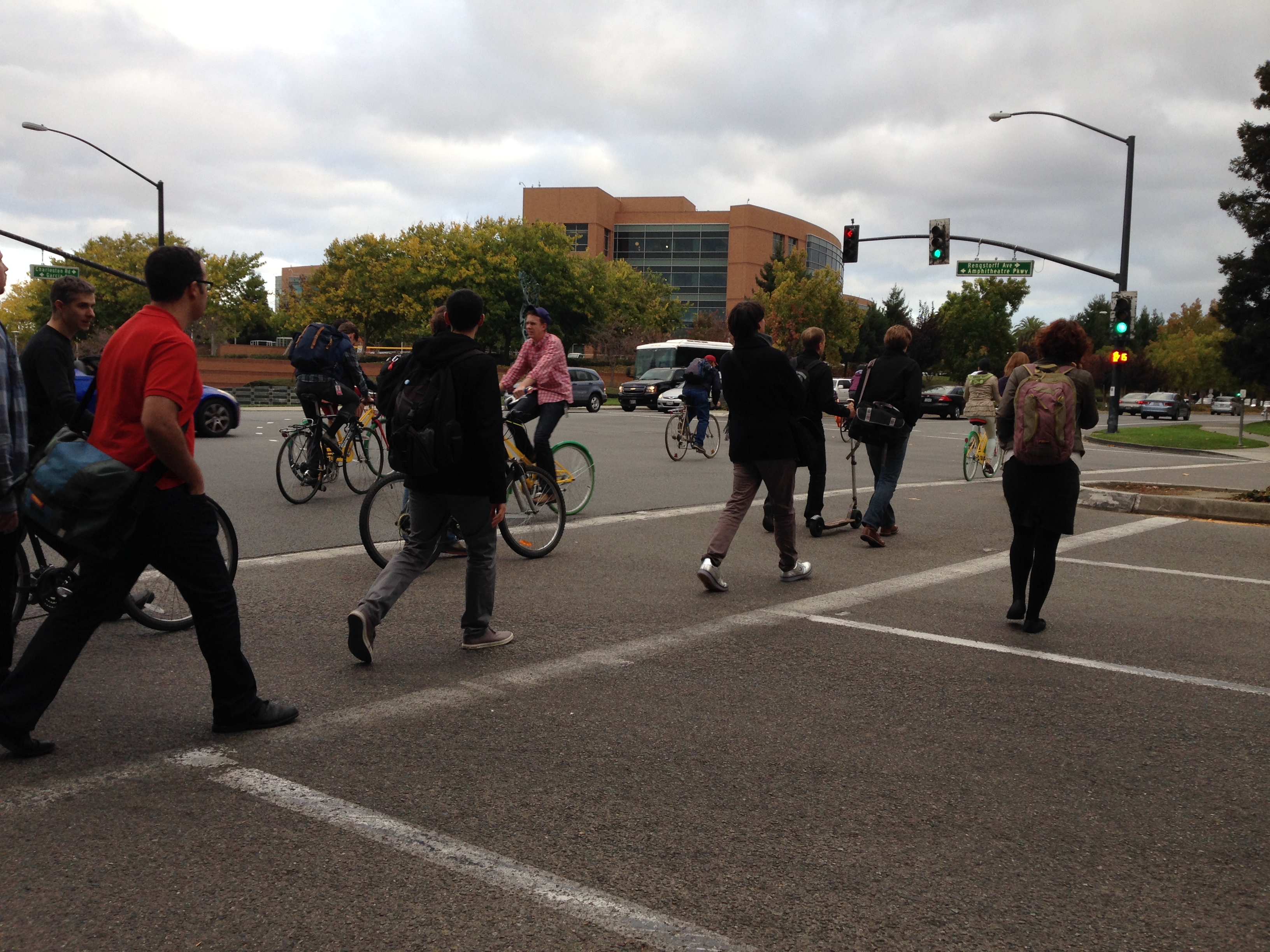 Janet LaFleur kicks off the morning in a pair of heels for what she calls her "20 minutes of zen" — her commute to work by bike. She finds nirvana along the Guadalupe River Trail in San Jose, a ribbon of pathways offering crisp air and the occasional wildlife sighting.
First, she has to get through Mountain View.
As she heads out from home near Shoreline Boulevard and the Central Expressway, LaFleur navigates a hodgepodge of streets that, at best, are only somewhat bike-friendly. Getting around town she's happy to bypass El Camino Real, "a hairball of a highway."
"There's not a provision for bikes," she said of the thoroughfare. "If we do have more people walking on the sidewalk, it's going to be pretty gnarly."
She wants to change that for the roughly 5,000 Mountain View residents who make cycling a part of their daily routines. Last week, LaFleur claimed a position on a citizen advisory group to help guide development of the El Camino Real corridor through 2030. City leaders hope the plan will manage congestion and improve transit as they prepare for more people and businesses to move in.
A product marketing manager at a tech company by day and bike blogger by night, LaFleur is bracing herself for the debate.
"Bicycles are kind of a touchy subject in Mountain View. … How are they going to fit in?"
They fit in at Google's headquarters, where 700 bicycles are available for employees to ride on pathways snaking through the grounds. As for the rest of Mountain View, officials say that making the city bike-friendlier is a top priority.
Mountain View began to consider designating certain paths as bike boulevards 10 years ago. The city has one such stretch, featuring a lane with clear signs and road markings. It starts at the Mountain View Transit Center and extends three miles to the intersection of Knickerbocker Avenue and Heatherstone Way, near the Sunnyvale city line.
But many cyclists say it does little to improve traffic flow for them, and they point to bike boulevards in other cities that are more effective, due to features such as lower speed limits and stop signs.
Mountain View has a long way to go to catch up with Berkeley, featuring seven bike boulevards, let alone with Portland, Ore., where planners designed bike-friendly routes no more than a half-mile away from any point in the city.
Palo Alto boasts being home to the first bicycle boulevard in the United States, and its transportation plan identifies opportunities for 17 more. Last year, Palo Alto teamed with Stanford University to start planning the addition of eight miles of cycling and pedestrian trails to connect the campus with the city's Baylands Preserve and Arastradero Preserve.
The idea of a bicycle network is something Mountain View should prioritize, LaFleur said. While some roads have designated bicycle lanes — including Middlefield Road, Rengstorff Avenue and Shoreline Boulevard — it can be a challenge to get between them. "I went over to Palo Alto for a knitting circle, and you know what? I took all the back routes. Unless you were in on the secret passageways, you wouldn't know how to get there," LaFleur said.
No cycling accommodations exist along El Camino Real, or state Route 82. Many Mountain View residents cite the road as one of their main transportation veins, whether by car, foot, bike or public transit. Bustling with shops, restaurants and other businesses, El Camino Real is a people-magnet, though not a particularly friendly one for those who want to ditch their cars at home.
"I think the issue of connectivity is extremely important," City Councilwoman Ronit Bryant said during an Oct. 15 study session. "El Camino is a barrier."
But it's a barrier that many cyclists choose to battle. Some say they've been honked at as they try to share the road with cars. Others sheepishly admit to using the sidewalks, putting pedestrians at risk, out of fear for their own safety. El Camino Real has had more bicycle accidents than most other roads in the city.
Mountain View police documents show that this year from January through June, at least a dozen accidents citywide pitted cyclists against cars and seven more involved pedestrians versus cars – resulting in at least one fatality. More recently, a 77-year-old pedestrian was injured in a hit-and-run at Rengstorff Avenue and San Luis Avenue at the end of September.

There have been fewer incidents this year compared with the year before, and the city has made efforts to plant decoy pedestrians at crosswalks to make sure drivers are mindful of people who are walking. Google recently gave the city $500,000 to spend on safety measures for cyclists and pedestrians.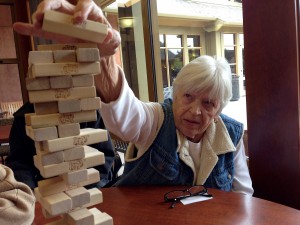 Some senior citizens depend on walking as both a form of exercise and a way to get to where they want to go. Marie Lombardi, 78, regularly makes the trip from her Los Altos Hills home to the Mountain View Senior Center. "All you have to do is watch the lights. I make sure that when I get to the corner and get the walk light that the cars are stopped. I don't step off the curb until I know," she said. "My daughter has a fit. She doesn't like for me to take the bus and walk, but you can't sit on your fanny all day."
Mobility can be a nightmare for seniors who aren't as fit as Lombardi. 

"One of the hurdles they have to go through for healthy living and socialization is just being able to get around," said Tyler Phillips, the Mountain View Senior Center recreation coordinator. "Having safe routes is definitely key in the senior world. … If seniors don't have safe routes to use for transportation, they get stuck."
Meeting demands in a city where people depend on so many different modes of transportation means sacrifice."I don't know if it comes down to a choice between street parking and bike lanes, or what," Mayor John Inks said.
The City Council will continue to hear input from the public regarding the El Camino Real Precise Plan. Council members plan to host a community workshop in January and then present their preferred course of action the following month.
Until then, it's up to people traveling by two wheels or two feet to be on the lookout for drivers cutting corners.

"(When I first got here) you could almost pull out of your driveway without looking. It's not like that any more," Inks said. "There's kind of an onus on everyone to be careful. I can't afford to become a traffic statistic, so I bike defensively, and you have to walk defensively."