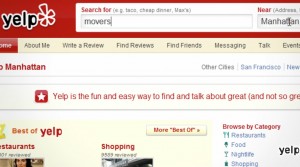 San Francisco consumer-review website Yelp (NYSE: YELP) announced strong growth across all revenue sources for its fourth fiscal quarter earnings released Wednesday, in a year that Chief Executive Officer and Co-Founder Jeremy Stoppelman described as "outstanding."
Net losses for the company narrowed to $2 million, or 3 cents per diluted share, compared to losses of $5.3 million, or 8 cents per share for the fourth quarter of 2012.
Revenue for Q4 2013 reached $70.7 million, up from $41.2 million in the fourth quarter of 2012, and about 5 percent more than the company initially projected.
Yelp had previously anticipated that its fourth quarter revenue would fall between $66 and $67 million, a number its actual results beat by a considerable margin.
Analysts had anticipated fourth quarter revenues of $67.22 million, with an expected loss per share of four cents, one percentage point more than was actually posted.
Yelp's revenue for the full year, ended on Dec. 31, 2013, came in at $233 million — an increase of 69 percent from $137.6 million for the full year of 2012.
Net losses for the full year of 2013 were $10.1 million or 15 cents per share, lower than the loss of $19.1 million and 35 cents per share seen in 2012.
After the earnings announcement, Yelp's stock closed at $75.23 on Wednesday, up by 8 percent, and rose higher to $80.80 during after-hours trading.
"We enhanced the mobile experience, brought on thousands of new local business customers and completed the integration of Qype, which accelerated our European expansion," Stoppelman said in a statement.
Yelp, which was founded in 2004, went public in March 2012. The company recently acquired online reservation service SeatMe, Inc. for $12.7 million. The site also acquired Qype, a social media and review website based out of Europe that has been integrated into Yelp's operations as of October 2013.
The acquisitions are seen as part of Yelp's strategy to take on direct competitor OpenTable, Inc. — the online reservation and review site that has been Yelp's long-time rival.
International expansion into the European markets in particular, was another major theme of Yelp's year, according to executives on Wednesday's conference call. Yelp products are now available in France, Spain and Germany. The site is now available in 24 countries on five continents.
According to the fourth quarter earnings report, consumer reviewers have stuck with Yelp as the site matures, with a rise in cumulative reviews of 47 percent year-over-year to about 53 million.
The site has seen an increase in monthly unique visitors of 39 percent year-over-year, to roughly 120 million in the fourth quarter, as well as a 69 percent rise in active local business accounts, to about 67,000.
Mobile has proved big and is getting bigger for Yelp. On the conference call, Stoppelman said the "majority of site searches" are coming from the mobile site and its application, as well as 42 perecent of all ad impressions. Thirty percent of new reviews originated from mobile devices.
Usage of the site has also increased since 2013's second quarter, which saw a total of 108 million unique visitors.
Some investors have become worried by a number of lawsuits filed against Yelp that focus on defamation and negative reviews posted on the site. The suits have generated considerable media attention.
CEO Stoppleman, for one, seemed unconcerned. "They just don't impact our business," he said of the suits during Wednesday's phone conference call with analysts.
Looking ahead, the company feels optimistic: The company said in a statement that it expects revenues for the first quarter of 2014 to reach $73.5 million to $74.5 million.
For the 2014 full year, the company said it expects to see revenue reach $353 million to $358 million, a 53 percent revenue growth over 2013.
(Homepage image courtesy of Yelp.)